Discover What's Wild
04/01/2011 01:00AM ● By Jennie Lay
Rappelling into Outlaw Canyon en route to Outlaw Arch. Photo by Scott Patterson  
by Jennie Lay
Slot canyons and nearby adventures you never knew existed: Advice from a local explorer
Scott Patterson quests for evermore remote peaks and canyons. Ironically, he found a mother lode of geologic wonders not far from his doorstep in Craig.
"We discovered something special by surprise," he says.
On Sept. 3, 2006, Patterson set out with Adam Pastula, Michael Kelsey and Stephen Ho to explore Outlaw Park in Dinosaur National Monument. Ringed by cliffs and gripping a spectacular perch overlooking the Yampa River, they set their sights on Outlaw Peak's 6,489-foot summit. 
"It took three years to scout it. We had to connect all the ledges together," Patterson says. They did indeed summit that day, but the journey's highlight came via a rugged and technical return to camp. Formerly hidden in a remote canyon, invisible from below and unidentifiable from above, the men discovered the sprawling 206-foot Outlaw Arch.  
This beat any hidden waterfalls or hanging gardens they'd previously stumbled upon in the region's canyons: Outlaw Arch would measure up as the ninth largest known natural span in the world, and the largest arch discovered since the 1950s. (Recent international discoveries have since bumped it to 13th place, according to The Natural Arch and Bridge Society.)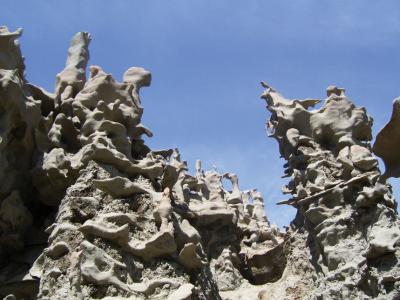 Twisted stone in Fantasy Canyon: Hades Pit. Photo by Scott Patterson.
Weekend warrior, regional explorer
As an engineer for the Colorado Department of Transportation, Patterson is an extreme weekend warrior. The 36-year-old has hiked, climbed and canyoneered around the world, logging 1,512 summits to date – 191 of them in winter. He and his wife, Kimberly, trekked Nepal's Annapurna Circuit when she was five months pregnant with their son, Kessler, which probably explains why he is now eight years old and has bagged 230 summits.
Colorado and Utah have seen the vast majority of Patterson's adventures – including deep explorations of the "three corner" region that includes Northwest Colorado as it butts against Utah and Wyoming. Patterson moved to Craig in 2004 from Fruita. Along the way, he found favorite spots ranging from technical ascents to family-friendly backpacking jaunts. Many are in Moffat County but are visited so infrequently that they defy classification as anything but wilderness. All are on public lands. 
The best part for the rest of us is that Patterson isn't keeping secrets. He blogs prolifically about access and exploration of various sites under his straight-shooting handle "Scott" on summitpost.org. It's the closest thing you'll get to a guidebook for most of these places.
Peaks and valleys
The western reaches of Northwest Colorado offer prime terrain for solitude and exploration. "No one wants to do anything out here unless you can shoot it," Patterson says, hinting at the dearth of local climbing companions in Craig. "I hunt only with a camera."
A prime example, just over the Utah state line, is small but spectacular Fantasy Canyon. Located about 25 miles south of Vernal, it's really a small wash filled with twisted, sculpted rocks that resemble intricate shapes like a boxing bear or a flying witch. The rocks were deposited 38-50 million years ago, during the Eocene Epoch, and the 10-acre site was first described at the turn of the last century by explorer and paleontologist Earl Douglass, who called it "Hades Pit." Patterson describes them as among the weirdest and most amazing formations he's ever seen – anywhere.
 "Peaks in Moffat County will go years and years without signatures," he says, referring to the logbooks that are stashed at summits for climbers to document their arrival. When he visited Buck Point, a butte-like mountain in the Elkhead range north of Craig, his was the first signature in six years. At Mount Oliphant, two had signed in the past five years. On craggy Sugarloaf Mountain, only three autographs since 1980. 
"I guess this is a lonely mountain by Colorado standards," he wrote after the Sugarloaf ascent. "It's certainly possible that the Elkhead Mountains are the least known of the major mountain ranges in Colorado." 
Bald Mountain, north of Maybell, is one of Patterson's favorite jaunts because the top is littered with fossils. At 7,228 feet, it qualifies as a hill, but the "cold desert" mountain is accessible from nearly all sides and stands alone with largely unobstructed views. "The summit register has less than five groups signing per year. That's mostly during hunting season, so it's a popular mountain by Moffat County standards," Patterson laughs. 
The Utah native was hell-bent on finding slot canyons in his adopted home state.
"People said there were no slot canyons in Colorado. That's why we went and looked for them," Patterson says. "They're hidden, but they're not hard to find." 
His hands-down favorites are two slick-rocked beauties in Buckwater Dranorth of the town of Dinosaur. The deep slot canyons are narroenough to touch both sides. Ropes are necessary to enter them since technical climbing is involved, but he says you can see some of the best parts without the rigging. 
Farther west, in Dinosaur National Monument, Patterson recommends getting out of the Yampa River's infamous whitewater in Cross Mountain Gorge and climbing on top of Cross Mountain. It's "a little-known classic" that's idyllic for hiking from April through June – and since it's an anticline split by the river, there are two worthy summits. "Its views are some of the best in the state," Patterson says. "Elk, deer, bighorn sheep, black bears, cougars and other wildlife inhabit the mountain. You would have to be unlucky not to see signs of these animals."
The unconquerable?
Still the peak that remains elusive for Patterson is Peak 7071. It's a steep, ornery mass of rock with a flat summit overlooking the Yampa River upstream from Warm Springs. The face is 1 1/2 times higher than The Diamond on Longs Peak. "The rock is nasty and crumbles in your hand, not to mention it's covered with fine sand," he notes.
Patterson has been scouting Peak 7071 for three summers. He's hoping to claim its first ascent, but he's seeking experienced climbers who want to continue the arduous task of route-finding. Ultimately, it may prove as gratifying as Patterson's stumble upon Outlaw Arch.
"It proves that all the exploring in the world is not over yet. There are still wild and unexplored areas that await exploration and discovery, even in our own backyards," he says. "The area is a real maze of complicated routes. We never know what new thing we might stumble upon."