Joan Hoffmann: A 40-Year Retrospective
04/01/2011 01:00AM ● By Deb Olsen
"Meadowlark," 9x12, oil on canvas, painted at Sarvis Creek Wilderness Area.
Joan Hoffmann's 40-Year Retrospective

The Yampa Valley inspired a lifetime passion
by Nora Parker
Joan Hoffmann no longer lives in Steamboat Springs year-round, but she continues to spend a good bit of time in the valley.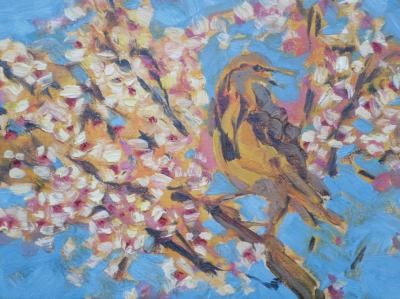 She's here throughout July, with a retrospective show at the Depot entitled "Landscape Painting – 40 Years in Routt County." It's a meaningful solo show for her, as the environment in Steamboat helped launch her career in the early '70s.

"There was just this energy," she recalls. "Steamboat was so receptive — the ranching community couldn't figure out who we were, but there were others who were really interested in culture." 
The year was 1971, and Joan moved to town when the population was about 2,000 souls and the only paved road was U.S. 40/Lincoln Avenue. She was part of a small group of artists – others included her then-husband, Mike, Dennis Pendleton, Edie Dismuke and Loretta Davidson, soon to be joined by Richard Galusha and Shirley Stocks. That core group of artists, singularly and together, has become nationally known. 
Joan graduated from Colorado State University and discovered Steamboat because it was the ski area closest to Fort Collins. "Back in those days, we drove through Laramie to get to Steamboat, but I really liked it and I ended up raising two daughters there, while supporting myself in the arts," she says. 
"I do believe in the power of landscape – and it can be something that can attract a community; the land can inspire something more," she explains. There may be something to that statement – Steamboat is graced by much more "art per capita" than many little towns. 
Joan's art is accessible, and much of the artwork in her July show comes from local patrons who have collected her work over the years. The show also includes  25 new pieces, which will be for sale. Her iconic posters of Steamboat scenes will also be available for as little as $40. While she's in town, she is holding drop-in classes, some en plein air (i.e. outdoors). For more information, visit http://www.joanhoffmann.com/.
Article Gallery [1 Image]
Click Any Image To Expand