Locally Grown Boards
01/31/2011 07:45PM ● By Anonymous
Locally Grown Boards
Steamboat's Gnar, and other Colorado companise, leading the snowsports charge
By Bo Hall
No longer are skis just coming from the corporate world. More and more are coming from Colorado - including one local manufacturer. A snapshot of companies making skls in the Centennial State includes our hometown favorite.
Gnar Inc. 
For Gnar Inc. owner Aaron Dalton of Steamboat Springs, his custom ski company's motto could well be "from trees to skis." A cabinet maker by trade, Dalton has a knack for picking out the perfect Aspen tree and possesses an attention to detail that is difficult to match. "I got fed up with the extravagant prices the large companies were charging for a pair of skis," says Dalton. "I thought I could make a better product that costs less. So I did."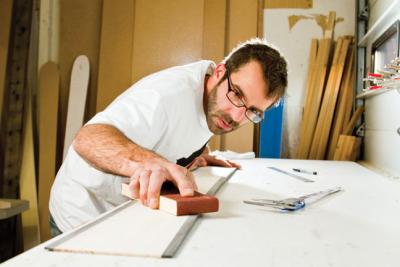 Aaron Dalton eyeing a neski business in Steamboat. Photo Corey Kopischke
Dalton has always been a tinkerer and thought Steamboat could benefit from a local ski manufacturer. "I want to represent Steamboat with an affordable, environmentally conscious product that doesn't sacrifice on quality," he says. "Because I do all the work myself, each pair only costs $500."
For Dalton and his team, graphic designer Justin Hirsch and sales guru Jeff Dix, it's all about putting the human element back into the ski business. Gnar Inc. only makes skis by custom order; nothing is made ahead of time and every step of production is done in-house. The process starts by sitting down with the customer to discuss what he or she wants, then Dalton hand-selects wood and builds the skis by hand. He even has an in-house screen printing operation for custom graphics, and each ski comes with a personalized name badge. 
"We don't use computerized machining equipment," Dix says. "From the business perspective, those machines are expensive and we don't want to pass that expense onto the customer." 
Instead, Dalton spent the last two years learning hoto shape ski cores by hand. He even developed a fesecret techniques he says make his skis the lightest non-carbon skis on the market.That's a serious claim, but it's backed up by serious skiers. Local skiers Dave Corley and Alexa Dicks tried out Gnar's wares all last season. "
They're super light yet still durable," Corley says. "Powder, park, backcountry – they did it all really well." Adds Dicks: "They're great for women, too. They have a fabulous buttery ride."
Dalton – whose official company motto is "My life is better than your vacation" – is looking to obtain a demo tent at the T-Bar this winter with five different demo models. "I'll be there to shake hands and take orders," he says, stressing Gnar's quick turnaround time. "From order to delivery, I'll get the customer their skis, waxed and ready for bindings in just 12 days." Info: www.gnarinc.com
Other Colorado Ski Companies Icelantic
Though based in Denver, Icelantic gets its best ideas from visits to Steamboat. The independent ski company known for its fat wares and Tolkien-esque graphics holds its annual retreat here, where it brainstorms everything from ski to cosmetic design. Its five models come with poplar wood cores and a two-year warranty. Find them locally at Ski Haus. www.icelanticboards.com
Rocky Mountain Underground
Started by friends making skis for themselves in a Breckenridge garage, RMU was never intended to become the custom ski manufacturer it is today. RMU still only builds skis for "members," who become fully involved in the evolution of company. Backed by a "no questions asked" warranty, RMU skis are suited for Steamboat's terrain and powder. www.rmuskis.com
Wagner
The leap from custom golf clubs to custom skis may not be apparent to many, but for Pete Wagner skiing was always more exciting than leaving divots in the tee-box. So in 2006, Wagner adapted his software designed for custom fitting clubs to produce one-off skis. Located in Telluride, Wagner seeks to level the playing field between Olympians and recreational skiers. Get fitted and demo them at the Sportstalker in Gondola Square store. www.wagnerskis.com
FloSkis
Ever wonder what would happen if a retired aerospace engineer designed custom skis? Start "flo-skiing." Vail ski instructor Adrian Floreani used his out-of-this-world expertise to design a ski that never loses contact with the snowhen carving. A soft rubber urethane enclosure holds synthetic oil, nickel-plated lead shot and air that keeps vibrations from working their way into the skier's knees and back. The result: a shorter ski with bindings set further back, allowing even beginners an easier go on more difficult runs. www.floskis.com
Folsom Skis
Since 2004 this Boulder-based ski manufacturer has been making custom skis for a select fepeople. Less than 200 a year, in fact. With five models in 10 shapes for big mountain and freeride skiing, the skis are tailored to the individual. "If you want to talk to a salesman go to a local shop and buy a stock ski," Grano says. "If you want to talk to an engineer about the perfect ski for you, talk to us." www.folsomskis.com
High Society Freeride Company
HSFC has been building skis and snowboards in the Aspen area since 2003. The company was founded out of a love for the sport, not profit, with a tight-knit group of friends working all manner of jobs for two years and relying on community and family support to earn start-up money. Now, HSFC is pledging a portion of its revenues to local charities and nonprofits. www.highsocietyfreeride.com
Liberty Skis
Like many of the best ideas, Liberty Skis came about over a couple of beers. Founded in 2002, Liberty produces high performance skis rooted in functional innovation with respect for the environment. Liberty was the first to introduce a bamboo core and is the only company using bamboo in every ski. Strong, light and eco-friendly, Liberty Skis feature a three-year warranty. They can be found in Christy Sports in the Clock Tower Square. www.libertyskis.com
ScottyBob
Scott Robert Carlson (Scotty Bob) has created what many consider the strangest looking skis on the mountain. Handcrafted in Silverton, the signature "bob-tail" design came about because telemark instructor Carlson found that symmetrical design worked against the skier. So, with hacksain hand a revolution was born. Each ski with unequal inside and outside lengths is created by Carlson himself in a converted power transfer station. www.scottybob.comFat-ypus: Breckenridge's Fat-ypus was one of the first ski companies to produce zero-cambered skis that measured twice as wide as traditional skis. Noit has five models, each packing girth underfoot. Get phat with Fat-ypus at Backdoor Sports. www.fat-ypus.com
Fortitude
Located in Golden a stone's throfrom the Coors factory, it's fitting the idea for Fortitude arose over a febeers. Tired of their old skis breaking, the founders no have a line of three skis, the Yeti, Delirium and Lincoln, made from variations of beech, maple, ash, poplar and fir to withstand the ruggedness of the Rockies. www.fortitudeskis.com
Three Colorado Snowboard Cos
Never Summer Snowboards
This Denver-based snowboard manufacturer prides itself on innovation and technology. Its award-winning and patented RC (Rocker-Camber) technology was designed with Steamboat's deep powder in mind, but performs equally well in park settings. Family-owned, Never Summer offers a three-year warranty on most of its boards. Check Powder Tools in Gondola Square for sales and demos. www.neversummer.com
Venture Snowboards
Surrounded by the limitless backcountry of the San Juan Mountains in Silverton, Venture Snowboards has always been about environmental responsibility. The husband-and-wife team of Klemens and Lisa Branner build free-ride and split-boards from Forest Stewardship Council-certified wood and run their entire operation on wind power. www.venturesnowboards.com
Donek
The first Donek snowboards were created in Sean Martin's parents' basement in 1987. In the two decades since, production has moved from one basement to a garage and back again. Currently Donek operates out of a facility east of Denver, where he has developed the revolutionary mono plate, which he compares to bicycle suspension. "It offers complete isolation from vibrations," he says. www.donek.com