Vermillion Basin and the BLM's Big Decision
12/01/2010 01:00AM ● By Jennie Lay
Holiday 2010:
Vermillion Basin and the BLM's Big Decision
by Jennie Lay
77,000-acre region closed to oil and gas development for 20 years
Bark beetles and a terrestrial sea of standing dead trees spark debate about hoto manage 1.2 million acres of Routt National Forest surrounding Steamboat Springs. But Northwest Colorado's stark sage-covered plateaus and little-known high desert canyons have fueled a firestorm during a decade-long deliberation to revise a resource management plan for the Bureau of Land Management's slice of the local landscape.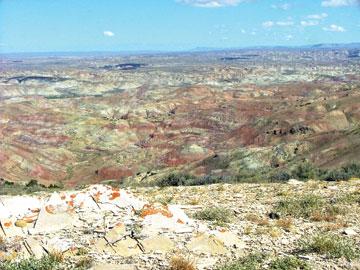 The Vermillion Bluffs looking to the northwest, with Vermillion Creek 1,000 feet below. Douglas WipperAt stake is the fate of 1.3 million acres of public land and 1.1 million acres of subsurface minerals spread over Routt, Moffat and Rio Blanco counties. This represents the BLM's Little Snake Field Office territory – Northwest Colorado's chunk of America's lesser-known public lands, "leftovers" that the government held in its coffers after no one claimed them for mining or homesteading a century ago. The BLM unveiled a final management plan in August. Much of it was predictable, but there was one glaring element that caught nearly everyone by surprise: All 77,000 acres of Vermillion Basin's pristine multi-hued hills, red clay canyons and rich archaeology are closed to oil and gas development for the duration of the nemanagement plan – approximately 20 years.Just south of the Wyoming state line and northeast of Craig, Vermillion Basin is wedged between the Sandwash Basin Wild Horse Management Area, the Irish Canyon Area of Critical Environmental Concern, and the Hiawatha field of oil and gas development. Scraggly Vermillion Creek drains the entire basin. Roads range from well-maintained gravel to two-track jaunts best left to 4x4s with high clearance and a healthy respect for inclimate weather. A small handful of cattle ranchers divvy up the winter grazing leases. In 2007, the plan left the local BLM office for state and federal revieunder the Bush administration. It kept nearly everything open to energy development. Sandwash Basin could remain a Mecca for off-highway vehicle recreation. Grazing and energy development would march ahead, although sage grouse habitat got significant neprotection. And a "preferred alternative" for Vermillion Basin went out as a compromise modeled after the hotly contested Roan Plateau – potentially allowing drilling with one percent maximum surface disturbance at any time.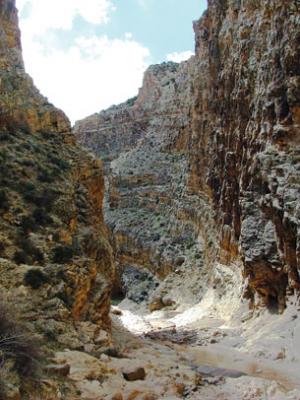 The Fremont Artwork in the Vermillion Creek chasm represents the largest petroglyph site in Colorado. Douglas WipperThe final plan emerged under President Obama last summer. It is indicative of Interior Secretary Ken Salazar's onshore oil and gas leasing reforms that expand protection of  land, water and wildlife. In January 2010, Salazar directed BLM field offices to consider whether "in undeveloped areas, non-mineral resource values are greater than potential mineral development values." He defined these policy decisions as independent of economic values that may be assigned to competing resources – like the sheer untrammeled expanse of Vermillion Basin. Vermillion's silence is pervasive. On subsequent visits it was broken only by the squawking of a peregrine tracking my progress from overhead and the rattle of a snake underfoot. Gems like Fremont petroglyphs and stromatolites (65-million-year-old balls of fossilized mud and algae) await exploration via long desolate hikes over sage flats and rolling pinion-covered rises. Steep Vermillion Bluffs rise from the eastern edge and Irish and Vermillion canyons veer out from the south. Lookout Mountain, Cold Mountain and curious Diamond Mountain, site of a late-1800s hoax to lure East Coast investors to a staged get-rich-quick find, rise above it all. In the Little Snake BLM field office alone, more than 1 million acres are currently leased for oil and gas, but less than 15 percent of those leases have been developed. Vermillion Basin will be neither drilled nor added to that stockpile of local energy leases.    "Elections matter. The Bush administration was extreme and there were single-use BLM plans across the West," says Luke Schafer, Colorado Environmental Coalition's northwest organizer. "Things changed both at the state and federal levels. We see great desire from the current administration to rectify the misdeeds of the Bush administration." The revised plan lasts for 20 years and can be amended over time, opening the door to more cooperative and nuanced proposals in the future, Schafer says. "It was a pleasant surprise," says Colorado Division of Natural Resources spokesperson Theo Stein, reacting to the Vermillion Basin announcement. But the overriding sentiment in Moffat County, home to the bulk of the BLM's Little Snake lands, couldn't agree less.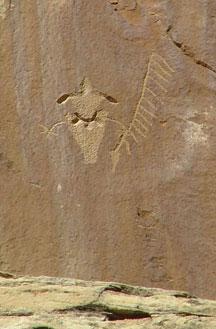 A Fremont Petroglyph from the Vemillion Creek Chasm. Douglas WipperTHE DISSENT NEXT DOORAt a special Moffat County session a week after the announcement, an oil and gas representative offered the commissioners his public condolences while others spoke harshly about being burned after years of public meetings and thinking the 1 percent surface disturbance compromise was resolved. There were exasperated cries of "dirty politics" and someone called for a Fox News exposé.Vermillion Basin is part of the BLM's 98,000-acre Dry Gulch grazing lease allotment. T. Wright Dickinson's family has been working this land for about 127 years, and it is the basin's largest lessee. He's also a former Moffat County commissioner and currently serves as vice-chair of the Colorado BLM's Northwest Resource Advisory Council. The Vermillion Basin decision might seem to be in Dickinson's best interest, allowing him to continue viably grazing undisturbed in the basin as he has in the past, but that's contrary to his way of thinking. "As long as oil and gas development and reclamation happens, it's good. They're compatible," Dickinson said. "Oil and gas floats a lot of the tax base of this community," he said, and he sathe 1 percent surface disturbance plan as orderly and preservation-minded. Considering the cash involved, Moffat County's ire is not unwarranted. Using some of the most conservative figures available, the basin holds an estimated 200 billion cubic feet of recoverable gas – worth nearly $240 million in local taxes, state and federal bonus payments, royalties and severance taxes. For perspective, that's about three days' worth of gas at current U.S consumption rates, according to Energy Information Administration estimates.
CONFOUNDING A CONSENSUSWhile Moffat County and the oil and gas industry express betrayal and claim that the BLM's Vermillion decision bucked a consensus, one thing is clear: The 1 percent plan clearly never worked for everyone.Northwest Colorado Stewardship (NWCOS), the diverse local group of as many as 140 people who spent nearly three years offering input to the BLM, dissolved without a consensus. The ultimate 1 percent surface disturbance plan was put forth by a small gathering of "cooperating agencies," i.e. as feas eight local government officials who gathered behind closed doors. Silver-haired Craig resident Jane Yazzie passionately defended Vermillion Basin's conservation decision and the public process. She admonished the "overwhelming complexity" of what citizen groups had to contend with, from learning federal lato a deplorable shortage of baseline data and the BLM's lack of resources to produce it. It was a long, drawn-out NEPA process that gleaned input and shared information on an unprecedented level. NWCOS created a table where everyone could participate – not just the government agencies, but the cattlemen, wilderness groups and even OHV users. Ultimately, there was no consensus on hoto deal with Vermillion Basin – but there were a lot of voices in the BLM's ear.Yazzie says the NWCOS group was blind-sided by the 1 percent decision that came from the cooperating agencies, but the process up to that point was worth all the effort because there is noa critical mass of people who have the knowledge: "We nolive here much smarter, much more aware of what we live with," she says.--Vermillion Basin's protection isn't set in stone. Like all BLM resource management plans, the Little Snake management plan is designed only for the next 20 years – and it can be amended. The BLM's White River management plan (Colorado's newest, approved in 1997) is already undergoing an amendment process to address impacts of oil and gas development.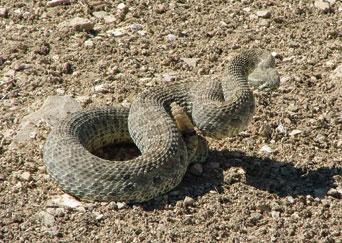 A fully grown Great Basin Rattlesnake, one of many inhabitants of the region. Douglas Wipper
Article Gallery [4 Images]
Click Any Image To Expand