The Stone Home
12/01/2010 01:00AM ● By Deborah Olsen
Concrete Floors with a hydronic heating system, Structural Insulated Panels and a large Dutch West woodstove ward off the cold, North Routt Winters. Photo by Tim Stone
by Deborah Olsen
Local architect's North Routt home the perfect mountain abode
When people imagine moving to the mountains, they often picture a house tucked into the forest, up a winding road. They envision a home that's manageable, both in size and affordability, a comfortable place that's just steps away from skiing, hiking, biking and snowmobiling. 
Tim and Alethea Stone's home in North Routt County is the epitome of those imaginings. Tim Stone was a young architect and a bachelor when he relocated to Steamboat Springs from the Roaring Fork Valley. The Aspen market was prohibitive, but purchasing property in Steamboat was feasible and in 2003, Stone bought a lot in the woods near Steamboat Lake. 
He then set out to design and build his own home. Stone subbed out the excavating, concrete and electrical work, roofing and dry wall. Everything else, he planned to do himself. "I realized pretty quickly I bit off a little more than I could chew. I sent out a desperate call to family and friends," he says.His parents' willingness to help brings the story full circle, as Stone learned carpentry when he was growing up from his dad and grandfather. "My dad and I framed and sided it, set all the windows and did all of the finish carpentry," Stone says. Friends pitched in at an old-fashioned "barn-raising," when it came time to erect the garage/studio. And Stone's then-girlfriend, Alethea, endured freezing temperatures to help stain the siding and trim the doors. Stone describes their home as "mountain style," with a covered front porch large enough for a chairlift swing and several cords of wood. 
At 1,600 square feet, the house is not large, by Steamboat standards. A separate garage and studio – or "man room," to use Stone's words – add 1,200 square feet.
The living area of the Stones' house is open, with 26-foot ceilings and a small galley kitchen. A combination of antiques, family heirlooms and Stone's photography add character and a personal touch. Sinesnowshoes mounted over the kitchen windocame from his grandfather, who was a bush pilot in Alaska. An old wooden propeller with a cracked trailing edge hangs along with black-and-white images in the living room. An antique armoire and Navajo pots complement Navajo rugs that once belonged to Stone's grandparents.  
The simple lines of the staircase leading to the second floor add a contemporary element to the design. "It was cost-effective," Stone says. It consists of stainless wire, similar to sailboat rigging, with swaged connections and turnbuckles, strung between timber posts. He also employed the liberal use of concrete throughout, from cast concrete countertops for the kitchen to polished concrete floors throughout the main level with embossed aspen leaves and a hydronic heating system. But the heat is scarcely needed. Structural Insulated Panels form the shell of the house, increasing its energy efficiency ("It's like a giant Styrofoam cooler," Stone says), and a Dutch West woodstove keeps the house warm all winter. "We have a free fuel source," Stone says, adding that he only needs to walk 100 feet out the back door to find standing dead beetle kill timber. "I'm slowly cutting a fire line around the house."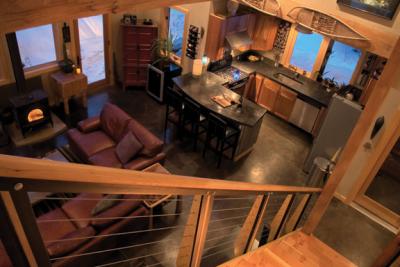 The staircase's simple lines and stainless wire railing, complete with turnbuckles, add a contemporary element to the design. Photo by Tim Stone
The beetle kill is used for more than just heat. The home's exterior siding is made from local beetle kill pine, as is the vaulted ceiling decking. The wood's characteristic blue staining adds dimension to the mountain décor. On the backside of the house, an asymmetrical grouping of windows looks out onto a 930-square-foot cedar deck. "It's one of the nice things about the house," Stone says. "We entertain a lot outside."The home's secluded setting opens a world of outdoor activities. 
"I can ski and snowmobile right out the back door – I could go all the way to Wyoming without touching a road," Stone says. "We also sled across Steamboat Lake in winter. And in the summer, there's incredible biking. I have several favorite circuits." Noa veteran architect and part owner of Kelly & Stone Architects in Steamboat, Stone readily admits that his own home was one of his first solo design projects. As such, he learned a thing or two along the way. One example is the cast-concrete coffee table he designed for the living room. It weighs 350 pounds, which makes moving it quite a chore. "I didn't think about that," he says. 
Stone's tight budget (he brought the project in at $90/square-foot, in large part by doing so much of it himself), was a learning experience too.  As a result, "I'm a cost-conscious designer," he says. "I learned a lot that I can bring to bear on what I do today. I'm much more apt to hit a construction budget." The creative simplicity of the home, enhanced by Stone's cost-saving savvy, enhances its authentic mountain appeal.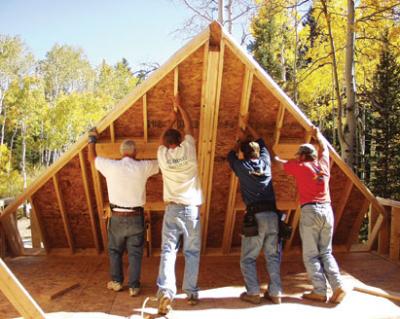 With help from friends and family, Stone built and designed his 1,600-square-foot home and 1,200-squre-foot garage/studio himself. Photo by Tim Stone