Artscape
12/01/2010 01:00AM ● By Nora Parker
Holiday 2010:
Artscape
by Nora Parker
Dancing at a Higher Elevation
Nestudio making all the right moves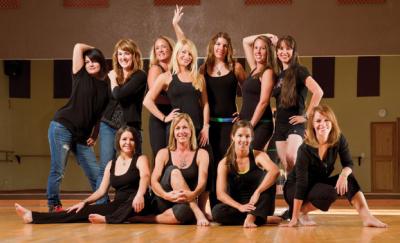 Elevation Dance: Top row, from left: Tiana Buschmann, Jenny Meier, Dawn Cook, Renee Fleischer, Jennifer Harlan, Alyssa Marelli and Nora Parker. Bottom row, from left: Hillary Spillane, Traci Cameron, Christie Ginanni and Stephanie Kohlhardt. Photo Corey KopischkeRenee Fleischer was one of those little girls who kneshe wanted to be a dancer by the age of 3.  Unlike most, her wish came true. And noSteamboat residents can take advantage of her passion and take their own dance to a whole nelevel. "This is really selfish," Fleischer says. "I want to teach intermediate and advanced students, so we need to provide the curriculum of classes to get kids to that level."  Fleischer opened Elevation Dance Studio last fall with a full curriculum for kids ages 3 and up, all the way through adults. "If you want your child to dance – and learn to do it well – it takes dedication and hard work; Elevation is a place where that kind of training can take place." By her eighth birthday, Fleischer was dancing about five hours a week, and by high school she was performing with a nationally competitive cheerleading squad from her home town of San Diego. After college at Arizona State, she returned to San Diego to accept a scholarship to dance at the Academy of Performing Arts. Later, she auditioned for the San Diego Chargers and became a "Charger Girl." These days, cheerleaders require a high caliber of talent, training and ability. Fleischer called upon her background in jazz, modern and ballet to land her spot. After moving to Colorado, she became a Denver Broncos cheerleader.She ended up in Steamboat thanks to a random meeting with her nohusband, two-time winter Olympian and owner of Fleischer Sport, Chad Fleischer. Settled down in a town they both love, they're raising two tow-headed boys along with their entrepreneurial pursuits.She's used to the juggling. Fleischer has hired a team of nine experienced teachers, who offer a progressive curriculum in ballet, tap, jazz, contemporary, belly, hip hop, hoop and Irish. You can attend the school's dance shonext spring on Saturday, May 21, 2011. Info: (970) 390-1150; www.elevationdancestudio.com.
Cowboy Up Works by cowboy artist Jim Norton at Steamboat Art Museum this winter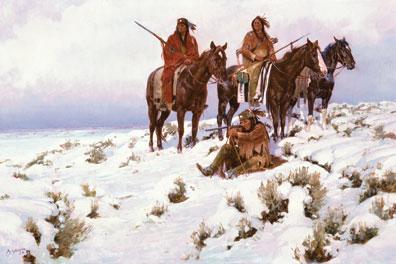 Jim Norton's painting, "The First Shot," is one of many pieces of his art on display at SAM. Courtesy Steamboat Art MuseumThis winter you can saddle-up to some of the best cowboy art in the country. Cowboy Artists of America member Jim Norton's contemporary western art will be featured at the Steamboat Art Museum Dec. 17 to April 10. He'll also be in town on Friday, Dec. 17, for an opening reception and will offer a public demonstration of his techniques on Saturday, Dec. 18. Norton draws his inspiration from the Western landscape he calls home. His themes include the American Indians of the past as well as cowboy ranch life today. He spent his youth in Utah, NeMexico and Wyoming, as his family followed their father to coal mining jobs.  His two-year stint on a church mission near Perth, Australia, increased his appreciation of "Western" living and deepened his desire to portray it. "I got my inspiration from living in the West – all of my friends were ranchers and I just got it from there," he says. "I used to love to watch my grandfather paint –  he had horses when I was real young and I just fell in love with that kind of stuff."Norton's very first art education involved watching his grandfather painting in his basement studio. He attended Western Wyoming College, intending to be a sports coach and taking art classes on the side. He soon realized he'd like to make art his career, and he transferred to Brigham Young University, where he studied under Bill Whittaker.  His best-known teacher was Conrad Schwiering, a charter member of the National Academy of Western Art.Norton, who nolives in Santaquin, Utah, considers himself a life-long learner, and takes any opportunity he can find to learn from others. The best place to learn? The world's greatest museums, he says. Schwiering encouraged him to visit museums, and he has spent many an hour studying the work of great masters in museums in Russia, Canada and the U.S.Oils are Norton's preferred medium, and his use of them to portray the West's unique light and deep shadows is striking. His artwork has been awarded numerous prizes, including a gold medal in the Cowboy Artists shoin 2004. His artwork sells for tens of thousands of dollars at top galleries around the West, with prints available for less than $1,000.