Yampa Living
12/01/2010 01:00AM ● By Kelly Stahl
Winter 2010:
Yampa Living
by Kelly Stahl
Loft Living - Vibrancy, style and convenience define trend
Tom and Audrey Williams didn't need a yard, nor did they want to deal with remodeling an old home or snoremoval and building maintenance. "We moved to Steamboat to do things we like after work," Audrey says of their nehome at Howelsen Place in downtown Steamboat. "Nowe can." The Williams' nehome opens onto to a shared courtyard with a fire pit and views of the Howelsen ski jumps and Sleeping Giant. "We've already had parties with a hundred people," she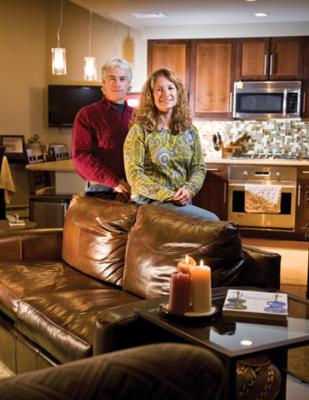 Lofty Ambitions: Tom and Audrey Williams in their neHowelsen home. Phot by Corey Kopischke.
says. While the Williams were one of the first residents to move into the 42-unit mixed-use building, the trend of loft living has been a popular alternative in American cities for the style, vibrancy, greenness and convenience it offers. Noit has hit Steamboat. Nedowntown developments Howelsen Place, Alpenglow, The Olympian, The Victoria, Waterside Village and Chieftain offer a combined total of 66 loft-style units ranging from 620 to 2,600 square feet. "I'm a Chicago-based developer and so is Green Corp. [developer of Howelsen Place and Alpenglow]," says Paul Franklin, developer of the Olympian. "We found a lack of that type of product in Steamboat and wanted to fill that void." By definition, the style creates a certain urban feel, says Traci Clark, who designed the interiors of Howelsen Place and Alpenglow. "It's still Steamboat, it's still a mountain town and it still snows six months out of the year," she adds. Olympian owner George Humann moved into his Fifth Street location a year ago and while he finds the living downtown convenient, he's happier to be living in such posh accommodations. "I was living in a real piece of junk on the mountain. Now, I don't have to go out every night because I have a nice place." Paul says his reason for creating a loft-style interior was the desire for higher ceilings and more open space within each unit. "I was trying to offset the tight urban feel," he says of the open feel and expansive windows. The Williams, who reside full-time in Howelsen Place, care more about living downtown than their home's contemporary style. But Audrey is excited for the furniture makeover to complement the nelook. Howelsen Place offers a warm color palette and rich, dark finishes to create a more refined look than that of Alpenglow. "(Alpenglow) is more whimsical and contemporary. The interiors were done with a focus on a younger generation," Traci says of the rooms' exposed air ducts, glass tile and natural wood. Regardless of their interiors, it's the ease of access to downtown's recreation and amenities that has the trend soaring in Steamboat. And what better place to watch jumpers soar at Howelsen?
Roofs of Routt County
Hidden behind Mount Werner's streetscape, a copper roof peaks over the treetops. The Strings Music Festival roof was designed to represent the building's inimitability, with the structure's flosymbolizing the music played inside a strong lead at the entry, climbing upward toward the stage and then whimsically flying out through the roof. But it's the roof composite shingle changing to copper where the botrusses penetrate the flat top that's indicative of rooflines throughout Routt County, all designed to perform in four distinct seasons while shouldering our town's snoloads. "The interior side trusses are made to mimic the bridges on string instruments," says Steamboat Architectural's Bill Rangitsch, adding that they also help support snoloads. "The trusses are structural, not just fluff, and we did it completely from scratch." In general, you'll see three types of roofs in Routt County to prevent icing: cold attic, where ceiling insulation keeps attic air cold; cold roof, best thought of as an "air-sandwich" within the roof; and super insulated, where high R-value insulation is placed in the roof. "It's the cold roof and super-insulated roofs that allofor the complex roof lines you see in modern mountain construction," says Michael Olsen of Michael JK Olsen, Architects. "Noyou can do just about anything with them." You can even go grassroots, as is the case with a "green" roof in Elkins Meadow. Evo Design owner Lisa Lee Benjamin teamed up with Jeff Gerber of Hawkins Architects to design a 1,700-square-foot rooftop filled with five inches of dirt and low-maintenance plants. "We want to push this boundary," Lisa says, adding that garden roofs also act as insulation. "It's a collaboration of landscaping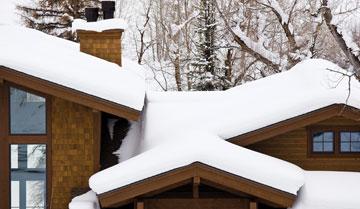 Roofs in Routt County come in all shapes and sizes, including asphalt shingles with a cold attic. Photo by Corey Kopischke.
and architecture." Owner Laurie Reed says she wanted her home's rooflines to fit more naturally into the landscape. "I'm overjoyed with it," she says. "Instead of looking out over a roof, we look out over a garden." Many consider flat roofs a faux pas in snow-laden communities like Steamboat. But Bill points out the flat-roofed businesses downtown, all of which are designed to handle snoloads. "Contrary to what people think, flat roofs work well because the roof doesn't slide," Bill says. Contractor Stephen Cavanagh prefers non-metal roofs for the same reason. "I have no problems with flat or pitched roofs, but getting it designed right is key," says Stephen, who has built roofs for the Forest Service, Yampa River Office Park, Wal-Mart and Yampa Valley Medical Center. "A good roof doesn't have ice." A-frames, he adds, are typically metal and designed to slide. While the style prospered in the past, most of today's mountain homes feature gable roofs with dormers coupled with either peak or shed roofs. As for material, you're likely to see metal on sliding roofs and either asphalt or plastic shingles for those bearing loads. What you don't typically see, adds Michael, are concrete or stone tile roofs. "Our heavy snowloads have a tendency to crack them," he says. "Metal asphalt shingles perform better in our climate." And of course, you'll also see materials like copper used on such buildings as the Strings Pavilion, which slides like the scales the musicians play inside.
A True French Country Bathroom - Liming key to country look
Sometimes, the best way to give a cabinet an Old World look is to employ OldWorld techniques. Last fall, the owners of a rural Steamboat Springs home asked designer Ellen Ladleyto help them select a vanity for their newly remodeled bathroom. Their home, built in the midst of a mountain forest, features an unexpected but delightful combination of styles, ranging from v i n t a g eEnglish woodwork to ralog beams reminiscent of the American West. Rough plank flooring is contrasted by intricately carved bookshelves, wainscoting, an old-fashioned country kitchen and elegant double doors - even on the linen closet.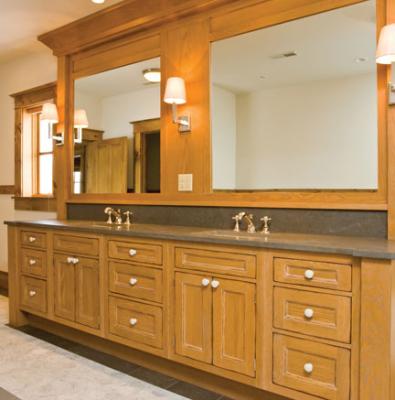 French Flair: Lime-washed oak, soapstone counters and polished nickel lights give the bathroom a European flavor. Photo by Corey Kopischke.
After studying this chic, yet comfortable, home, Ellen and contractor Duane Carstensrecommended a cabinet finish with a lime wash, a technique that dates back to 16th century Europe. Similar to pickling, liming employs a corrosive wash, applied numerous times to stained wood, in this case, oak. The technique was originally used to prevent worm and beetle infestation in furniture and paneling. It came into its own right as a decorating technique because it produced a burnished, handsome finish. To finish the custom vanity for Ellen's clients, cabinetmakers hand-worked thewood 42 times. The eight-week process resulted in a warm brown finish with variations in hue that give it a rich, European appearance. The Woodmode vanity is complemented by a soapstone countertop and twin mirrors, flanked by wood paneling and polished nickel light fixtures. "This is an interesting house because it has its own eclectic character," Ellen says."It's a mixture of a fethings: mountain, country French, old English, and yet a bit of avant-garde contemporary. The design challenge was to pull it all together. Bathrooms don't only consist of vanities, but a bad one will really be noticed. The finish and quality of these vanities fit the challenge of tryingto pull it all together."