Yampa Living
07/01/2010 01:00AM ● By Elizabeth Findell
Summer-Fall 2010:
Yampa Living
by Elizabeth Findell
Living al Fresco
Behind Bernadette and Ron Murray's house in Old Town lies a small, comfortable and inviting outdoor room. In a garden between the house and garage, a couch and chair sit before an outdoor fireplace, chaise lounges face a rock fountain, and a raised patio holds a table and grill. Bernadette says the area is a lovely way to maximize the family's home space.
"It's a small house, so we built up the outdoor room to maximize our living space," Bernadette says.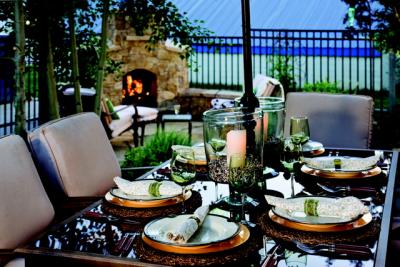 Functional, aesthetic furnishing extends the Murray family's outdoor dining season.Such outdoor rooms are gems in Steamboat Springs where people relish nature as part of their living environment. Bernadette likes the fire/water contrast behind her home. The fireplace extends the season that the family can use the area. She said she wanted an actual room feel, choosing furniture slightly more plush than most patio furniture.
"We designed three functional spaces in a very small area," she says. "You don't need a big area to make a great space."
Jodee and Towny Anderson found that a rose-stone patio at their house was too hot to be enjoyable, so Jodee, a former landscape designer, created an outdoor room with living walls and ceiling. She built a pergola between the kitchen and garage and a trellis around the space with vines growing to create the enclosure.
Joining the Bulb Club
For a glorious touch of color next spring, plant bulbs this fall.
"We don't have a lot of color first thing in spring," says Mike Higgins of Gecko Landscape & Garden Center. "Bulbs are a great way to stretch the season. They add good interest and give you that little extra splash." Tulips, daffodils, crocuses and hyacinth generally growell here, Higgins says. And everyone has their favorite flower.
"Daffodils are a good choice because nothing eats them," says Gayle Noonan, supervisor of the Yampa River Botanic Park. "They spread easily and there are many different kinds. I like the double daffodil; it's really fragrant." Tulips are also a mainstay, known for their versatility and resiliency. "They're often the only thing going after a couple of 300-inch winters," Noonan adds.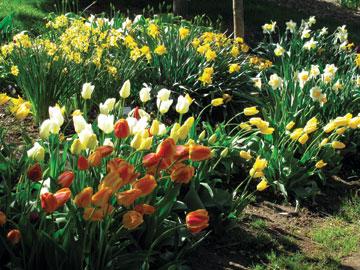 Tulips, daffodils, crocuses and hyacinth are all bulbs that growell locally after our deep winters. Photo Deborah Olsen Allium, which can groto the size of a softball, is increasingly popular, especially in contemporary gardens, and irises, which are technically a rhizome, thrive in Steamboat Springs' environment. "Plus, they are great at naturalizing – multiplying," Higgins says. "They really fill in an area." Buying bulbs can be as simple as visiting a local garden center, or as adventurous as making a trip to Holland, whose fabled tulips bring color to the northern European country at the end of a long, dark winter. The Bloemenmarkt, a series of floating shops on the canals of Amsterdam, offer a mind-boggling variety of bulbs.
If a trip to the Netherlands isn't in your budget, imported bulbs are readily available on line. Pay attention to recommended zones for planting, Noonan reminds gardeners. Zone 4 is best for Steamboat's long winters, although some Zone 5 plants will work, she says. The Botanic Park orders bulbs from John Scheepers Inc. and McClure & Zimmerman, which is known for its exotic offerings.
Regardless of their origin, bulbs should be firm, similar to a garlic clove. Beware of bulbs with sprouts or soft spots, as they are not dormant. The best time to plant bulbs is after the garden has become inactive, usually in late October. Choose a well-drained location with plenty of sunlight; the size of the bulb determines the depth of the hole. "The bigger the bulb, the deeper it has to be planted," Higgins explains.
To prepare the spoil, sprinkle bulb fertilizer in the hole and, depending on soil quality, add a little bone meal. The hard work pays off in spring, when bursts of color appear to the amazement of gardeners who have long since forgotten just homany bulbs they planted before winter.