Living Easy
07/01/2010 01:00AM ● By Gena Fischer
Summer-Fall 2010:
Feature: Living Easy
by Gena Fischer
Eric Meyer's Old Town home showscases sleek, contemporary design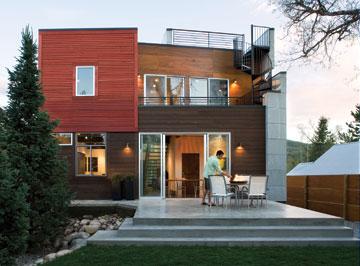 The contemporary Old Town Home of Eric Meyer was designed by West Elevation Architects. Photo by Dave Patterson
Contrast can be a good thing. Take a look at Dr. Eric Meyer's contemporary house on the banks of Butcherknife Creek. Its ultra modern design provides a counterpoint to the quaint Old Town cottages that surround it, adding a little spunk to the nearly 100-year-old neighborhood.   
Meyer, an anesthesiologist who spends his free time climbing the world's tallest mountains and helping its poorest people, came upon the house in 2006. "I loved this place the first time I sait," he says. "It's such a fun house. I love its unique architecture and the fact that it was designed to fit on this small lot and save the two big pine trees in the backyard."Noserving as a yoga studio off Twenty Mile Road, the lot's original home was hauled away in 2005. Local architects Katie Kiefer and Scott Myller of West Elevation then designed the current home for another couple. When Meyer took ownership, the interior was incomplete and he hired Kiefer to complete the job. "Katie led the whole project, and her great style merged with my style," he says. "She has a great sense for detail."
With concrete floors and galvanized metal ceilings on all three levels, the home is a concise, 1,800-square-foot masterpiece. Created of three stacked cubes, skewed and intersecting one another, the home's exterior features marine-grade mahogany siding and fencing to accent concrete panels and hot-rolled steel. The clean vertical lines of this home definitely attract the attention of passersby, who wonder what lies behind the facade. The interior does not disappoint. Entering the mahogany doorway, the main focal point is the sleek kitchen, located just off the living room. Among its features are a stainless steel Thermador range and countertops, Sub Zero fridge and neatly appointed workspace. A wing-shaped island with an environmentally sustainable Alkemi countertop seemingly soars through the kitchen, a design inspired by Meyer's love for flying.
##image2-left-Dr. Eric Meyer practices in the yoga area of his Old Town Home. Photo by Corey Kopischke##A hand-carved door hung on stainless-steel rolling hardware, a retractable vertical light that helps define a small office area, and transparent "ghost chairs" in the dining room were designed to add spaciousness to the compact space while adding to the home's personality. And despite its clean lines and industrial materials, the house exudes warmth. Materials from the original kitchen were reused in other parts of the house. Cabinetry became an entertainment center and what were formerly countertops noform a backyard table. A glass door opens to the backyard, where modern lawn furniture and a hot tub make it a great place to hang out. "This house is connected to the outdoors," Meyer says. "It doesn't shut you in. With all the glass, you're part of whatever is happening outside, no matter where you are." Off the dining room is a small office, with a door opening to the one-car garage, where Meyer stores his 2003 Twin Turbo Porsche. Hanging above his beloved car are mountain and road bikes and an assortment of skis – necessities for any Steamboat resident. "A house with this square footage leads to an obvious lack of storage," he says. "I've learned that less is more in a self-contained space. Except for maybe my toys."
A slick steel staircase takes you to the upper level and yoga area ("I'm a yoga geek," he admits), a library and two bedrooms, including the master with a bath door on rollers that Meyer calls a functional piece of art and remote control darkening shades that, with the flick of a button, turn day into night. "My job causes me to work some really odd hours," he explains. From the small deck off the bedroom, a spiral metal staircase winds up to the rooftop deck – the ultimate cool feature of the home – where Meyer has an oversized day bed, pine trees in planters and heavy, modern, plastic furniture. "I spend a lot of time up here in the summer," he says. "It's a great place to relax and to just be connected with Old Town. And I've have some good parties up here, too." From the main level, a second spiral staircase leads to the basement, also improved during the remodel. "It's a great place for storage," says Meyer, pointing to various piles of sporting equipment on shelves, neatly organized and divided by sport.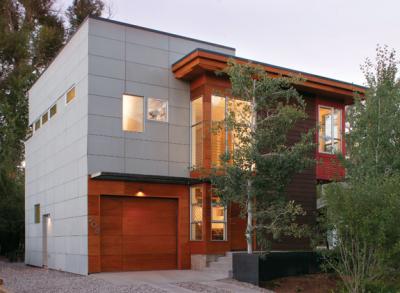 by Dave PattersonMeyer's love for traveling has taken him all over the world, for both work and adventure. He has conquered Mount Everest and K2, and most recently came within 800 meters of summiting Makalu in Nepal, the fifth-highest mountain in the world. When he's not climbing mountains he donates time in Third World countries, including Haiti, where he provided medical care for earthquake victims, and Central America, where he assists with surgeries on children with cleft pallets through Operation Smile. But he always looks forward to returning to his home on Butcherknife in Steamboat. "I come back to take stock, reneand reenergize," he says. "The simplicity of this home makes that easy. I love what we did here, and I'm a lucky guy to call this place home."