Global Climate Change with a Local Twist
07/01/2010 01:00AM ● By Jennie Lay
by Jennie Lay
Small Steamboat efforts address the planet's big dilemma
A recent pair of 500-inch winters doesn't trump the reality of climate change. Scientists predict the Rockies are ultimately headed for warmer temperatures, smaller snowpacks, earlier melt-off and corresponding drought, wildfires and water shortages – let alone consequences for the traditional ski season. They share a solid understanding of the underlying physics of climate change and an overwhelming certainty that it is underway. Weather is not climate; climate is the long-term average of weather. Despite Steamboat Springs' wintry start to spring 2010, scientists agree that we're headed toward a balmier planet. Climate change is possibly the single most encompassing dilemma of our time. Here's what local scientists, grassroots organizers and one regular Steamboat Joe are doing about it.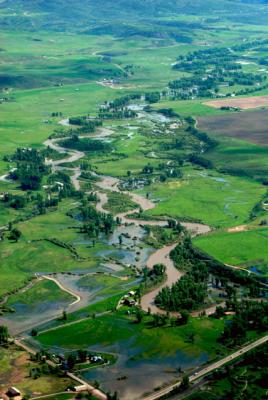 Leading climate scientists maintain that rising CO2 levels in our atmosphere are leading to more rapid run-off, as pictured here on th Yampa River. Photo by Aryeh Cooper
The Hard Science
Many of the world's leading climate scientists say 350 parts per million is the safe upper limit for CO2 in our atmosphere. We're already at close to 390 parts per million – approaching what experts call a "tipping point" where impacts like melting glaciers, drought, spreading disease and rising sea levels are irreversible. Colorado is the nexus for earth-based atmospheric science, weather and climate research in the United States – and that includes Steamboat's Storm Peak Laboratory, where lab director Dr. Gannet Hallar and her colleagues conduct research that influences the International Panel on Climate Change. Hunkered into snodrifts on a one-acre U.S. Forest Service special use permit atop Mount Werner, Storm Peak Lab is a model of self-sustainability operated by the Nevada's Systems of Higher Education's Desert Research Institute in Reno. Along with leading scientists, up to eight graduate students a year conduct research projects at the lab. They melt snofor water, cook communal meals, sleep in tall stacks of bunk beds, and until funding arrived for last summer's renovation they relied on combustion toilets. Everyone is a "MacGyver," keeping delicate rooftop whirligigs and tennis racket snocollectors functioning in extreme conditions.
Hallar says she spends about 70 percent of her time on the mountain. The rest of the time she's down in Steamboat monitoring projects remotely. Atmospheric science is a 24/7 job. The year's big news is the Storm Peak Lab Cloud Property Validation Experiment, aka Storm VEx, a state-of-the-art experiment sponsored by the Department of Energy. Storm VEx starts in October, with different scientific models converging. They'll be using cloud probes at the lab, remote sensing equipment in shipping containers at the top of Thunderhead and a valley floor station near the hospital where daily weather balloons get launched. Meanwhile, an airplane from the National Science Foundation and the NASA Cloudsat Satellite will be collecting data from above. Scientists will take measurements from inside and outside the clouds to improve algorithms by simultaneously measuring particles. This is the first study of its kind and University of Utah lead scientist Gerald Mace expects it could improve climate models significantly. "It'll be huge. There's going to be a lot of equipment," Hallar says. "Pray for really dense clouds. Being socked in will be ideal."
Storm Peak Lab has monitored CO2 for the National Center for Atmospheric Research in Boulder since September 2005. The lab is globally rare – one of a small handful of full-fledged high-altitude stations that do year-round atmospheric study. And lately, a lot more money has emerged for atmospheric science, Hallar says. "We're slammed but it's good," she says. An influx of federal stimulus money for atmospheric study has to be spent by Sept 2011, which gave Storm Peak Lab a green light for many projects that were in the pipeline, including finishing construction on the center part of the building, which is a holdover from lab trailers that occupied the site in the 1980s and 1990s. "Potentially as important as CO2 is the impact of particles on climate change," Hallar says. "That's the longest uncertainty in climate change models – the impact of particles and clouds." She studies the composition and size of particles (called aerosols) in the atmosphere so climate models can do a better job modeling their impacts. Dark particles absorb; white reflect; and size and shape impact things as well – all ultimately affecting heating and cooling. So, hodo you look at microscopic aerosols? Hallar uses a photo acoustic spectrometer on loan from Los Alamos National Laboratory. It effectively heats a particle and changes its shape while listening to the sound of it happening. This is especially important for color, where you can't actually see a particle's color but you can tell hoit absorbs or scatters at a certain color when shot with different lasers. All of this could help answer the question of homuch atmospheric aerosols are natural vs. manmade – i.e., sea salt, dust or biogenic materials from trees vs. ozone-oxidizing biogenic materials.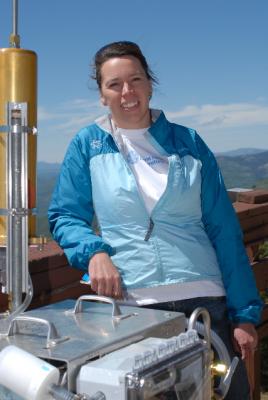 Storm Peak Lab Director Dr. Gannet Hallar at work atop Mt. Werner. Aryeh Cooper
The lab is watching increasingly frequent dust storms coming from the Four Corners region. Dr. Tom Painter from the University of Utah speculates that the culprit is possibly land use change in southern Colorado. Last year sathe most dust yet. "If you put something dark on white snow, the snomelts faster," Hallar says.  "That's why we care so much about dust. We're trying to get a sense of the size of those particles not only to monitor what happens in the atmosphere, but hoit changes snomelt." With its ideal location, validating cloud modeling is a focus at Storm Peak Lab. The Park Range runs perfectly north-south with a large fetch between the Cascades and Mount Werner, so clouds are forced to go straight up to the lab at just over 10,500 feet. With ski lifts facilitating access, it's serendipitous that scientists have everything in alignment for a perfect lab location.
Getting Schooled 
For the past four winters, Storm Peak Lab has run a fifth-grade science program bringing kids to the lab and the lab to their classrooms. Hallar, who taught classes to gifted third-graders while she was in grad school, teaches students about weather and climate, what they do and why we care. "A lot of people don't have the scientific background to understand the differences between weather, climate and atmospheric science," Hallar says. "CO2 absorbs heat, but they don't understand why. Those confusions feed misconceptions. We try to get them to clearly understand what is weather and what is climate: Do you knofor sure if it's going to snonext week? No. Do you knofor sure it's going to snonext winter? Well, yeah. Homany years of measurement do you need to knothis?" Your Yampa Valley fifth-grader knows the answers.
Transitioning
Concerted efforts to increase local sustainability and energy efficiency (and thereby lower our collective carbon footprint) meet trials and triumphs in a rural community like Steamboat.In October 2008, Rocky Mountain Youth Corps launched a program for low-income residents around Northwest Colorado to receive free Tier 1 Energy Audits. While giving Colorado Mountain College students an opportunity to delve into green collar careers and earn class credit, the program helped at least 60 residents retrofit their homes with efficient light bulbs and showerheads and other energy savings measures, and provided consumer education to help reduce energy consumption. The much-applauded Residential Energy Program was funded through the governor's energy office, but its rapid success came to an early demise. Turns out, programs like these aren't economically viable in rural Colorado when teams of energy auditors have to travel far between clients. "We blethrough the list and moved onto other counties. But it was the same per diem whether you went door-to-door or drove to Maybell," says Sheila Wright, Rocky Mountain Youth Corps' recruitment manager. Still, "it was great community outreach – a great program making a positive change for these people and the environment in general," Sheila says. Rural challenges like this inspired a group of locals to look toward the Transition Movement. Originating in England, the grassroots idea behind Transition is to seamlessly fill a void of diminishing resources on the down side of "peak oil" (the point at which global oil production maxes out and production levels decline) and avert the impacts of climate change: Act noat the local level instead of waiting for the government to do something big. Transition Steamboat kicked off the local effort in May, joining the ranks of more than 2,000 fledgling Transition towns around the world.
Transition focuses on breaking our addiction to oil and envisioning Steamboat's future without it. Then we head toward that future via practical projects involving food, energy, transportation, health, economics and even the arts.     During a gathering in Steamboat last spring, Michael Brownlee, the founder of Transition Colorado, emphasized the opportunities we have to rethink and reinvent our local community, and the world: "It's about releasing the collective genius of our community. It's an adventure in working this out together." By working proactively, Transition Steamboat envisions more local self-sufficiency, a thoughtful withdrawal from oil and a smaller community carbon footprint. --Info: transitionus.ning.com/group/transitionsteamboat
Tail Emissions 
While Routt County continues to tout its agricultural prowess, local cattle and sheep persist in their notorious proclivity to burp and toot. A 2006 United Nations report concluded that the global livestock sector produces 37 percent of man-made methane and 65 percent of nitrous oxide, both potent greenhouse gases. In fact, the EPA ranks methane's global warming potential as 21 times that of carbon dioxide. Methane production is part of cattle and sheep's natural digestive process, but the EPA has spent nearly $15 million studying the spewing of these toxic greenhouse gas emissions. On its "Fart Chart" the agency ranked Colorado 25th among America's cattle flatulence. The USDA's most recent Census of Agriculture accounted for 22,397 heads of cattle and 8,903 sheep in Routt County. One prop for the Yampa Valley's meadows: Studies shothat pasturing on high quality grass like ours can reduce methane emissions by as much as 20 percent.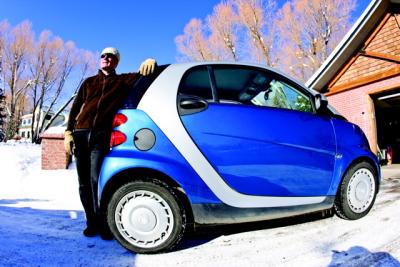 Photo by Corey Kopischke
Driving Smart
Worldwide, more than a million Smart cars prowl the roads. Steamboat boasts two. Smart cars made their debut in the United States in January 2008, a decade after Europeans got their first taste of the ultra-efficient automobiles that are a joint venture between Mercedes-Benz and Swatch. When local surgeon Dr. Mark Hermacinski's blue Smart car arrived in Denver last summer, his test drive was to zoom his three-cylinder, 71-horsepower micro car up I-70 and over Rabbit Ears Pass at 75 mph. "It goes faster than the speed limit, no problem," he reports – getting 45 miles per gallon to boot. As for handling snoand ice, he adds, "It won't let you do donuts even if you try." Ski and bike racks are available, too. Hermacinski vouches that golf clubs, rugby gear and fello6'4" rugby players all fit comfortably inside. "It's the same as buying a Harley or a snowmobile," he says, alluding to its $11,990 starting price. On April 1, the federal government released neauto fuel-efficiency standards aimed at cutting greenhouse gas emissions. Starting with 2012 models, better gas mileage is required – hitting a minimum average of 35.5 miles per gallon by 2016. Hermacinski figures he's found the answer, for the planet and his pocketbook: "It's not much longer than a bike, but it's safer. Every year I appreciate it more and more. It's the perfect car. Everyone in Steamboat should have one."
Gas Facts
Tailpipe tally: The EPA estimates a single gallon of gasoline produces 19.4 pounds of CO2. CO2 emissions account for about 95 percent of passenger vehicle's greenhouse gas emissions. Top that: In 2012 Smart car rolls out an electric model.
Could Carbon Sequestration be Coming to Craig?
"Up until a couple months ago, I thought this was just a pipe dream. Now, maybe not," Colorado State Geologist Vince Matthews told attendees at the 2010 Energy Summit in May. Geologic surveys indicate that as much as 47 million tons of carbon sequestration are possible in the area south of Craig. The Department of Energy is throwing another $5 million toward studying the area starting with permitting this summer for an 8,000-foot well through three levels of sandstone for core sampling, water sampling, modeling and determining potential storage volume and leak pathways. The idea behind carbon sequestration is to grab CO2 from sources like coal-fired power plants that would normally go into the atmosphere and put it in permanent storage – in this case, compressing the CO2 until it becomes a liquid, then injecting it belothe ground water. But it takes a lot of energy to do that compression. Colorado has yet to develop any regulations regarding carbon storage and sequestration, and the process of "capture" has yet to be dialed in. "So much of this stuff sounds good on the surface, but no one has figured out hoto do a lot of it yet," Matthews said.
Taking Inventory
Greenhouse gases (GHG) trap heat in the atmosphere and are the main culprits in climate change. Reducing our emissions of them is the key to achieving sustainability. The University of Colorado Denver recently conducted an inventory of Routt County's emissions of carbon dioxide (CO2), methane and nitrous oxide (which account for 98 percent of all GHG emissions) to provide a baseline assessment for future comparison. The inventory counts buildings, electricity, natural gas, surface and air transportation, agriculture and the embodied energy of key urban materials and waste. Tourism's impact was no small factor, with an estimated 1.3 million visitors a year. Calculations adjusting for their impact add an extra 5,780 people to the county's population – a 27 percent boost from 2005's 21,313 year-round population. Here's where we stand:895,000: Total metric tons of GHG emissions from Routt County 57: Percent emitted by residential, commercial, and industrial sectors 17: Percent from transportation emissions26: Percent from agriculture, food, cement, fuel production, water and waste 41.1: Tons per Routt County Citizen32.3: Tons per person using a visitor-adjusted populationMeasuring up: Colorado's statewide GHG emissions are 24.5 tons per person. Denver emitted 25.3 and Eagle 25.9 tons per person in recent years. NeYork City comes in at 7.1 tons per person.