From Sweat to Steaks
07/01/2010 01:00AM ● By Eugene Buchanan
Summer-Fall 2010:
Feature: From Sweat to Steaks
by Eugene Buchanan
Ex-NFL fullback and Under Armour executive Ryan Wood is slowly changing the way America eats beef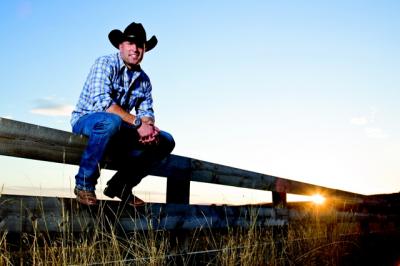 Sweetwood Cattle Co. owner Ryan Wood at home on his 652-acre ranch, where he's raising a nebreed of artisan beef. Photo by Corey KopischkeWearing a camo Under Armour baseball hat, faded jeans and a blue-and-gray plaid shirt matching his eyes, Ryan Wood, 37, props a well-worn cowboy boot atop the nemetal fence at his 652-acre Sweetwood Cattle Company along the Elk River. Sunglasses bulge from his chest pocket and a Miami Vice five o'clock shadoencircles his cheeks and chin. You can't blame him for not shaving. He's got a lot on his plate. And he's banking that consumers will, too, as they dig in to his nebreed of artisan beef raised in Routt County. Sweeping his hand south toward a bend in the river, he outlines the lay of his land. At the end of a field, two telephone poles rise up like football goal posts. His eyes rest on them, perhaps jogging memories from his days playing professionally, before moving toward the ranch's western boundary atop sage-covered hills. Hands in his pockets, he takes his foot down and weights it behind him, a coach giving a lesson to a player.
"This is where the magic happens," he says. "That's the cafeteria. We want our ranch to be a gold standard for hobeef is raised in this country. We're getting back to the roots of hoit all started out here. Our cattle aren't just numbers at a feedlot; we can name almost every one. They're born and raised here, where there's great air, water and grass. It's the same quality-of-life reasons we're here."If anyone can appreciate this, it's Wood. The setting is a far cry from his previous life on the gridiron and at the corporate grind. Raised in Loveland, he won a state football championship at FairvieHigh School, a national championship at Ohio's Youngstown State, and made All Pac 10 at Arizona State. In 1996, he was drafted as a fullback by the Dallas Cowboys. After his pro career, he teamed up with former Ft. Union, Va., military prep school teammate Kevin Plank to co-found apparel giant Under Armour, seeing sales eclipse $700 million by the time he left in 2007. Nohe's applying that same marketing savvy to livestock.  
"It's a lot like what we did at Under Armour," Wood says. "Athletes had been working out in cotton for years, and we thought there had to be a better way. Our technique is better for the environment, animal and consumer and produces a better, more natural product."His football and corporate years nobehind him like a trail of defensemen, he's happily kicking into a negear raising red Angus.
Outside a rustic cabin that Wood and his wife, Beth, lived in until moving into their nehome this spring, we pile into a four-wheeler and head north on a two-track up the hillside. His two dogs, fox red Labs Judge and Ruby, follobehind, Ruby limping from her second ACL repair. Wood points out the ranch's meadows, the knoll where he got married a year ago June, the two miles of river restoration work, and the meadows across U.S.129 above Hot Springs Creek where he has a 7,500-acre grazing lease from the Forest Service. In the fields below, his cattle stand with heads bowed, happily munching Sweetwood grass. On the side of each is the brand "024," a play on a poker game he learned as a rookie at Youngstown State. "That game taught me a lot about perseverance and pressure," he says. "I wanted my brand to reflect those lessons."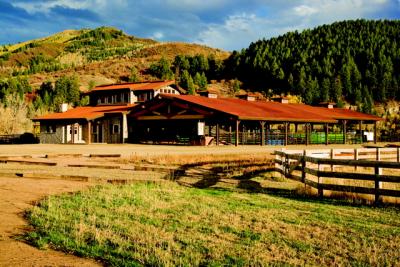 Putting 451 acres in a conservation easement allows only an 11-acre envelope for buildings, including this state-of-the-art cattle facility. Photo by Corey KopischkeBehind the easternmost field courses the Elk, carrying the water supporting his edible enterprise. "We put in 10 miles of perimeter and river fence," he says. "Cattle used to walloin the river and over-graze the banks, but nowe're keeping them from the riparian areas to enhance the fishery. The wildlife and fishing have come back to life in just a year. You see waterfowl and eagles every day – we're ranchers, but we love the wildlife on the ranch, too." Next, we head up to the weight room/guest building overlooking the ranch. Inside hangs a framed poster of Jim Brown in full Heisman pose. Next to it, above a roof bikes, treadmills, weight benches and dumbbell racks, is a framed poster of the 1980 USA hockey team. It's here that Wood comes to escape and work-out. Not that he needs it. He's as solid looking as his bovines; his job's physical demands are every bit as tiring as his days with the Cowboys. "I love working outside every day," he says. "At Under Armour, I spent most of my time in conference rooms, rental cars and planes. NoI get to work out here. But it also offers the chance to use your brain and problem-solve."
There's plenty of that. Wood wasn't a cattleman when he moved here. With six months left on a two-year Under Armour assignment in Amsterdam, he began researching Steamboat online and saa listing for the May Ranch, named for the family that bought it in 1928. So he fleout, toured it on horseback, and fell in love. Then he noticed the land to the south also, and thought it natural that they be together. In all, he purchased four separate parcels – the 385-acre May Ranch, a 197-acre tract to the south, and two 35-acre parcels to the north – to form Sweetwood. While he didn't return to Colorado with the notion of throwing his hat in the beef business – he simply wanted to ski, fly fish and raise a family in a small mountain town – that changed once he moved to the ranch. "The more time I spent here, the more I realized hospecial this place was," he says. "I wanted people to be able to experience it somehoas well." Beef proved to be the answer – especially since he's sitting on one of the best cattle-growing environments in the world. Water comes straight from the Zirkel Wilderness Area, the ranch's pastures enjoy their own mild micro-climate, and the fields get more than 300 days of sunshine a year. The result is a three-part make-up of timothy, brome and clover providing the perfect balance of protein and fiber for raising cattle.
With sustainability his top priority, Wood preserved 451 acres of the ranch through the Colorado Cattleman's Agriculture and Land Trust. He then applied the same concept to cattle, relying on a more natural approach to raising livestock. The ranch owes its name to a proprietary "sweet secret" put into the cattle's mineral supply, consisting of sugar from Colorado-grown beets and an herbal blend of parsley, rosemary, peppermint and ginger root to boost immune and digestive systems. No antibiotics or growth hormones are added to the diet. "It's like an all-natural buffet," Wood says. "They get their salad from the meadow, main course from Colorado-grown grain, and something sweet for dessert." As with Nike taking notice of Under Armour, others are catching wind of his operation. This spring, Sweetwood became the first ranch in Colorado, and only second in the country, to receive a "verified green" award from the USDA. "We look for operations engaged in sustainable practices, and Sweetwood has it through the complete loop of the production chain," says John Saunders of IMI Global, which bestows the award for the USDA. "From the beginning to the end when it's on the consumer's plate, they're in control of the process." Saunders adds that the award also attaches carbon credits to Sweetwood's beef. Buy it and consumers help offset their own carbon footprints.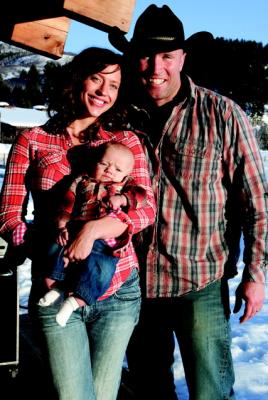 Wood, with wife Beth and son Everett. Corey KopischkeWood's emphasis on sustainability doesn't end at the trough. It carries through to the processing and packaging. Whereas most beef is slaughtered, wrapped in plastic and injected with gas to age, Wood dry ages his meat by letting it hang for up to three weeks. While the accompanying weight loss cuts into margins, it makes for a better product. Further, while competing companies use non-recyclable foam coolers and dry ice made from liquid CO2, which morphs into harmful greenhouse gas, Sweetwood uses 100-percent biodegradable burlap, reusable gel packs, recyclable "green liners" and cardboard boxes to package their product. "Most everything we use is either reusable or made from recyclable materials," he says. "We're 100 percent focused on sustainability and are being thoughtful in every step of the process."
Wood's office is attached to a new, spare-no-expense covered barn and cattle facility, decked out with refurbished barnwood siding. A flat-screen TV is mounted on a restored barnwood wall and a conference table looks like it's seen as many card games as business conversations. On a shelf above his desk rests six scratched football helmets from the teams he's played on, from the Cowboys to Youngstown State. Somewhere belothe office's flagstone floor, an Indian chief was supposedly buried. Through a windobehind an old-fashioned Buck's woodstove, the sound of the Elk River wafts in with the breeze.To get to Sweetwood, you first have to cross the Elk on Steamboat's old Fifth Street Bridge, which has been transported to the ranch, complete with its 1930 Department of Transportation stamp of approval. The conservation easement means the ranch has only an 11-acre envelope for agriculture and residential buildings. Using local labor and materials wherever possible, this summer he finished a 2,200-square-foot log home for his family, which noincludes his wife, Beth, son Everett and their two dogs. He restored the old Mystic Post Office into a guest cabin, completed a state-of-the-art cattle facility and living quarters for ranch manager Joe Pokay Jr., plus built the Sweetwood shipping center, complete with a 30-foot freezer purchased from Yampa Valley Medical Center. And he'd like to restore the old May Ranch Barn into an Old West-
Article Gallery [4 Images]
Click Any Image To Expand