Dancing to a Different Drum
07/01/2010 01:00AM ● By Elizabeth Findell
Summer-Fall 2010:
Feature: Dancing to a Different Drum
by Elizabeth Findell
Dedicated troupe brings African dancing to Steamboat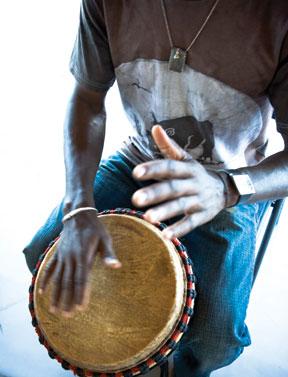 Mohammed Alidu, from Ghana, teaches a drum class during Steamboat's Pan African dance festival. Photo by Ken WrightKayakers, tubers, bikers and joggers passing by the Depot can't miss the loud tribal rhythms and shrieks coming from the baggage room on Tuesday and Thursday nights. Those who peek a curious head in will see dancers jumping and swaying to the frenetic beat of live drummers with fast feet and swooping arm movements. As the tempo intensifies, so do their movements, until the frenzy of stomping ends in breathlessness.
"African dance is never-ending energy," says Nicole Idzahl, adding that the dances represent events like courtship, harvest and celebration.     Since Robin Getter introduced African dance to Steamboat Springs more than 25 years ago, the African Dance and Drum Ensemble has come into its own. The ensemble holds twice weekly classes focusing on regional dances from Guinea, Mali, Ghana, Senegal, Ivory Coast, Congo, Zimbabwe and Togo. "Two to three times a week, we're celebrating life and bringing joy in," Idzahl says. Live drumming is integral to West African dancing. The conversation between movement and music defines the art. "We thrive on each other's energy," says Tim Hanna, who started drumming with the group five years ago and performed with the National Ballet in the Ivory Coast in 2008. "When you see them really get into it, it makes you play harder."     The ensemble plays goblet-shaped djembe hand drums as well as dunun sets, which consist of three sizes of cylindrical drums played with sticks. The interaction between drums creates vibrant, interwoven melodies as body parts move to the various rhythms. Mike Kinnecom, who spent 12 years playing heavy metal before he learned African drumming, says he enjoys the challenge of the music. Rock and metal is metronomic beats and relies on set timing, he says, whereas African drumming is a complex interweaving of different contrasting rhythms. "You just have to feel it," he says.
##Image2-right-Fara Tolno from Guinea drums for a dance class during the local Pan Africa festival. Ken Wright##The core group of dancers and drummers is dedicated to their art at a level of professionalism that involves intense practices and an expanding performance schedule. Members attend dance camps with master African teachers across the country, compiling journals of notes and videos to reference. Idzahl says that as a single mom, she uses African dance to expose her children to other cultures and its energy to get through difficult times. In the traditions the group practices, even dances recognizing sad events like funerals are lively and positive. Drawn by the passion of local dancers, the number of master teachers coming to Steamboat to instruct and perform has increased almost at a pace as fast as the dancing. African drummers come to town to play independently and with locals at venues ranging from the Ghost Ranch Saloon to the Strings Music Festival.
 "They like the energy we have – it's like family," says local teacher Jennifer Lowe.Participants say they hold their own in elite classes nationwide. After the ensemble introduced Abagail Fritz to African dance, she moved to San Francisco to train with top teachers. In the future, local dancers hope they won't have to resort to departures like Fritz's: It's their mutual ambition to bring an African teacher-in-residence to live in Steamboat for months of in-depth instruction. Steamboat troupe members say the unlikely link between West Africa and Northwest Colorado enriches the town. Ensemble members learn from teachers who can sing their entire lineage going back dozens of generations. Instruments are made from special trees that they say pick themselves to become drums, warranting celebrations in Africa of giving the tree a voice. Dancers and drummers recognize the ceremonies and rites of passage their movements commemorate. "We're conscious of what the dance is for – if it's a circumcision dance or wedding ceremony," Hanna says.African dance is about connecting to the earth and to each other. While the drums ring out a heartbeat, even high-flying dances involve bent knees and grounded movements – the opposite of dancing on point. Bright and loose traditional dress turns quick-moving limbs into blurs of bouncing color, the swishing of straskirts or beaded accessories adding to the music. The art can be practiced anywhere; members have danced on the hardwood floors of Steamboat studios and stages, in the dirt streets of West African villages, before waterfalls in bamboo forests and on the grass in the shadoof Mount Werner.   
West African traditions bring a fascinating element to Steamboat. During annual Art in the Park performances, children stare and try out dance moves on the sidelines. Tourists drop into dance studios to see what the live music is. Though there are accomplished drummers and dancers in the ensemble, everyone is welcome to drop by and try and no one cares whether you knowhat you're doing. "It's earthy and joyful and you don't have to weigh 90 pounds," Lowe says. "It's accessible – who's not going to tap their feet to a beat?" Lowe and Idzahl trade off teaching classes from 6:30 p.m. to 8 p.m. at the Depot on Tuesdays and Thursdays. Classes cost $100 for a season, or $12 per drop-in. The group performs at the All Arts Festival on Sunday, Aug. 22, and in the Steamboat Dance Theater Concert Thursday-Saturday, March 10-12, 2011.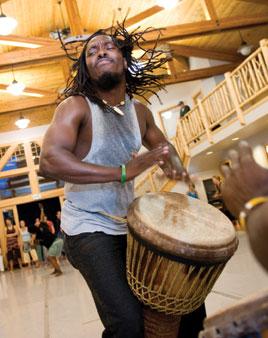 left-A community West African dance class. Ken WrightIf You Dance, They Will ComeAs a small, out-of-the-way town, Steamboat Springs once struggled to find African teachers who would travel here to teach guest classes. Then, word began to spread. "When we started showing up en masse at camps, the teachers took notice," says Jennie Lay. Nothey have a repertoire of  more than 15 master dance and drum teachers who regularly swing through town.Steamboat ensemble members "roll out the red carpet" for teachers who come to town, Lay adds. Dance sessions are frequently followed by African-style potluck parties with fires and music that last into the night. "Steamboat people give me good energy," says Djeneba Sako, a Boulder-based Malian dancer who leads classes here several times per year. "I'm free for Steamboat people anytime because they respect me."
After Lay traveled with Youssouf Koumbassa, a top NeYork-based Guinean dancer, she suggested that he come to Steamboat. Though the town is "small potatoes" for Koumbassa, Lay says, he came to town last year to teach for a week with his wife Mariam Camara, also a professional dancer, and djembefola Amara Mansare, considered one of the best Guinean drummers of his generation. Later, the group received an unexpected call from Moustapha Bangoura, a Guinean master dancer with companies in Chicago and Paris. He had heard about Steamboat and wanted to fly out from Chicago to dance in town. The interest of such top teachers is thrilling for the local African dance community. "It's like taking classes with Baryshnikov if you were a ballet dancer," Lowe says.
Taking It Abroad"I went to one African dance class and I was hooked forever," says Jennie Lay, who began dancing with the ensemble 13 years ago. "It blemy mind – the music, the people, the culture. I said, 'Someday I'm going to go to Africa and do this.'"Two years ago she fulfilled her wish, spending five weeks in Guinea studying under Youssouf Koumbassa. A group of 10 women from across the U.S. traveled throughout the country, staying in villages with Koumbassa's family while dancing and drumming. They performed twice in-country, once in a village and once as part of a dununba street party. Lay calls the intense regimen of dance and travel one of the best things she has ever done. "If I didn't have a loving African-dance supporting husband and a house and two dogs here, I wouldn't have come back," she says.
Others from Steamboat have found their own ways to experience the music in Africa. In 2008 Tim Hanna traveled to the Ivory Coast, where he lived with master drummer Djo Bi's family for a month, participating in daily village life and drumming in the evenings. Abagail Fritz went with Koumbassa to Guinea last year on Lay's recommendation. She loved the experience so much she changed her ticket to stay several extra weeks and then returned a second time later that year. "You gain so much by living with the people in the culture and start to really understand what these dances mean," she says.##image4-center-Djeneba Sako from Mali teaches a community dance class at Perry Mansfield during the Pan Africs Festival. Ken Wright##