Artscape:
07/01/2010 01:00AM ● By Jennie Lay
Summer-Fall 2010:
Artscape:
by Jennie Lay
Monks Coming to Yampa Valley
Steamboat Celebrates Tibetan CultureBy Jennie Lay
Does a trip to the Himalayas seem too daunting? Your journey just got a little bit easier.Hop on your cruiser bike and pedal down the Yampa River Core Trail because Tibet is coming to Steamboat Springs in August. Expect to hear gongs and chimes and deep throated horns. Envision crimson-robed monks sauntering down Lincoln Avenue. Prepare to be immersed in the creation of a rare and beautiful art form. Ten Tibetan monks from Drepung Loseling Monastery take up residency in Library Hall to construct a mandala sand painting Saturday-Wednesday, Aug. 14-18. Mandala sand painting is an ancient art form designed to purify and heal the environment.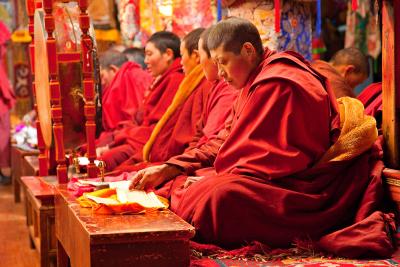 Nuns at central Tibet's Tidrum reading scriptures. Photo by Ken LeeThe community is invited to experience the art installation firsthand while the monks lay grains of colorful sand into place to form an intricate image. The entire painting process is open for viewing daily, and a translator will be on hand to answer questions. The monks have created mandala sand paintings in more than 100 museums, art centers and universities. They've collaborated with Paul Simon, Philip Glass, the Beastie Boys and the Grateful Dead's Mickey Hart, and their music was featured on the soundtrack for Seven Years in Tibet and the Martin Scorsese film, Kundun. They represented Tibet in the Cultural Olympiad of Greece.Steamboat's public art installation begins with an opening ceremony filled with chanting and music Saturday, Aug. 14, 11 a.m. The monks will spend the following days placing colored sands using a traditional metal funnel, a chakpur, while running a metal rod on its grated surface. The vibration causes the sands to flolike liquid as the image takes shape. At the end of the fifth day, the completed mandala sand painting will sit undisturbed so the community can vieit for one hour. Then, in the Buddhist spirit of impermanence, the sands will be swished away during a closing ceremony at 7 p.m. on Wednesday, Aug. 18, sending the sand down the Yampa River. The ceremonies and sand painting are free. What started as a mandala sand painting has grown into a community-wide event. The public will have the opportunity to participate in a sand painting next to the mandala artwork. Strings Music Festival presents the monks' sacred music and dance performance Tuesday, Aug. 17, 7:30 p.m. For three days, an exhibit curated by the Steamboat Springs Arts Council fills The Depot with Himalayan art and artifacts from local collections – as well as photographer Ken Lee's images from Tibet. The Steamboat Buddhist Center is sponsoring a lecture by the monks on Monday, Aug. 16, 7:30 p.m. And on Thursday, Aug. 12, 6:30 p.m., the library hosts a screening of an award-winning documentary "Blessings" that local resident Julie Green helped make about the lives of a group of nuns in eastern Tibet. Finally, stop by the library in the first two weeks of August to make your own prayer flag to add to a community strand that will welcome the monks to Steamboat. Send your wishes and blessings to the wind…just as you'd do in the Himalayas.--Visit www.mandalaontheyampa.wordpress.com for a complete schedule of Tibetan Culture Week and information.
Making a Connection: Art and Rural ColoradoBy Nora Parker
Just as artists' brushes roam over canvasses, the people behind them wander, too. Nosome of them are getting a helping hand thanks to the Colorado Art Ranch.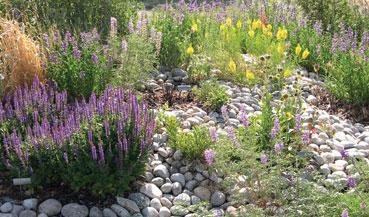 Monach Spur Park, a wildflower demonstration garden, boasts East Friesian sage, silky lupine, princes plume and more. Photo Susan J. TweitA self-professed "nomadic arts organization," the Colorado Art Ranch sponsors arts-related projects around the state, an example of which is its artist-in-residence program. In September it will host three artists at the Nature Conservancy's Carpenter Ranch, west of town. The idea is to "create an exchange between rural Colorado and artists from around the world," says the organization's Executive Director Grant Pound. 
Pound believes the artists will self-select based on the residency's location: "The Carpenter Ranch will probably attract artists who are interested in land issues like agriculture, wildlife and land use," he says. "We're looking for artists who use passion, skills and knowledge to connect to the world they live in."Part of the project's focus is to give back to the community and to the hosts – in this case Carpenter Ranch. This year, two additional artists have been selected to create a garden at the Ranch. Susan Tweit is a native- and heritage-plant expert, and her husband, Richard Cabe, is a sculptor and contemplative garden specialist. The pair will design a garden for the area behind the ranch's main house, and will get help from the resident artists in September. Tweit and Cabe will also offer workshops for local gardeners while they're here.
So far 50 artists have participated in the Art Ranch's residencies. Steamboat Springs hosted an Art Ranch artist-in-residence program in 2008, during which eight artists spent a month here. "We get applications for these residencies from all over the world," says Grant. "We've had some artists whose lives have been changed because of their residencies."
The artists are scheduled to give a public presentation about their art during the last weekend of September.