Building the Perfect Home Spa
04/01/2010 01:00AM ● By Anonymous
An Apparent: To give the room an airy feel, designers used stone accents, upholstered funiture and cream colored marble flooring. Photo by Sunshine Divis.
by Deb Olsen
Feel the coolness of the clay walls, smell the aromatic soaps, gaze into the quiet flames of the fireplace, hear the trickle of the waterfall, taste the crisp, white wine: Visiting the nespa in the rural Routt County home of Jack and Mary McClurg awakens the senses.
When the McClurgs first bought their home, most of it was already an elegantly appointed, inviting country manor. But the unfinished basement offered intriguing possibilities.
"It was actually Jack who came up with the idea of a spa and we immediately knethat's what we wanted to do with the space," Mary says. "From there it became our goal to try to incorporate design elements from wonderful hotel spas we've visited. We wanted to re-create a serene, warm atmosphere while still keeping the space light and airy."
To maintain a sense of airiness in a 1,500-square-foot area with natural light from only one wall, Valerie Stafford and Bruce Caplowe of Rumor Design + Redesign chose soft, creamy colors for the marble floors, American clay walls, upholstered furniture, flowing drapes and stone accents. They employed glass walls and interior doors to circulate the light and installed French doors leading out into the aspen groves that fall gently away from the garden-level spa.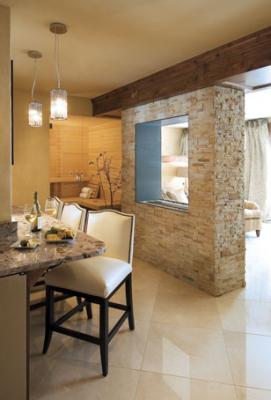 Spa-tacular:An ethanol fueled, see-through fireplace sits on a bed of crystals stacked-stone hearth, while a glass-door steam shower provides the remodel's ultimate reward. Photo by Shunshine Divis.
Near the entrance, a water feature built into a stacked-stone wall sends three trickling streams through V-shaped chutes and into a pool. Behind the artistry is a well-thought-out mechanical structure, designed for ease of maintenance and reliability. The same practicality went into designing the dry sauna and steam shower, which are as functional as they are inviting. "Being in a ski town, we knewe would use them frequently to relax after long days in the Colorado cold," Mary says. Separating the wet bar from the carpeted seating area is a contemporary, ethanol fueled, seethrough fireplace. Built on a stacked-stone hearth, this environmentally friendly heating option requires no ventilation and emits no harmful substances. The heating unit itself is set on a bed of crystals, adding brightness to the flame.
Besides the spa amenities and lounge area, the former basement also houses a laundry room and work-out station. "We wanted to incorporate a treadmill into the design without making the space feel like a gym," Mary says. "The designers really listened to our wishes and did a magnificent job
In any remodeling project, usability may be the ultimate test, and by that standard the McClurgs' spa is a resounding success. 'We truly enjoy the space the most when we turn on the water feature, the fireplace and the spa music and just relax with friends in the cozy lounge area. The combination of all the elements - beautiful wood, marble, silk, water and fire - makes this a perfect getaway right in our own home."
REMODELING TIPS
Seeing Jack and Mary McClurg's spa may inspire homeowners to look twice down the dark staircase to their own unfinished basements. Thinking of remodeling? Here are a fetips from the homeowners, as well as designers Bruce Caplowe and Valerie Stafford of Rumor Designs + Redesigns
CRISP, FRESH VEGETABLES: healthy, delicious and surprisingly easy to grow, even in Routt County's short season. One of the most straightforward entries into home gardening is a raised vegetable plot. Follothese steps to create your own edible greenery.
1. Choose a location that maximizes sunlight. Consider accessibility for watering, too.
2. Stake out a level 4'x6' piece of ground. If grass, wild or manicured, is present, either dig it out or clip it with a string trimmer. If necessary, add dirt to level the ground.
3. Purchase untreated lumber: 2x6 planks for the sides and 2x4s for the corners. (Railroad ties are not recommended because they've been treated with weatherproofing, like creosote, which can leak into your garden.) Use deck screws to assemble the frame. Visit Twin Enviro Services' Home Resource Used Building Material and Resale Yard at the Milner landfill (salvageit.org), where you might find yard art and greenhouse windows, as well as suitable lumber scraps.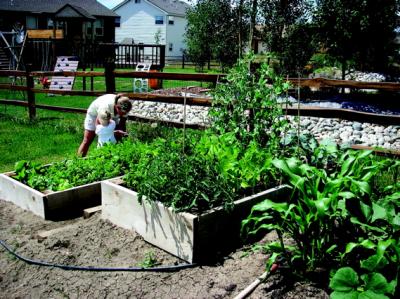 4. Fill your neplot with soil. Master gardeners often have their own "recipes." Our suggested mixture: one part local top soil, available at garden centers; one part sand for drainage (ratio varies depending on amount of clay in underlying soil); one part compost, available at the community compost center at Twin Enviro Service's landfill (twinenviro.com), and one part growing medium. Coconut coir, available on-line, is one sustainable choice.
5. Plant a mixture of seeds and at least one or two starters (small plants, raised from seed at home or purchased locally). Growing vegetables from seed takes patience in Northwest Colorado's unpredictable climate. Using starters may save some frustration.
6. Hardy vegetables like kohlrabi, cabbage and cauliflower can be planted in late spring. Tomatoes and peppers should not be planted until after the last frost — typically the first or second week of June. Check with the Routt County Extension Office for a list of suggested vegetables for Northwest Colorado.
7. Vegetables grobetter when surrounded by "companion plants." Tomatoes, for example, growell with parsley, basil and carrots, plus basil wards off bugs.
8. Cover your garden with mulch. Organic gardeners distain decorative mulch in favor of crushed leaves, straand/or newspaper (no glossy paper).
9. Water your garden manually. This entices you to look closely and discover weeds before they take hold. Keep soil moist, but not saturated.
10. Harvest the fruits — or vegetables — of your labor.
Editor's note: The author thanks her son, Lee Johnson of Three Little Birds Yard Farmers in Absarokee, Mont., for his assistance with this article.
Tomato tart
By Jennie Lay
Butter, cheese and heirloom tomatoes – slathered in argan oil. Meet my absolute favorite summer treat – but don't even consider making this unless you've got fat, fresh tomatoes straight from your favorite farmer. I adapted this tomato tart recipe a couple years ago from one of my favorite food blogs, Chez Pim (http://chezpim.typepad.com). It's delicious served hot out of the oven…cold for breakfast the next day…tucked into your lunch box…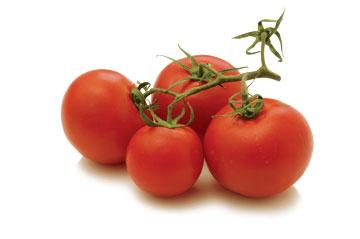 Jupiter ImagesIngredients:
2 sticks of butter at room temperature
2 cups of grated parmesan cheese
2 cups of flour
Approx. 6 tomatoes
Sea salt
Black pepper
¼ cup chopped fresh basil
2 T Dijon mustard
Olive oil or argan oil
Work the butter, parmesan and flour together in a bowl until it forms a smooth dough. Wrap it in plastic and refrigerate for about a half hour. While you're waiting, slice the tomatoes thin and sprinkle them with the sea salt and pepper as they sit for about a half hour as well (ideally getting rid of some of their liquid).
Roll out the dough and press it into a 12" tart pan. Bake it half way at 350F, about 7 minutes. Pull it out of the oven and spread the Dijon mustard over the entire bottom of the crust. Layer the tomatoes over the top, sprinkling the tomato layers and top with the chopped basil as you go. Bake for another 7-10 minutes, or until done; crust turns light brown.
Let the tart cool for a couple minutes before taking it out of the mold. Slice like pie and serve with a hefty splash of olive oil over the top. Or, if you're lucky enough to find it, make your tomato tart extra decadent with a drizzle of Moroccan argan oil instead!
Article Gallery [4 Images]
Click Any Image To Expand