Medal Mania - Nordic Team Brings Home the Hardware
04/01/2010 01:00AM ● By Eugene Bachanan
Spring-Summer 2010:
Medal Mania - Nordic Team Brings Home the Hardware
by Eugene Bachanan
Olympic Wrap
U.S. Nordic Team brings home the hardware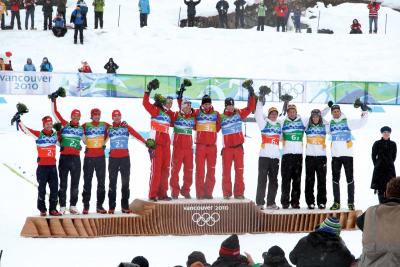 Second-place Celebration: The U.S. Nordic Team celebrates its precedent-setting silver medal showing in Vancouver. From left:  Brett Camerota, Todd Lodwick, Johnny Spillane and Bill Demong. Photo Courtesy of Hillary Spillane
IN THE PAST TWO MONTHS, Johnny Spillane has starred in a VISA commercial, had his picture taken with Wayne Gretzky, and turned down free tickets to the Oscars. What else would you expect after erasing an 86-year drought by winning the country's first-ever U.S. Nordic combined medal at the Olympics? Johnny broke the spell by taking the silver in the Normal Hill Individual Gundersen event at the 2010 Games in Whistler, British Columbia. A hair shy of the gold, he finished the race just four-tenths of a second behind France's Jason Lamy Chapuis.
But that was only the start of the Nordic combined team's record showing. A week later, culminating with a blistering skate leg by former Steamboat Springs Winter Sports Club racer Billy Demong, the team — consisting of Johnny, Billy, Todd Lodwick and Brett Camerota — took the silver, finishing just 5.2 seconds behind Austria. The icing on the cake came in the large hill individual Gunderson event, where Billy, starting 46 seconds back in sixth place after the jump, held on to take the gold. Johnny, in second after the jump and finishing 34 seconds behind Bernhard Gruber of Austria, held on to take his third silver of the Games. Holding off the pack for his teammates, Todd finished 13th, 1:10.3 back, with Olympic newcomer and lifelong local Taylor Fletcher finishing 45th.
In all, skiers with ties to Steamboat brought seven medals back to Routt County: three silvers for Johnny, a gold and silver for Billy, and silver for Todd and Brett — more precious medal than has been pulled out of area mines for decades.
"The Olympics went very well for our team," Johnny says. "To be a part of that is something that I'll never forget. We've worked hard to get our team to this point and what we accomplished is a testament to that."
Johnny, a fly fishing guide when not training, is also proud to call Steamboat home. "Steamboat has always been a town that supports its skiers," he says. "We have a great Nordic history dating back to Carl Howelsen and I think the Nordic combined team has a special place in the community's heart. The town has given me so much and I feel very fortunate to live here. There aren't many places in the world like Steamboat."
In Their Own Words
Medal Mutterings :
Thoughts from the athletes who brought back Steamboat's record medal count
Billy Demong
"Coming into the Games I was struggling a bit in cross country, so the preparation we did in the final weeks was extremely important. I was able to focus on my form and race much faster during the Games.
"It's been great working with Dave Jarrett to establish a plan which brings us to these peaks for the big events. It gives us confidence coming into events like the World Championships and Olympics.
"I roomed with Johnny during the Games. The feeling amongst our whole team was very relaxed and focused.
"Todd, Johnny and I all knewe could medal, while Brett was very focused on the team event. It was such a different place to be in comparison to all of our past experiences where we were trying to build the belief that we could win.
"From the beginning, I felt that we were there to fight for the podium. Once Johnny cracked the seal in the first race we all kneit was time to strike.
"One of my greatest memories was the knowledge that our team had worked so hard for so long to be able to do what we did. It made all the failures, lessons and close calls over the past 15 years worth it."
Taylor Fletcher
"We were all psyched that someone had finally gotten a medal for the U.S. It just so happened to be Johnny, but it didn't matter who it was.
"Watching those guys get the first-ever medals for our sport was unbelievable. I'm glad to say I was there during that time — it's something I can keep with me for the rest of my life.
"I haven't been with those guys for that long ... this was the first year I was on the team. But we were all pretty relaxed. I was able to learn a lot from them.
"Sometimes my jumping is right on and sometimes it's off. Then there's Johnny, who was jumping great all year. So I can see what he does to prepare and what he does mentally. It helps a lot.
"It was great to be the youngest person on the team — especially since I didn't even think I'd make the team. To see everything I've done so far pay off gives me extra motivation to move forward and try to make the team again and get a medal in Russia.
"What this community has done is unbelievable. The Winter Sports Club and city have become one in supporting and developing its athletes. If there wasn't a Winter Sports Club none of this would be possible.
"The whole trip was the highlight of my life. Not many people can say they've been to the Olympics at age 19. But it's going to be tough to get to five like Todd has."
Johnny Spillane
"Winning that first silver was more of a relief than anything. We'd been so close so many times. We had three guys who could potentially win on any day. Getting a medal in the first event took a lot of pressure off the whole group and let us relax a little. It got the monkey off our back.
"I was really comfortable with hoI'd been skiing. It was fairly easy for me to relax and perform as well as I could on those days.
"I'm not disappointed I didn't get the gold. I went as hard as I could every race. In the first race, one of the Japanese guys passed us and we all thought that maybe that was the gold skiing away from us. So I made a big effort to get back up to him, but he was already dead tired, which I didn't realize. I used more energy than I would've liked reining him in.
"The snoslowed down over the course of the team event. Todd raced earlier and was almost a minute faster than us. Our skis stopped working as conditions changed. We don't have the budget and wax team that some other countries do and have to adapt. I'm happy with the silver because we did everything we could.
"Once we were about 2 ½ kilometers into the large hill event, Bill and I knewe had the gold and silver. We just didn't knowho would get which. It's a good feeling when you're hardly into the race and you knoyou're going to medal. It was fun because we messed around a lot tactfully. We had a good lead and had been skiing better than everyone else.
"I wasn't surprised that I got three silvers. To get a medal in every event at the Olympics is something you hope and dream for. It's pretty special. "It's a privilege to group skiing here. Our results shohomuch support the town and Winter Sports Club gives its athletes, no matter the sport. There's such a rich ski tradition here.
"At most towns in the country kids think about hitting a home run in the ninth inning of a baseball game. In Steamboat, they think about winning a Nordic medal at the Olympics.
"I'm definitely going to ski for one more year, but I'm taking it one step at a time. I don't have plans to compete in Russia. I'm fairly beat-up after all these hard years and surgeries ... It's hard on your body and mind to be on the road so long. At some point I'll decide that I've had enough. I'm not there yet, but you never know.
"We had one of the best teams we've ever had from top to bottom, from the athletes to support crew, technicians, coaches and physical therapists. And we all had the same goal, to medal in the Olympics. It was a pleasure and a privilege to be a part of it.
"It's hard to describe the feeling standing on the podium for the first time. Before I went up there they had me sitting behind the stage; that's the most nervous I was at the entire Games."
Todd Lodwick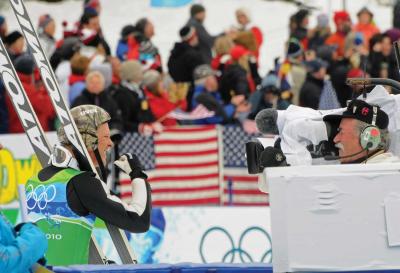 -First Medal Fist Pump: Todd Lodwick smiles for the camera after earning his first Olympic medal in five attempts.
"A lot of people kneI was capable of getting a medal. It was just a matter of the right circumstances at the right time.
"An Olympic medal is something you always hope to have in your skiing career. It's the thought that's always going through your head. So it's pretty special, especially after such a long road of competition from such a young age.
"The team event went great; we were hitting on all cylinders. We all kneit was going to happen. It was just a matter of who, when. It was great to have a team with the right people at the right era to take my career to the highest level and to come back with a medal. I worked so hard for so many years; to accomplish that goal was great and something I'll never forget.
"It's mission accomplished on my career. I've always wanted to have an Olympic medal.
"I had mixed emotions after the first event. It sucks being fourth, just seven-hundredths of a second off a medal and a second and a half from being Olympic champion. But I wouldn't have changed anything about that race, except maybe to use a different set of skis. I did whatever I could to give myself and Johnny a chance.
"Being an Olympian is just a by-product of the Winter Sports Club. It gives kids a chance and a dream, and realize that dream is very viable. The sports club and Howelsen are pretty special places — you can't find that anywhere else in the world.
"You go where the best programs are. If you're going to make it in country music, you move to Nashville. If you're going to reach the top in Nordic skiing, you come to Steamboat.
"I haven't made any decisions about the future. My goal is to take a break and be a dad. But I'm not saying no to anything. I still feel pretty young. Are the Olympics in Sochi out of reach? For sure not. I'm leaving that door wide open. It'd be my sixth one, more than any other winter Olympian."
Brett Camerota
"I knewe were in a good position to medal, but when it starts happening you can't believe it. I'd trained hard for eight years with this as my goal, and all that hard work paid off.
"You don't really knohoyou feel in a race until you're about a kilometer in. After the first hill I passed the Finnish skier and knewe were doing pretty well.
"When you imagine something like this for so long, it's unbelievable when it finally happens. When it was all over, I was like, 'Wow, that was the Olympics,' wondering if it was real."
"Steamboat is awesome. I trained here for two years when I was in eighth and ninth grade. The whole program here and support from the community is great.
"Russia is a long way off. For now, I'm going to try and compete next year at the World Championships in Oslo. And it's awesome that we all have medals. Nowe can all relax a bit more and have more fun with it. But it's also time to set negoals.