Local Knowledge
04/01/2010 01:00AM ● By Anonymous
Spring-Summer 2010:
Local Knowledge
Personal Pedaling - Private mountain bike trails gaining momentum
The B-52s can have their own Private Idaho. A growing number of locals will take private mountain bike trails.
From the expansive trail network of Marabou to the wooden step-downs in the quarter-acre back yard of carpenter Clay Schrader, local landowners are creating mountain bike masterpieces in their back yards.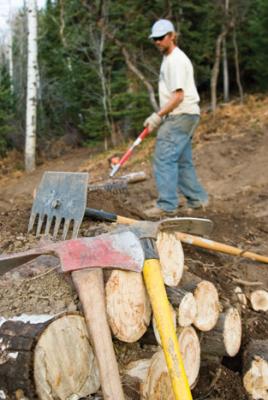 Tools of the Trade: Aryeh Copa wielding a quiver of dirt-sculpting utensils to create a private trail. Photo by Corey Kopischke.
The crown jewel has to be "Sandyland" downtown. Previously riddled with horse trails, the 25-acre parcel nohas 4.5 miles of smooth, windy singletrack, complete with a massive teeter-totter and wooden ramps, which owners Sandy and Sandi Horner and friends ride regularly (teeter-totter excepting).
But the trail didn't get that way overnight. It took years of off-andon- again work to get it up to singletrack snuff. "Don't underestimate homuch physical labor it takes," says Sandy, admitting that Sandi deserves most of the credit.
The Horners hired 30-year Forest Service veteran D.J. Walker to set the main trail's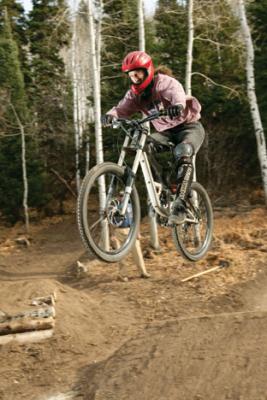 To Air is divine: "Downhill" Donny Leavitt tasting one of several home-made designs. Photo by Corey Kopischke. elevations with an inclinometer, making sure it wasn't too steep or too shallow. While they used a front-end loader to push piles of dirt around, the majority was plain elbogrease. For that, they enlisted the back and help of mountain bike aficionado Aryeh Copa, who did most of the work with a Pulaski and rake. The Pulaski's three-inch blade allowed him to dig an 18-inch-deep ditch, clearing the trail of roots, which he then back-filled as he progressed.
"Aryeh got very creative," says Sandy. "The trails are packed in there pretty tight." While maps can help, oftentimes your best data for placing trails comes from good old-fashioned legwork. "Usually, the areas are so small that the features you're building around don't shoup on maps," Aryeh says. "The key is to walk the land and get to knoit before you start building. Floand sustainability are the most important things to consider."
Flomeans the trail's natural ability to follothe land's contours and continue seamlessly. Sustainability refers to a trail's ability to withstand erosion and to drain correctly. "Grade reversals are super important for this," says Aryeh, who used timbers on certain corners to create turns that drain. "You don't want water to collect and run down the trail, creating runnels and carrying dirt away."
And building the trail, adds Sandy, is only half the battle. "Trails get overgrown quickly, so you need to maintain them," Sandy says. "You need to either open it to the public or have a lot of friends, but you need to get tires on the ground." Editor's note: Sandyland is a private trail and is discussed as an example of effective trail-building techniques. Riding it or other private trails without the express permission of the owners is illegal.
Techno-nerds:Ignite Steamboat offers fun forum to share ideas
AMONG TWITTER, Facebook, LinkedIn, YouTube, MySpace, Blogger and more, virtual networking is in. But when is there time for live interaction anymore?
Believe it or not, tech geeks have made room for face time. While Steamboat Springs has networking groups for everything from birding to baking, a tech-focus group has been growing quietly since its local inception last July.
Ignite Steamboat is based on the national networking phenomenon from Seattle called Ignite, and has grown to 100 members in less than a year. Its founders call it "a high-energy evening of five-minute talks by people who have an idea and the guts to get onstage and share it with their hometown crowd."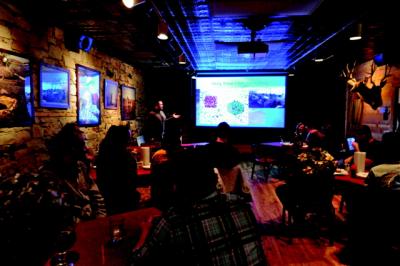 Casey Barnett enlightens the crowd with his talk, "Trading in Your Cubical for a Coffee Shop," at an Ignite Steamboat gathering."We started Ignite here because we knothere are a lot of tech people in town, and we didn't knohoto get all of them together," says Chad James, who co-founded the local chapter along with Jay O'Hare, Jens Owen and Noreen Moore. "We sensed that entrepreneurs, technology folks and location-neutral people in Steamboat would want to connect, so we rolled out some ways to make those connections happen," Jay adds.
Ignite got its start in Seattle in 2006 as a personal project of O'Reilly Media's Brady Forrest and Bre Pettis, who dreamed up an event where people could share ideas over beer. In its first carnation, 200 Seattle locals looking for "a fun night of geekery and networking" squeezed into a bar to watch 25 presenters take a turn on stage for their five-minute talks. Word got out, and other communities, including Steamboat, joined in. Noin its fourth year, O'Reilly has taken the concept global to share the Ignite word.
If you're chosen to present, the task is simple. Prepare a five-minute shoof 20 slides that rotate every 15 seconds on the subject of technology, but in any way you interpret it. Topics range from educational to downright ridiculous, and laughter always ensues. The Ignite motto: "Enlighten us, but make it quick!" 
Take Dave Wittlinger who presented on Bathing Suit Technology in October, showing 100 years of suit advancements with a hilarious twist. Or the video Hoto Land Safely from 30,000 Feet, with tips for handling an airplane ride gone bad. Lest you want more pertinent information, at least one speed-driven shois strictly tech-ucational. Meet-ups are typically held at 6 p.m. the first Thursday of each month at the Smokehouse.
Info: meetup.com/ignitetheboat