Flying High - A behind-the-scenes look at Steamboat's Balloon Festival
04/01/2010 01:00AM ● By Claudia Carbone
Up, up and Away: The orb of balloon pioneer Dennis Brown rises above the rest of the floating field at Bald Eagle Lake. Photo courtesy of Corey Kopischke. 
by Claudia Carbone
THE COFFEE CUP WARMS MY HANDS in the 6 a.m. chill. Though it's July, I'm dressed in layers that I'll peel away as the sun rises over the mountain. So far, everything is just like the morning of my first hotair balloon ride a few years ago. Only this time I'm on the inside - hanging out with the crew that will launch two balloons to drift alongside 40 others in the 29th Annual Hot Air Balloon Rodeo in Steamboat.
This is not any ordinary crew. Dennis Brown, John Kugler, Tim Cole and Dewey Reinhard are legends in the world of ballooning. Among them, they have pioneered balloon technology, broken national and world records, flown on transatlantic flights, won the highest ballooning awards, and crewed for Steve Fossett, the most famous balloon adventurer of all time.
In 2002, aboard the Spirit of Freedom, Steve became the first person to fly solo nonstop around the world in a balloon. Seven years earlier, he made the first solo balloon flight across the Pacific. In all, he set 116 records in five aviation disciplines, 60 of which are still standing. While the aviation accomplishments of the foursome that used to crefor him are more grounded, these longtime Steamboat flyers are still proudly carrying the torch that sets their craft free. They're also partially responsible for helping launch the first Steamboat balloon event in 1980.
Let's go fly 
Denverite Dennis Brown began his ballooning career in 1976, just 16 years after the first balloon flight of modern times, which took place in Nebraska. (Two Frenchmen, the Montgolfier brothers, made the first recorded ascent with humans in 1783.)   "My friend Joe Wood sail d, 'Let's go out an d fly,'" recalls Dennis. "In those days, there were no instructors. He just told you what to do. If you landed safely, he gave you a certificate." Noall pilots must be FAA certified. Dennis went on to be launch director for most of Steve's adventures, including his famous 1994 transatlantic flight.   On this blue-sky Steamboat day, Dennis and his cre- like they have done so many times before - methodically finish assembling his balloon's basket or gondola. They hook up two propane tanks that feed the flame of the burner, which they test several times, throwing a large plume of fire into the cool morning air.   Some pilots use gases like helium and ammonia to lift their balloons. While gas is more expensive than propane, it gives more lift and allows a balloon to stay aloft longer, as much as three to four days vs. one to two hours.   Nebraskan John Kugler, a balloon pilot since 1978, is the leading expert, along with Dennis and Tim Cole, on using ammonia as a lifting gas. He has trained other pilots - including Steve, with whom he flearound the world - on the fundamentals of gas ballooning. In 1999, John placed second in the America's Challenge race, logging 1,710 miles from Denver to Boston in 67 non-stop hours. This qualified him to fly in the 2000 International Coupe Aeronautique Gordon Bennett Cup in Belgium, aviation's most prestigious event held annually around the world. He finished fifth.   
Next they unfurl the bright yellow nylon envelope from its bag and spread it out to full size on the grass. They connect four long cables from the envelope to each of the four corners of the basket. John starts up a large, gas-powered fan that blows cold air into the envelope, causing it to slowly swell and take shape as he and cremember Tom Cox monitor the cables. When it's completely packed with cold air, Dennis begins heating the envelope with the burner. With the envelope still on its side, he gingerly steps into the basket with one foot, then hops in with the other foot as the balloon uprights.   All the while, Tim Cole hangs onto the crown line (a rope tied to the envelope's top) to stabilize it and prevent it from rising before it's completely inflated. An easy task for Tim compared to his job as co-pilot with Steve in the record-setting 1994 transatlantic flight and '97 and '98 attempts. 
Tim, who lives in Greeley, holds two world and 26 national ballooning records and was inducted into the Colorado Aviation Hall of Fame. In 1995, he and Dennis were awarded the "Diploma Montgolfier," ballooning's highest honor, also bestowed on Dewey in 1988.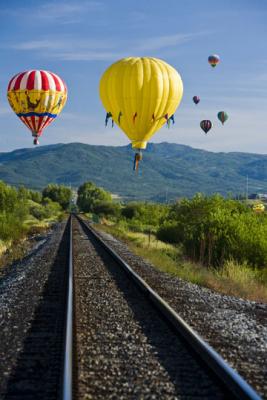 Photo courtesy Claudia Carbone
The early days
Tim recalls hothe first balloon event at Steamboat got started. "Someone in our group who had been going to the Snowmass festival thought it would be a great idea to have a rally in Steamboat," he says. That someone is a balloonist named Chauncey Dunn, who sold balloons and held a record in altitude. At the invitation of the Steamboat Springs Chamber Resort Association, and with the efforts of locals Marty Pearlman, Mike Bauman and Tom Fox, a winter balloon festival was born.
"We did it because it was fun and challenging," Dennis says. "In those times, not many people were flying in the Colorado mountains. Winter is a great time to fly. The winds are calmer; the whole environment is absolutely still. Retrievals were a challenge, though. We used snowmobiles to get to the landing site if it wasn't near a road. We often had to walk the balloons out in the snow, pulling them on hoods of old cars that we found in junkyards."
The event eventually moved to summer and became Rainbow Weekend and the Hot Air Balloon Rodeo, as it's known today. In 2007, organizers moved the launch field from near the base of the ski area to Bald Eagle Lake.  More than 20 pilots have been flying Steamboat for 25 years, and Dennis says they plan to continue as long as the event is around.
"In the old days, we had various contests with locals," Dennis says. "In winter, we'd fly with cross country skiers on board. After 30 minutes, skiers had to disembark and get to the starting line for a race. The idea was for the pilot to land as close to the start as possible. In summer, we'd take cowboys with their saddles in the baskets, fly for 30 minutes and land them near the corral, where they'd saddle their horses and then race. 
Another contest was to tie surveyor tape around uprights on the baskets of two balloons. The two pilots who could fly together the longest without breaking tape won. That took skill and cunning." 
In another part of the field, Dewey Reinhard from Colorado Springs prepares his red, yelloand orange balloon, Free Spirit II. Dewey was flying glider planes when he took up ballooning in the early '70s, taught by a young Air Force cadet after school. "We fleat two in the afternoon because we didn't knoany better," he says. "We got beat up in landings."
Dewey was one of the first balloon pilots to attempt a transatlantic flight. It was in 1977, when ballooning was still a relatively young sport, and he was a 44-year-old adventurer. He and his cretook off from Bar Harbor, Maine, in The Eagle, then promptly ran into the worst storms Nova Scotia had seen in 50 years. 
"We took on water in the gondola and kept hitting the water's surface harder and harder," he says. "Afraid the floor boards would break, we decided to manually release the cables, making sure all four released at the same time so the gondola didn't tip over. It was the saddest day in my life seeing that balloon disappear into the clouds." Ten hours later the Canadian Coast Guard found them pitching in 16-foot waves. A huge hook scooped up the gondola, but kept banging it against the rolling ship as they were hauled up. CBS TV filmed the attempt, garnering an Emmy for producer Ed Goren.
The water experience helps today. A competition component adds drama to the Steamboat event, with pilots trying to skim the pond and then throbaggies onto brightly colored tarp targets laid out on the launch field. While Dennis doesn't place in these events, he skims the water from shore to shore, leaving ripples reflecting the clouds and balloon in his wake.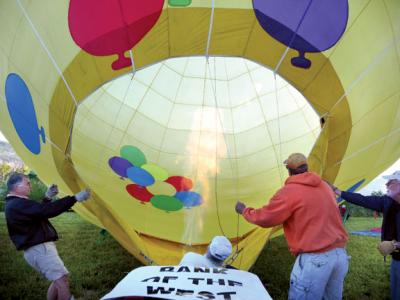 Fire in the Hole: ( left to right) Tom Cox, Dennis Brown and John Kugler prepare their craft for airtime. Photo courtesy Claudia Carbone
Then we, the ground crew, hop in the truck and follohim as he expertly climbs and descends into wind currents that carry him down valley. Two hours later, he executes a perfect landing near the on-ramp of U.S. 40, where we deflate the balloon and load it and the basket into the truck.
Dennis will go on to win two of three events at a September balloon festival in Snowmass. But for noit's time for something else to rise — the bubbles in our Champagne as we toast another successful balloon festival in Steamboat.
Claudia Carbone is an award-winning ski and travel journalist based in Denver. Her family was the first owner to occupy a condo at Storm Meadows in the late '60s.