Boat People
04/01/2010 01:00AM ● By Anonymous
Spring-Summer 2010:
Boat People
One minute, Jessie Burns was a skier in Steamboat Springs and the next, she was a fiddler in Gaelic Storm, a Celtic band whose album, What's the Rumpus?, reached the top of Billboard's world music chart.
Locals remember Jessie as a member of a now-defunct Irish band, Steamboat Shenanigans. "We had a great time playing," Jessie recalls. When she wasn't skiing or fiddling, Jessie worked with Strings Music Festival as director of youth and family programming. "It was a fantastic fit,"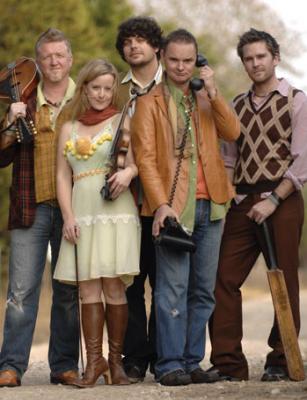 Pluck of the Irish: Jessie Burns with her award-winning band, Gaelic Storm. Photo courtesy of Gaelic storm. she says. "It was very high-paced, and a lot of the people I met there, who were my heroes then, are nofriends. They were exceptionally generous in sharing their knowledge."
Jessie left Steamboat in 2004 to join a Boulder-based band, The Wayfarers, with whom she performed for three years. Ironically, shortly before joining Gaelic Storm in 2007, Jessie returned to England, where she greup in rural Suffolk County. Her mother was particularly insistent that Jessie consider an alternative career path. "Give me three more months!" Jessie bargained.
Within the agreed-upon time frame, she was invited to audition with Gaelic Storm, whose fiddle player was leaving to devote time to motherhood. "It was one of those classic right-time, rightplace scenarios," she says.
Gaelic Storm has toured throughout the United States and Canada, in the United Kingdom, France and Japan. Its music includes traditional Irish and Scottish music, plus original tunes in Celtic traditional and rock genres. The group is set to release its next album this spring. "It's a really fun, high-energy whirlwind album," Jessie says. "It features all sorts of nstruments, including Uilean pipes [Irish bagpipe]."
In between gigs, Jessie is working on her first solo album. "I'm at the really exciting, creative stage," she says. "I'm really enjoying it. It's going to be original music, some in traditional Irish form,] some old-time American and some a cross-over of all these different traditions combined."    Jessie returns to Steamboat frequently to visit friends. She has performed locally three times since she moved away: once with Jon Sousa at Music on the Green, once to play at the old Strings' tent with The Wayfarers, and again last summer to perform with Gaelic Storm in the neStrings Pavilion. "I thought it was spectacular," she says. "They've done a beautiful job."