A True Steamboat Legend - An inside look at war hero Robin Olds
04/01/2010 01:00AM ● By Deb Olsen
Ace Book: Robin Old's memoirs, Fighter Pilot, hit stores in April of 2010. Photo courtesy of Christina Olds.
By Harriet Freiberger
Three days after retiring as a general from the United States Air Force in 1973, Robin Olds drove into Steamboat Springs. From that day on, focused on leaving contrails in the snow rather than in the sky, home was the little town on the Yampa River in Northwest Colorado.

When daughter Christina, 57 — seven years older than Robin when he first came to Steamboat — talks about her father, her green eyes reflect a true legend. The "comfy A-frame" she remembers is long gone, but like her memories of him, the trees her dad planted are still there, now 40 feet tall. While he died in 2007, Robin's legacy has also risen to such heights.
Christina helped to complete Fighter Pilot, her father's newly released memoirs. It was originally written as an imaginary conversation between Robin and his father, who died before Robin graduated from West Point. The general's words reverberate in the forceful tones with which he addressed his military superiors and in soft-spoken reverence, expressing a deeply felt affection for the men under his command.
Just as the young pilot had joined the Army-Air Corps before it became the Air Force, the 50-year-old skier became part of Steamboat's "70s People" in the developing momentum of a world-famous resort area.
"We all came looking for something," says Larry Lamb, who owned the Tugboat Grill and Bar with Hank Edwards. "We weren't sure what we were looking for, but those of us who stayed have found it. I think Robin just wanted to be one of the guys. He was a man's man."
Like so many of the others who came to Steamboat during that time, the general was multi-faceted; he studied history, could quote Socrates and draw fantastic caricatures. An adept woodworker, he carved doors for Gondola Square's Stubble Goose Bar, as well as signs for friends, many still evident on buildings today. Whatever mindset he brought to the military, he brought to living in the shadow of Mount Werner.
"Robin called me to help build a retaining wall against the eroding hill edging his driveway," remembers longtime friend Jack McEncroe. "When I got there, he was standing at the bottom of the 10-foot-high drop-off, holding his old West Point engineering books. He figured out what needed  to be done without consulting anybody, and the two of us built that 100-foot-long wall."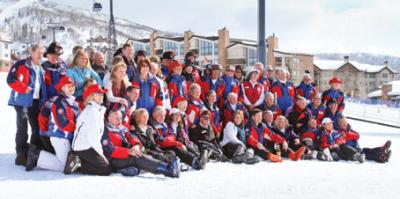 Band of Pilots: The River Rats, members of the Red River Valley Fighter Pilots Association who meet in Steamboat Springs with their wives every year. Photo courtesy of Corey Kopischke.
Most who knew Robin speak of him with awe. Mix Beauvais, who moved to town in 1967, knew of the general before he ever met him. "He knew no boundaries," he says. "He lived his life as he wanted to. If he was your friend, he was your friend."
Steamboat became Robin's sanctuary, and one where he always welcomed fellow fighter pilots. "He spoke our language," says Mark Hyatt, an Air Force cadet under Robin 30 years before he visited him in Steamboat. "He knew what it was to almost give up life with the onset of each mission, to fly toward Earth at 700mph and pull up at an altitude of less than 200 feet, amazed to still be alive."
Throughout his career, Robin broke through barriers of bureaucracy, setting the example he hoped the men he commanded would follow. While many people saw his actions as rebellious and his attitude as arrogant, he had to be that way to accomplish everything he did. "He had a wider line than most," says friend Hank. "If there was a line that couldn't be crossed, he stretched it far enough to get where he wanted to go."
As a 43-year-old in Vietnam, Colonel Olds changed a defensive air force into an aggressive team of fighter pilots. Upon his return to the United States in October 1967, he told President Lyndon Johnson, "The way to end this war is just to win the damned thing!"
Robin's focus defined whatever he did. Local Moose Barrows, then 28 years old, met him in 1973 at the Storm Meadows Athletic Club, where on the racquetball court, even giving 19 points, the general beat him every game. "He was a general in everything he did," Moose says.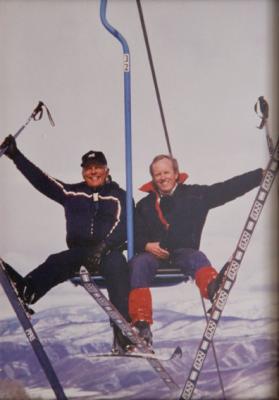 Robin, riding a chairlift high above the Yampa Valley with friend Jack McEnroe. Photo courtesy Christina Olds
On the Sheraton (now Rollingstone) Golf Course in 1974, Charlie Mayfield felt the full impact of Robin's way of doing things. After the tractor Charlie was driving overturned, pinning him beneath its 12-foot mower assembly, Robin, Marvin Crawford and Don Barrett heard his calls for help. Some 30 years later, Charlie still remembers Robin's soothing voice, one honed from years on the battlefront.
"Robin told me, 'Don't worry, son,'" he says. "'We're gonna' take care of you.' The three of them lifted the mower, and then Robin lifted me and carried me down to the fairway. He put two tourniquets on my arm to stop the bleeding. Waiting for the ambulance, he encouraged me the whole time. The next morning I was on a Flight for Life to Denver. If it hadn't been for Robin, I'd be dead."
Robin did what needed to be done, while at the same time celebrating life to the fullest. On his 70th birthday he celebrated by bungee-jumping out of a hot air balloon. For his 75th, his party took over what is now the Gondola Pub. Approaching his 85th, he was visited in the hospital by fellow fighter pilots in town for their annual gathering.
With heart failure claiming its final toll, Christina saw her father "stunned by the flood of cards, emails and phone calls. He often lay in his hospital bed with tears streaming down his cheeks as he listened to me reading the letters. At home again, my dad looked at me one day and said quietly, 'I had no idea people really cared...'"
If anyone knows his courage, it's hospice nurse Jan Fritz, who helped Christina care for Robin those last few months. "He knew what was coming; and this was where he wanted to be," she says. "He grew to fully know what he meant to the people who had served with him. It's one of the reasons he died in peace. He was a giant but his heart was gentle."
On June 30, 2007, Charlie Mayfield was at the Air Force Academy for the memorial service, one of some 800 mourners who watched four Phantoms fly over, the lead F-4 breaking tradition by pulling up straight into the sun. Jack was there, too, when the Honor Guard folded the flag.
"He sat at tables of kings, queens and presidents, and in the shops with his men, and the angle was always the same," Jack says. "How do we make better warriors, be left alone to lead them, kill the enemy, and keep my men alive."
 Unbeknownst to most people, Christina kept a handful of her father's ashes in his worn golf glove. Seven months later, at the fighter pilots' 2008 meeting, she and daughter Jenny skied alone into the trees and buried a small bit of them deep in the snow. Then, at the big curve on Broadway, they joined Robin's fellow pilots for a toast to "the old man," and Christina walked to the cliff's edge where she emptied the last of the glove's contents. 
They've named that spot "Robin's Rest," which overlooks the valley that was his home and touches the clouds where he and his pilots still soar.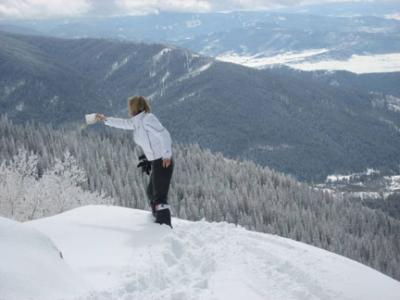 Gone But Not Forgotten: Daughter Christina Spreading Robin's ashes. Photo courtesy Christina Olds
Article Gallery [4 Images]
Click Any Image To Expand