Holidays in the Hills - resort-elegance at seasonal Steamboat Celebrations
12/01/2009 01:00AM ● By Riley Polumbus
Holiday 2009:
Holidays in the Hills - resort-elegance at seasonal Steamboat Celebrations
by Riley Polumbus
YOU MIGHT EXPECT TO LOSE a fedegrees of chic in the mountains. But while the Yampa Valley's residents work hard and play hard, they also party hearty, and dress up for the occasion. While Steamboat Springs remains a bit more casual than some other ski towns, during the holidays locals dial it up a notch, toasting the season with resort elegance and small-town charm.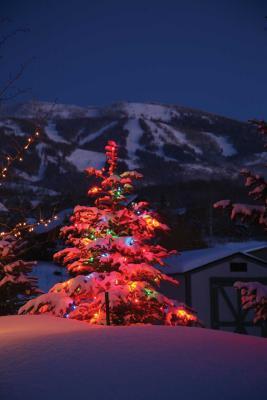 Photograph by Corey Kopischke
Putting the fun into fundraising, three events kick off the holiday season while raising cash for active pursuits. At each, attendees can look forward to seeing friends out of their ski clothes and in their most resort-elegant attire.
Viva Las Vegas Dance Party~ Saturday, Nov. 14, 6:30 p.m., Community Center. Beneficiary: Steamboat Springs Figure Skating Club
It's no surprise that a fundraiser for figure skating would produce an array of costumes. Such was certainly the case at last year's figure skating fundraiser, whose "Viva Las Vegas" theme inspired revelers to don festive apparel, and will do so again this year, with even the King expected to make an appearance. 
"When we stepped it up with the Vegas theme, people stepped up and dressed like they were going out for a night on the Strip," says Kim Haggarty, director of the Steamboat Springs Figure Skating Club who appeared in a full-length evening gown.
Viva Las Vegas follows the theme of last year's ice show, and the club does a number on dressing up the Community Center to fit the occasion. Taking a cue from the lights of Las Vegas, this party transports partiers into the season of light.
Instead of serving a famous Vegas buffet, it offers a fancy spread from a local caterer, with attendees usually choosing to dine on foot with plate in hand rather than sitting down and missing a song on the dance floor. After the silent and live auctions close, the dance floor is where you'll find most everyone, cutting it up to one of Steamboat's favorite bands, Todd Musselman and Exit 232. A favorite of Kim's, when they take the stage even Elvis's knees start to shake.   
"The band is phenomenal, and people really let loose and have fun," Kim says, adding that last year's proceeds went a long way toward helping fund this year's programs. "Anyone is welcome. It's a great value and a great time.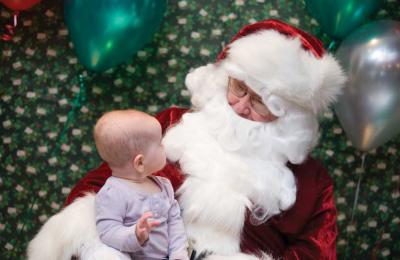 Photograph by Ken WrightSki Ball ~ Saturday, Dec.  5, 6 p.m., Steamboat Sheraton Ballroom. Beneficiary: Steamboat Springs Winter Sports Club
Almost as famous as the Steamboat Springs Winter Sports Club itself, the Ski Ball has long been the traditional kick-off to ski season. It attracts the "everyone who's anyone" in the town's racing community, including past and present Olympians, U.S. Ski Team physicians and parents of up-and-comers.
Recently, the event has evolved from posh to playful, becoming more lighthearted and fun while keeping its status as the must-make social event of the year. "It's a group who is there to have a good time," says Sarah Floyd, club director of athletics. "It has a reputation for being a memorable night."
Just ask Jace Romick, who took advantage of one Ski Ball to make his marriage proposal. "It was complicated," he says. "I didn't want to carry around the ring so first I put it in the hotel safe. Then I gave it to Dr. Dave to hold onto during the party."
Jace also arranged for the band's lead singer to pop the question to bride Kim so he could take a knee on the dance floor. (She said yes.) At last year's ball a last minute add-on to the live auction became the most talked-about tale. Sarah thought they had just the right crowd to auction off the coaching staff for the first dance, a surprise to freestyle coach Erik Skinner when he heard his name announced. An intense bidding war ensued between a local physician and one of his skier's parents. "We had talked about it ahead of time, but it was a very spur-of-the-moment thing," says Sarah. "We don't knoif we'll do that again, but hope to keep the same kind of momentum this year."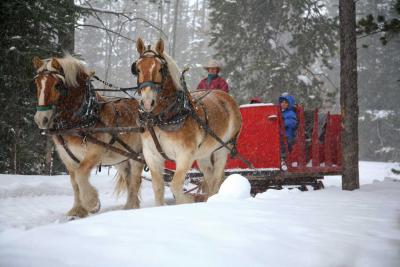 Photograph by Corey KopischkeBack country Ball ~ Saturday, Dec. 5, 7 p.m. to midnight, The Depot. Beneficiary: Backcountry Skiers' Alliance
Longtime locals who choose to earn their turns throa holiday party to raise awareness and funds for areas of non-motorized winter recreation. Thanks to them, open space in Routt County's backcountry remains abundant. Open space on the dance floor is another story.
For a group who prefers the pristine quiet of schussing through wilderness, they sure do knohoto turn up the volume. And there could not be a more appropriately named band for the occasion: "Blissful Mayhem."
"There were a lot of us concerned about the forest environment," says organizer Leslie Lovejoy of the event's inception 11 years ago. "And we all like to have fun." While she dubs it, "A celebration of winter and those special places," a first-time attendee might call it, "A packed room of burly backwoods bohemians having an old-time hoe-down." 
The attire certainly suggests it. You're as likely to see hairy legs protruding from a pair of authentic lederhosen as, like Von Wilson debuted a feyears ago, a pair of butt cheeks emanating from holes cut out of a pair of leather chaps. To best fit in, Leslie suggests visiting a local secondhand store. Many ladies dress to the nines in old bridesmaid gowns or other past-their-prime evening wear.
"One year someone showed up with a carload of old prom dresses," she says. "It's snowballed from there."Don't let the fact that it's held in a 100-year-old train depot lessen the expectation of elegance. Its place on the National Register of Historic Places and in the hearts of revelers makes it an ideal location for this bohemian bash.
A FeSpecial Holiday Season GatheringsOut of Scrubs, into Sequins   Something about the serious atmosphere of working at a hospital translates into a higher degree of letting loose. With well over 400 attendees, the Yampa Valley Medical Center's holidayparty is the largest such private affair in town. After several years in ballroom blah, in 2007 YVMC moved its annual holiday celebration up to the Western BBQ atop the gondola, where the affair has taken on a whole neflare.   Employees spilled onto the dance floor with the endurance of ultra-athletes. Cheers erupted when Dr. Mark McCaulley was invited to join Sundog on stage for a fesets. "People get into the spirit of a dress-up party," says long-time hospital employee Christine McKelvie. "It'sfun to see what people look like in an out-of-hospital environment."
A South Routt Christmas~Jennie Lay   "We call it the South Routt neighborhood Christmas party, but people really come from all over," says Jim "Moose" Barrows of the roving festivities that traditionally end at his home on the Saturday evening before Santa's big night. For nearly 20 years, reveling friends have traveled between neighborhood houses near the base of YelloJacket Pass on skis, snowshoes and snowmobiles during a three-stop progressive party. It starts with appetizers at one family home and moves on to another abode for five alarm chili. Moose brings 'em in for dessert by the light of a bonfire. 'If you don't bring the whole family you're not invited," he says. "We make the kids sing. The young kids, the really little ones, have to do the 12 days of Christmas and pantomime the whole thing."
Catamount Ranch & Club's Holiday Party   An elegant gathering at the Catamount Lake House brings together friends for a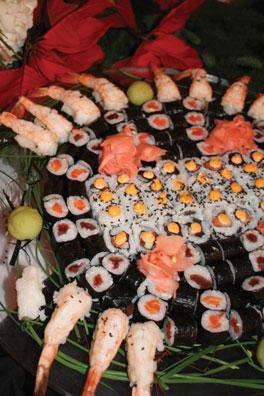 Photo courtesy of Caryn Ahem.pre-NeYear's party. The Member's Holiday Party is the club's premiere event. For the club, which strives to give their members "experiences as memorable as the views," organizers often out-do themselves.   Greeted at the door with a glass of champagne, attendees are treated to a spread as fine as their surroundings, including caviar, crab legs, oysters and beef-carving stations. Executive Chef Ariel Robey sees to it the menu fits the evening's expectations.   Last year, the bar debuted its "Martini Luge," where the bartender shakes then pours the mix down a luge made of ice blocks. The luge chills vodka as it cascades down to the glass waiting below.   "Since many members are just getting into town, everyone is excited to see each other," says Nikki Knoebel, Catamount's special events coordinator. "The party allows for re-connecting with friends and meeting nemembers."
Reindeer Toast   NeZealand native Ed Mumm started raising reindeer - more than 25 years ago because "they're just cool animals to have, something different. We keep them to give people theopportunity to come and see them."    Eight reindeers make their home on their land in Strawberry Park. Before the holidays, Ed takes them to the schools and other community events with Santa and sleigh. On Christmas afternoon, the action returns to his house, where Ed and wife Carla get together with friends to toast thereindeer. "It's an excuse to have a cocktail," Ed admits of the annual neighborhood tradition, adding that he always builds a bonfire and raises a Hot Toddy to the herd.
Article Gallery [4 Images]
Click Any Image To Expand