Yampa Living
12/01/2009 01:00AM ● By Kim Keith
Winter 2009:
Yampa Living
by Dagny McKinley Photography by Kim Keith
the Art of Tiling
Nothing puts a signature on a home's interior like custom tile. From backsplashes to bathrooms, fromn hot tub decks to vanities and entryways, tile has become an elegant way to expressstyle. Fish Creek Tile owner Dan Kissell has been in business for 10 years and hasnever duplicated a design. "Each job is custom," Dan says, adding that slate is popular for Steamboat's mountain rustic look. "I'm there from beginning to end, measuring the room, picking tile or workingwith a designer."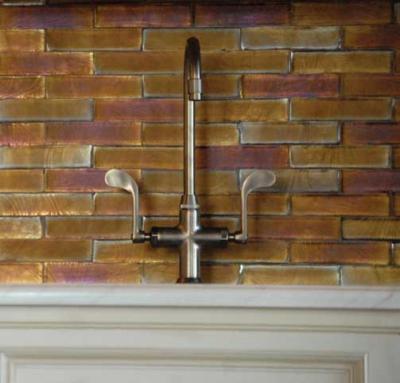 Going the extra mile through tile.
The first thing to decide is the material, which ranges from glass and ceramic toslate, marble and travertine. Julie Anderson and Greg Grasso of Warehome Studios create glass and ceramic tiles, designing clay reliefs that shothrough translucent glass. Some of their tiles include serpents and aspen trees, and they've even repeated patterns from paintings or introduced aspects from a client's room. Selma Nann used tile with quartzite accents in her house as a way "to bringdreams to life." After visiting California caves sparkling with black quartzite, she kneshe wanted a similar design in her house. She created it by bringing in quartzite from as far away as China, andadorning her tiles with coral, copper, silver and grey accents. They nostretch from the inside of the house to the decking and around the hot tub. With the help of Interiors with Altitude, she also brought granite with different edging into every bathroom. The master shower has 12-inch x 12-inch granite tiles with a border of quartzite inlaid with metallic pinecones. The mudroom entry has quartzite tiles with metal inlays of small tiles of acorns, maple leaves and oak leaves. Will and Beth Bashon decided on copper accent pieces to complement their house.From storm gutters to tile on the kitchen ceiling, they've found copper to add a perfect touch of rustic elegance. They carry this sophistication elsewhere, with the master bathroom tiled in onyx and other designs, from square ceramic tiles to octagonal tiles made from glass. The wine room uses scrap slate in an intricate geometric pattern. As Will and Beth have found, no matter where it's used, tile truly makes a home. Hearth & Home Contemporary fireplaces not only warm up a house, but also the decor, becoming centerpieces of design. Take the home of Brad Piske and his wife, Dr. Leslie Ahlmeyer, for instance. Itdidn't have a lot of space, but Brad and Leslie wanted an extra source of heat to compensate for the ceiling windows. Their solution: the Luno gas stove from the Hearthstone Eurocollection, which measures only 20 x 45.75 inches. The diminutive fireplace is modern but not over the top, and blends with its surroundings. Downstairs they replaced their traditional stove with the Modena, a square fireplace with three sides of open glass that fits between the piano and daybed. "Both fireplaces add to the room, but do it without becoming the centerpiece," says Brad, who found the stoves at Hot Stuff Hearth & Home. Fireplaces can, however, become a home's focal point for extreme sports enthusiasts. When Aryeh Copa first sathe 23-foot moss rock fireplace in the living room of his nehouse, he kneit would serve double duty as a climbing wall. Since its rocks have a deep relief that'sperfect for finger and toe holds, he climbed it with drill in hand and placed a couple of eyehooks as protection. He then set up a non-harness belay technique that helps for late-night climbing escapadeswhen friends race to the top. Reaching to the sky was also a goal for Bill Rangitsch when he designed a houserecently. Created as a "glass box sitting on top of the world," the house's open feel was the perfect platform for a fireplace that moved from inside to out. "A natural harmony is established between place land," says Bill, a principal of Steamboat Architectural Associates. The gas fireplace is surrounded with into the chimney. Far from just keeping you warm in the winter, fireplaces are indeed lighting upliving spaces in more ways than one. "They're the perfect way to combine fashion and function," says Tom Anderson of Hot Stuff Hearth & Home.Animal AccentsMount, rug or photo, animals can spice up your home Being a trappers' town, Steamboat Springs whose restaurants and bars are adorned with elk, deer and even buffalo mounts has always had a close connection to wild animals. Many people are nocarrying this connection into their homes, letting animal accents bring the outside world in. Whether these touches come as photographs, mounts, rugs or sculptures, it'sa décor proponents wouldn't trade for the world. "I focus on capturing an animal's spirit, wildness and character," says wildlife photographer Judy Jones, who photographs natural images for people's homes. "I feel a spiritual connection with the animal that I desperately want to share with others." Judy, whose passion for photography was reignited by critters roaming throughher back yard above Old Town Hot Springs, believes animal photography is also a way of educating people about endangered and threatened species. So are other ways of using animals as art. Byron Dean also has a collection of animals, but he takes a three-dimensionalapproach. Proud reminders of past hunts in places like Colorado, Canada and Africa are mounted on his walls. His Africa wall in his Trout Creek home sports a kudu, wildebeest, springbok and damara dik dik,adding an animal ambiance to his abode. The meat from his kills goes to local native people while the hides and horns are shipped back to the local taxidermist. That taxidermist is Bob Reinier, whose slogan at B&L Taxidermy reads FromAntelope to Zebra. Mounts of both hang in the entrance to his shop. The creatures a rancher for harassing cattle. She wanted to preserve the white German shepherd's body, and Bob helped her to do so. Even wild mounts can be sentimental. A woman in the process of a divorcedecided to sell the house with all the couple's personal possessions. The only memento she kept: a full-bodied cougar. Sculptures capture an animal's essence just as well. Sandy Graves, a local sculptorwith a focus on horses, enjoys re-creating form by sculpting animals in copper. Often evoking the artwork of Salvador Dali, her wild and free style of horse sculptures is significantly different from other horse art; her most recent collection was on exhibit at the Artists' Gallery of Steamboat. Mount, photo, painting or sculpture, bringing animals into a home's design expresses a reverence of nature, reminding us of the world beyond our doorstep. "Collecting animal art brings the spirit of the wild world into your home," Sandy says.