Adding a regional touch to holiday decorating
09/26/2009 11:03AM ● By Christina Freeman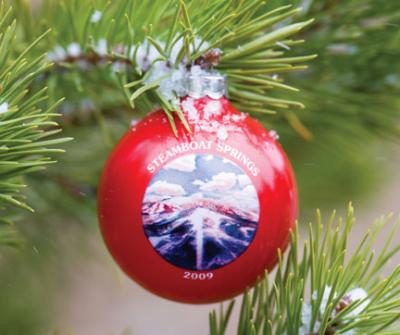 Alpenglow Greetings: A celebrated Kiwanis ornament showcases a Mount Werner Sunset. Photo courtesy of Ken Wright.
by Deb Olsen
Adding a regional touch to holiday decorating can be as picturesque as choosing Southwestern lighting or as easy as hanging a Steamboat ornament on your tree.   
For the past 28 years, the Steamboat Kiwanis Club has sold collectible tree ornaments. Each year's design is created by a local artist or student. The 2009 ornament features alpengloover Mount Werner, based on an image shot by photographer Tom Ross, a veteran journalist at Steamboat Pilot & Today newspapers. Tom shot the photo from Tree Haus, a neighborhood directly across the valley from the mountain.  
"I love the tradition that Kiwanis has created with this fundraiser," Tom says. "I have a personal collection of the ornaments, and I look forward to choosing some for each year's tree. It's kind of like collecting Winter Carnival buttons."   
Funds from sales are used for Kiwanis youth and senior programs, with the $7 ornaments available at local banks, the Tread of Pioneer Museum and the Chamber Visitor Center. On weekends, volunteers run tables at City Market and Safeway. To add a regional accent to your home's exterior, light your walkway with luminarias. Long associated with old and New Mexico, these simple decorations are an inexpensive, charming way to greet holiday guests.   
All you need are lunch-sized paper bags, tea lights (small candles) and sand (two inches for wind protection). For additional stability, fold a small cuff on the bag. Set the bags every two to three feet along both sides of the front walkway. Then place a tea light in the sand and light the candle with a long-handled lighter.   
These festive lights came into vogue locally as a summer fundraiser for the American Cancer Society. For the past four years, as part of the Relay for Life event, participants havesurrounded the high school track with luminarias, each one representing a cancer victim or survivor. Clare Tarcha and Suzan Steinke chaired last year's event, which raised $170,000 for cancer research. Using them this holiday season will put you that much more ahead when it comes time to make themnext summer.