Growing Local Flavors
07/01/2009 01:00AM ● By Jennie Lay
Summer-Fall 2009:
Growing Local Flavors
by Jennie Lay
A Call to Cultivate    Last summer, the garlic scapes stumped us. Cameron Place Farm sent a pile of twirly green stalks from Palisade for each of the 30 Routt County families who'd invested in a share of the summer harvest. Devoted foodies at the Tuesday afternoon pickup returned to kitchens perplexed. Turns out, we'd gotten a coveted shortseason ingredient to savor for its zingy garlic spice: Chop in salad. Sauté for eggs. Puree into divine pesto.    This summer, June's garlic scapes were devoured without a second thought. Then everyone delved into another summer of locally grown abundance. Yes, eating local produce in Northwest Colorado (aside from the obvious cravings for citrus, avocados and tropical fruits) is entirely possible – and demand for local food is skyrocketing. We may not be eating pineapple, but some of the world's juiciest cherries, apricots, peaches, plums and apples do grojust down the road. Give Steamboat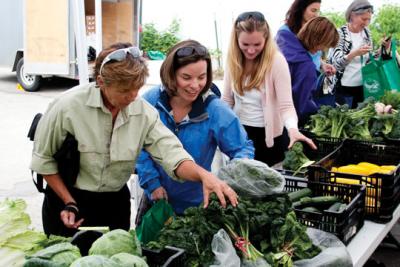 Local members of th eCameron Place CSA pick up their weekly harvest of freshly picked produce direct from the farm. Photo by Ken Wright. Springs a 180-mile radius to work with, and the locavore adventure begins.    As a lazy gardener, but an enthusiastic farm-share investor, I salivate over summer. I eat an organic bounty of bok choi, cabbage, heirloom tomatoes and exotic melons. There are carrots, garlic, dozens of squashes and unruly amounts of spicy greens. I have months' worth of savory arugula pesto in my freezer, deep dish quiches overflowing with rainbochard and a refrigerator packed with romaine, turnips and kale. Each week, I revel in squiggly carrots, co-joined pattypan squashes and golden beets – all from Palisade.   Still, the Yampa Valley could be growing many of these things, too. And our ranchers barely have begun to harness the possibilities of the locavore craze. Our valley harbors exceptional agricultural resources, but a feinfrastructure improvements could enable a local eating explosion. Growing on what we've got    We're blessed by the Yampa River, where clean and abundant water flows at the top of the watershed. According to the USDA's most recent Agriculture Census, Routt County has 610 farms, with another 503 down valley in Moffat County. Farmers are harvesting wheat, barley, oats, hay and more – with $344,000 in wheat sales, of which none stays for local milling and use. Ranchers between the two counties are selling about $44 million worth of beef and $8 million in sheep and goats, but there's only one USDA-certified butcher in the entire valley – a considerable hindrance to keeping meat here for local consumption. About 70,000 acres in conservation easements are in Routt County alone – land that is forever protected from development and often designated for agriculture as its primary use.    Why not cultivate a distinct Yampa Valley food culture – meat, milk and produce that is imagined, grown, harvested and enjoyed in our own back yards, making the most of our climate and altitude? We might need a little augmentation from those Rocky Mountain banana belts in Palisade and the Boulder foothills – but the Yampa Valley could certainly produce more.    There's a historic precedent. We were once a self-sustaining valley, exporting fruits and vegetables, supplying our own milk, cereal and garden-fresh food. Eating our own livestock was a given. According to Community Agriculture Alliance statistics, in 1922 Routt County was the state's leader in dryland wheat, barley and oat farming, with three operating grain elevators and a mill where Joe Dandy breakfast cereal was produced. In 1911, Routt County Strawberry Company shipped 528 crates of strawberries and Routt County Produce Association gre85,000 tons of potatoes. More than 500 acres of peas were cultivated during the 1920s and 1930s, as were 2,000 acres of lettuce and spinach, plus cabbage, cauliflower, celery, carrots, turnips, rutabagas and artichokes. In 1926 the Yampa Valley Head Lettuce Association shipped California 720 train car loads of lettuce. Through the 1960s, a half-dozen medium-size dairies operated in the valley (and a powdered malted milk factory, too).    Once upon a time it would have been simple to cook an all- American meal of burgers, fries and strawberry shakes without ever having to shop outside the valley. Today there's no mill, no dairy, no local grain for baking or produce exports. To be locavores we'll need to re-learn local ag traditions.    Heather Spitzley and her son Nathaniel decided to do just that. Last year, they plowed a plot on their North Routt Elkhead Ranch and planted two kinds of potatoes. Bundled in burlap bags, their potatoes quickly sold out in the fall. This year, they planted more than an acre with 230 pounds of seed potatoes that should yield somewhere around 2.5 tons of purple majesty, mountain rose, all blue, laratte fingerlings and Austrian crescent fingerlings, plus shallots and onions. Sharing risk, and rewards     Eating in shares (known as Community Supported Agriculture, or CSA) is gaining popularity. By making an earlyseason investment in a farm or livestock, you're buying direct from the grower. Sure, it's a gamble if snoflies in July or drought makes grasses short and grass-fed beef a bit skinnier, but the most likely outcome is that you'll be dining on plentiful local food without the carbon footprint of shipping it crosscountry. Within a 180-mile radius of Steamboat, you can invest in CSA produce, organic eggs, ramilk, mushrooms, cheese and even grains – viable ag business ideas that could easily be transported right to the Yampa Valley floor.    The Routt County Cattlewomen took a stab at shares this year – offering an early season opportunity to purchase a half or full steer direct from local ranchers. The cattlewomen brokered the deals; buyers have it butchered and processed. Connecting ranchers with consumers, the cattlewomen inspired more than 20 families to direct-purchase steer shares during April's Northwest Colorado Products Expo.Sprouting nebusiness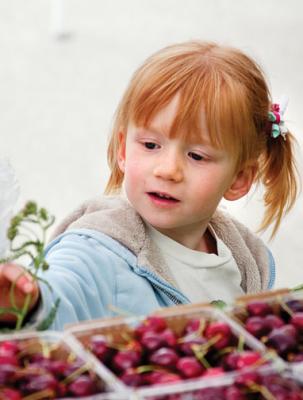 Photo by Ken Wright.     Clearly there's room in the valley economy for cottage ag industries. Bear River Apiary beekeeper Pat Shalks has been collecting and selling Yampa Valley honey to restaurants and individuals for years. It takes imagination. Like the guy I met at Boulder's farmer's market who's growing premium crawdads on his ranch above Golden (and selling out weekly with rave reviews from Louisiana connoisseurs); or the folks at Hazel Dell Mushrooms in Fort Collins who gronothing but decadent organic mushrooms; or Butte Mill Flour Company in Niwot, which is micro-milling their own wheat with a wind-powered antique stone mill; or Wellington's Grant Family Farms CSA, which is nofeeding families in Steamboat.    This is grassroots economic development – keeping food production, processing and purchasing in the neighborhood, and ultimately sustaining support businesses and maybe even ag tourism. The Yampa Valley could expand its farmer's market, grohealthy school lunches, supply our restaurants and send products into our 180-mile sphere of culinary influence. Ideas are being actively tossed around to take advantage of netechnology – including greenhouses that use the waste heat from the coal-fired power plants in Hayden and Craig.    Tammie and Patrick Delaney bought their historic Hayden ranch in 1994, and they've been putting a twist on local ag ever since. They even tried raising yaks (although yaks were ultimately too ornery to handle), hoping to capitalize on unusual meat markets back when that was their best bet to sell. "But nothere's a different momentum. People are more excited about local food," Patrick says. "There's definitely a need and a desire for it."    "We need people to take those first steps and do it first – to shothat it works," Tammie says, acknowledging a need for neand creative models. "There's this huge potential … and we take it for granted what's around us. People want to eat good food and they want to knowhere it comes from."    As future-thinking farmers and bakers, the Delaneys purchased Routt County's last standing granary in January. They envision the 1917 Hayden Granary becoming a cornerstone of West Routt's ag economy. They have big ideas for the space – including opening a micro-granary to source and mill local grains for home cooking, or maybe even a "bread share" one day.    Need a nebusiness idea and not afraid to get your hands dirty? Ramilk is legal in Colorado, as long as you're buying into a "share" of the coor goat – and many people are getting ramilk from outside the Yampa Valley and paying dearly for it. Artisan cheese makers are popping up all over the state – but only the Mennonite family that owns Sunny Breeze Farm near Craig has stepped up to the plate locally, making delectable sheep's milk cheeses. Steamboat also needs a food production facility – a kitchen where farmers can wash veggies, can and bottle their goods.    "Growers, there are people looking for you now," says CSU agricultural economist Dawn Thilmany. "It used to be about producers looking for consumers. That's totally flipped now." Short season, long vision     The Yampa Valley's official growing season may be short (59 days in Steamboat, 49 for South Routt and 80 in Hayden), but the bricks and mortar to build a sustainable local ag economy are falling into place. There's strong demand and five generations of local ranching to build upon, plus instantaneous success in the nonprofit Deep Roots Local Food Trust. Last year, Deep Roots emerged out of a local foodshed conference as a grassroots organization that helps source local foods, swap gardening advice, grothe community's farming skill set, promote legislation that's beneficial for small farmers, and provide education about fresh, healthy eating.     Routt County has a Right to Farm ordinance, which means agricultural use gets neighborly priority. It's bolstered by a cadre of nonprofit organizations with missions to promote local food-growing success, including Deep Roots, the Community Agriculture Alliance, Northwest Colorado Products and the Routt County's CSU Extension Office. Routt County has about 60 active Master Gardeners (plus another 90 who've been certified over the years) – volunteer experts who advise anyone from upstart small-scale farmers to apartment container gardeners, and host a weekly walk-up advice booth at the Saturday farmer's market. At the Milner landfill Twin Enviro Services has 10 acres under static aeration, creating all the compost you can handle. The flavor of dirt    Imagine what you could savor at the Taste of South Routt every summer if all that delicious produce still thrived around Yampa, Oak Creek and Phippsburg. What does Yampa Valley terroir – the distinct flavor of our place – taste like? Is it like the sweetness in the grass, the plentiful nutrients in our hay, the clean water that washes over it all?    "We're bringing it back," Buena Vista farmer and keynote speaker David Lynch told a packed house at Steamboat's April foodshed conference. "It'll be creative and innovative, but we're bringing it home. It's the same story in all these mountain valleys. The market for what we do seems unlimited. This is a viable way to make a living. We've worked very hard to develop those national and international markets for cattle and sheep. But we can close the loop locally too and feed our own valleys."It's a simple idea, Farm to dirt    There's an ag system in the Yampa Valley that works. Twenty-first century "locavorism" is an embellishment – a necomponent that actively supports local culture, sustainability, sense of place and the food on our tables. Yampa Valley old timers knehoto do it. Why can't we?     For more about Yampa Valley local food resources visit www.steamboatmagazine.com. Folloauthor Jennie Lay's local food adventures in her blog: yampavalleyyum.wordpress.com.Growing local flavors: SIDEBAR Seeding local knowledge about local food
   In Phippsburg, 9-year-old Thyme Zuschlag jumped on the local food bandwagon early. Spurred by her own experiences with home-grown organic food, she decided to raise consciousness about eating and the environment among her peers. Thyme started the South Routt Nature Club, a group of elementary-age kids that meets every other week, armed with garden trowels, rakes, gloves and buckets, at the South Routt Nursery. (Lucky for Thyme, she's got some extra-convenient resources to look to for advice: Her parents Tracy and Chris own the nursery, which is also home to an organic South Routt community garden that's open to anyone who wants to cultivate their own small, irrigated plot of well-prepared soil for $10 per month.)
   Together, the kids work in the garden they planted last spring with everything from carrots, radishes and turnips to sunflowers and nasturtium – then share important lessons about composting, water conservation, and beneficial insects. Their immediate goal is to harvest some award-winning vegetables for the Routt County Fair in August – but they're gaining a life-long lesson about food and the environment in the process.
  Before you knoit, these young gardeners will be among the masters we all seek out for sage vegi-growing advice. 
Editor's Note: Food fans will delight in Jennie's blog! Visit http://yampavalleyyum.wordpress.com/
Here are a fehelpful resources for aspiring locavores in the Yampa Valley.Deep Roots Local Food Trust deeprootsco.orgA grassroots group of growers and consumers working to cultivate a local sustainable food system in the Yampa Valley.
The Beet List beetlist.blogspot.comThis is Deep Roots' official blog – the best source for info about events and ideas related to sustainable locally-minded agriculture in the Yampa Valley
Community Agriculture Alliance communityagalliance.orgA nonprofit organization dedicated to preserving the agricultural heritage and environment in the Yampa Valley.
Routt County's CSU Extensionco.routt.co.us/sections.php?op=listarticles&secid=8Home to the Master Gardeners, 4-H and every piece of advice you'd ever want to knoabout canning, pickling and getting a head start in local agriculture.
Northwest Colorado Productsnwcproducts.orgA program designed to help create markets and recognition for products and services made in Northwest Colorado – and a good place to find area ranchers who are selling meat, potatoes and more.
Routt County Cattlewomenyampavalley.info/centers/agriculture/organizations/routt_county_cattlewomenWomen with a mission to support the beef industry – and the forward-thinking coordinators of a program to purchase half or full steer shares that never have to leave the valley.
Community Supported Agriculture (CSA) farms that offer seasonal pickups in the Yampa Valley for their shareholders:
Cameron Place (from Palisade, on the Western Slope)cameronplacecsa.com
Grant Family Farms (from Wellington, on the Front Range)grantfarms.com