Where to Wed in the Yampa Valley
04/01/2009 01:00AM ● By Stacey Kramer
Kiss & tell: Dan and Emilie Kissell getting fresh at Fesch Ranch of County Road 129. Photo courtesy of Corey Kopischke.
by Stacey Kramer
Routt County Romance  
Much like real estate, the perfect wedding often boils down to three little words: location, location, location.    
So wipe off those sweaty palms, get a net for your stomach butterflies and dance the jitters away as you say "I do" to an awesome wedding location in Steamboat's back yard.     
A wedding ceremony and reception are expressions of who you are as a couple. As you consecrate your love and commitment surrounded by loved ones, you should share this special occasion in a place as special as the moment. Celebrate your love for each other and Steamboat Springs with a service right here in the hallowed Yampa Valley.    
Where you host your nuptials can be simple or extravagant, but it really should be a place where your hearts feel at home, your spirits can soar and your feet can dance. At any of these eight great sites, your walk down the aisle will be a walk in the park.
Bella Vista    
Just as the name implies, Bella Vista offers beautiful views and more. Smaller weddings can take place on the deck overlooking spectacular Pleasant Valley while larger groups set up tents on the tennis court or lawn to accommodate up to 200 people.    
Only seven miles south of town on Rabbit Ears Pass, you feel like you're in your own world and won't want to leave, says Alicia Josfan, who, with her husband, David, owns the retreat. "The vieis constantly changing. You watch the weather move in and you are at eye level with birds, hawks and eagles."    
Hosting five to 10 weddings per year, the seven-acre property boasts a main lodge and two cabins that sleep up to 26 people so families can take time to hang out and reacquaint before and after the wedding. "The whole family comes together and it makes us feel good to see them have such a great family time here," Alicia says.
Lake Catamount    
Two willotrees convinced Naomi Lang to have her wedding at Lake Catamount. "You go between two willows near the lake as you walk down the aisle and the closer you get to them you can hear the branches swaying," Naomi says.    
With some of the best views in the valley any time of year, Lake Catamount hosts about 24 weddings a year at two main facilities. The Lake House can be rented either with or without a tent. The Heritage Cabin on the far side of the lake is small and must include a tent.    
"It's my favorite spot for a wedding," says Mandy Leonhardt, who married her husband, Ted, there in a June snowstorm. Lake Catamount event planner Nikki Knoebel had everything under control and moved the planned outdoor ceremony into the Lake House at the last minute.
Yampa River Botanic Park    
An outdoor wedding is what Kristi White and fiance AndreBernitt wanted, but many locatioins were either not available, or didn't fit their didn't fit their budget. Then they found a blooming gem at the Yampa River Botanic Park. "It's a great location in town and it's so pretty with the fragrant smells and pond," Kristi says.    
Ceremonies are performed on the "Green," a lush, amphitheater-style lawn overlooking a lily pad-dotted pond in the center of the city-owned park. Perhaps the best part is there is no limit to the number of guests you can invite (there have been as many as 600 people on the grass for weekly concerts). You have exclusive use of the Green for the hours you rent, but the rest of the park is open for quiet public enjoyment while your wedding is going on.    
The newly built Trillium House offers public restrooms, but there is no facility for hosting a reception. Tents and chairs must be brought in and the tent location requires supervisor approval to ensure that no damage will be done to the lawn or irrigation system. Serving alcoholic beverages requires a permit. Yampa River Botanic Park is open April through October and holds about 24 weddings a year, so book early.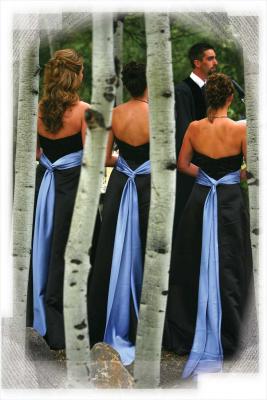 Bridesmaids at the Bearberry cottage on Ridge Road. Photo courtesy of Corey Kopischke 
Perry Mansfield Performing Arts Camp
In town and out in the country at he same time - that's Perry Mansfield. Located in Strawberry Park just minutes from downtown, the nearly 100-year-old camp hosts eight to 10 weddings a year during the spring, fall and winter when camp is not in session (no weddings Memorial Day through Labor Day).    The stunning glass-sided Steinberg Pavilion accommodates 150 people and outdoor sites throughout the 76-acre property include aspen groves and open fields. Parties must bring in catering, tables and chairs.
Haymaker Golf Course    
Say "I do," then swap your cuff links for the golf links at Haymaker Golf Course. Haymaker is a city-Owned gold course designed to preserve the open pastoral feel of the Yampa Valley by incorporating rolling hills, native grasses and wetlands. Bride and groom often take pictures at tee boxes where the backdrop of the emerald green course blends seamlessly with the surrounding mountains. The clubhouse and restaurant can accommodate weddings of up to 70 people. Fireside ceremonies inside provide an intimate setting. The deck is an ideal location for cocktails and appetizers prepared by chef Dominick Riggio, who previously worked for the second largest caterer in New York.
Saddleback Ranch    
This setting may be as close to a story book wedding location as you can get. Picture the fair maiden in flowing satin and lace gown arriving by carriage with her attendants. Her knight in shining tux, escorted by his groomsmen, makes his entrance astride his trusty steed.    
The 8,000-acre working cattle ranch located just 15 miles west of Steamboat is set amid rolling meadows, aspen glades, distinctive rock formations and expansive views of the open countryside. Owned and operated by the Iacovetto family, the ranch features the rustic Double Dollar Lodge for wedding receptions, where swing dancing fits right in.
Thunderhead    
Treat your guests to a special experience with a gondola ride up to Thunderhead. The Champagne Powder Room and adjoining deck on the third floor are perfect for large weddings and Hazie's is wonderful for an intimate reception. Ceremonies can also be performed on the large lawn facing the ski runs or at an overlook gazing out over the valley floor 2,000 feet below.    
"It's magical," says Lindsey Bremner, event coordinator for Steamboat Ski & Resort Corp. "There are 180-degree views off the patio and the sunsets are amazing, a once-in-a-lifetime experience for guests."    
If weather conditions shut down the gondola, guests are shuttled up to Thunderhead, or down, which is a great way to see another side of the mountain.
Fish Creek Falls    
Located on the Routt National Forest, wedding parties of up to 50 can enjoy one of the most popular attractions in Steamboat just on the outskirts of downtown. A magnificent overlook of the 283-foot waterfall is approached by a short, paved, handicap-accessible trail.    
This is a gorgeous spot if you are willing to work within limitations. While you won't have exclusive use of the area and can't block the public from the trail, you can reserve the area with a free permit on a first-come, first-served basis (at least two weeks in advance). A small tent or covering may be raised just prior to the service and must come down immediately afterward. Guests will also have to pay the $5 per car parking fee. Receptions are not allowed and everything brought in must be packed out. Due to heavy visitor use, permits are not issued in June, July or August.     
Even if you can't make the ceremony work at Fish Creek Falls, consider taking wedding or engagement pictures there. Other National Forest locations such as Seedhouse and Big Red Park in north Routt are also available for weddings with a permit.
Dutch Creek Ranch    
Dutch Creek Ranch offers an intimate setting iwth stunning views, great service and a touch of rustic Western ambiance. Owner Jon Hawes recommends parties of up to 50 people outside and 35 in the dining room. The year-round guest ranch is a half-hour drive north of Steamboat near Steamboat Lake State Park.    
With views of the Mount Zirkel Wilderness and Steamboat Lake, the main lodge features a deck for socializing. Private log cabins with one and two bedrooms can accommodate guests who want to spend more time in the glorious setting enjoying the recreation and solitude.