River Restoration in Routt County
04/01/2009 01:00AM ● By Kent Vertrees
Spring-Summer 2009:
River Restoration in Routt County
by Kent Vertrees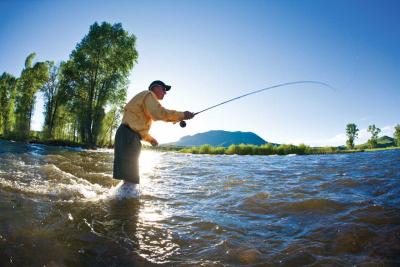 Pete Kopischke wetting a line on a restored portion of the Elk River through Marabou. Photo Courtesy of Corey Kopischke
Range of Projects turn Yampa, Elk rivers into world-class water
The next time you float or fish the Yampa River, or bike or walk next to it, take a closer look. What do you see? Apart from water and rocks, you'll find mature stands of cottonwood and willoand a variety of birds and fish thriving in the river's natural habitat. You'll see plenty of people enjoying it also – on some days, approaching the number of powderhounds lapping Storm Peak on a double-digit day. There's a lot more to this aquatic amenity than meets the eye. Beneath the surface is a sleof carefully orchestrated river restoration projects that have turned the river into the world-class waterway it is today. Stepping knee deep into the Yampa from his riverside store, Backdoor Sports owner Peter Van de Carr points upstream at hundreds of well-placed boulders lining the streambed. "Most every rock you see has been placed there intentionally," he says. "These are what create such great fish habitat and recreational opportunities here." The same rocks that create waves for rafters, canoeists, kayakers and inner-tubers create prime trout territory as well. "All these efforts have created a sustainable, year-round trout population that offers something for every type of angler," says Tim Kirkpatrick, co-owner of Steamboat Flyfisher, which recently moved to a riverside location in The Olympian. "Enhancing their habitat has created a reason for them to stay in the area." Not unlike its efforts to maintain the ski jumps at nearby Howelsen Hill, the City understands that the river needs tender loving care. And in restoring and protecting it, such efforts also support the local economy. "The Yampa was once regarded as a mile wide and an ankle deep" says the city's open space supervisor Craig Robinson, who is in charge of making sure the five miles of river flowing through public lands is well-looked-after. "If you look at historical photos, you won't see half as many boulders in the channel as you do now." Because of these improvements – which have created rapids for rafters, kayakers and tubers, and pools, ripple and other habitat for trout – the Yampa is the city's most unsung signature summertime attraction. Near the 13th Street Bridge rests Charlie's Hole, built by the city in 2003. Two years earlier, it built the D-hole just downstream. There's not a day that goes by in the summer when people aren't lounging on the features' rocks, or using their waves and pools for kayaking, swimming, fishing and tubing. "Those projects weren't our first, nor will they be our last," says Craig, who recently finalized a Yampa River Structures Master Plan that outlines and prioritizes the future build-out of the river, from paddling improvements to fisheries habitat. "We've identified more than $2 million in river work to be done, most of which will have multiple benefits for all user groups and improve the health of the river." River improvement projects of this magnitude are nothing neto Northwest Colorado. The economic boost that can be gained by improving fish and recreational habitat has been replicated throughout the region. Following are a feof the more well-known projects continuing to breathe nelife into our area's rivers.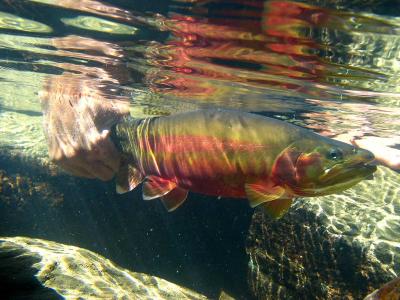 As the health of local rivers improves with restoration, locals reap the benefits with improved fishing.
Three Forks Ranch
Located just 40 miles northwest of Steamboat Springs along the Little Snake River in the Sierra Madre Mountains, 50,000-acre Three Forks Ranch is one of the most exclusive and elegant hunting and fishing destinations in North America. When St. Louis, Mo., executive David Pratt purchased the ranch in 1999, it was his goal to maintain its historical cattle traditions and meld them with hunting and fishing options for guests, while making the property economically viable and environmentally sensitive, balancing cows with trophies and trout. Creating the world-class trout habitat required the most work. "He spearheaded what many consider the grandest, privately funded, river restoration project in the country's history," says general manager Jay Linderman. It wasn't easy. After decades of misguided agricultural practices, in which cattle had unlimited access throughout four miles of river, the Little Snake was virtually fishless. Native vegetation and riparian habitats had been trampled and destroyed, and eroded banks prevented the river from transporting ever-important sediment, leaving it stagnant, heated and channeled. Sediment clogs the gravel bottom where the trout lay their eggs and scavenge for insects, which requires cool, oxygen-rich water. After years of work, a femillion dollars and tens of thousands of boulders, the restoration project has become a model success story and the Little Snake's habitat restored.
Chuck Lewis State Wildlife Area Since 2002, a collaborative effort by volunteers from the Yampa Valley Stream Improvement Charitable Trust and Yampa Valley Fly Fishers has rebuilt sections of the Yampa River flowing thru the Chuck Lewis State Wildlife Area. "This project is the largest volunteer, river restoration project that has ever been done on the Yampa River, if not in Colorado history," says DreJohnroe, a board member of the trust and local lawyer and river advocate. "Once we have completed all three phases of the project, we will have enhanced over a mile of water at a cost of well over a million dollars." Before the project, the river and its trout were suffering. Cut banks, erosion, poor riffle-to-pool density and stagnated water had made the stretch silty and pike infested. "Our goal was to improve the trout fishery and health of the river, while reducing pike habitat," says Drew, adding that while the Yampa grows big trout it is also prime pike water. "Unfortunately, good pike habitat is also where young trout grow. One 20-inch pike can eat a 10-inch trout or dozens of inch-long trout in a single day." "This water has the potential to be as productive of a fishery as any private water in the valley," says Jarett Duty, owner of local fly fishing outfitter Bucking Rainbow. "By increasing the fishery habitat, this section will link the exclusive, private waters upstream with waters downstream, creating the potential for a world-class fishery for everyone."
Marabou One of the most exclusive communities in Steamboat Springs, Marabou is banking on its river improvements to help sell the lifestyle its owners seek to embrace. Designing it to include 62 homesteads laid out over 1,717 acres, Jeff Temple knefrom past developments hocritical a river and fishery project is to such a project's marketability and sell-through. "When we did Storm Mountain Ranch, a similar ranch preservation development, we found that without the fish habitat improvements the project would have been much less desirable," he says. At Marabou, Jeff went to work immediately on the 2.5 miles of Elk River meandering across the property. While crews built the roads and infrastructure, they also started with the riparian, river and meadolake improvements, so that both would be completed at the same time. Scott Fifer from Resource Engineering Inc. and Casey Clapsaddle from Rivers Unlimited excavated more than a dozen off-channel lakes and placed hundreds of tons of rocks in in-river, cross-vein, J-hook and other structures, at a cost in excess of $1.5 million, all to maximize fish habitat. "The fisheries work was just as important as building the roads and pulling the electric," Jeff says of the noworld-class fishing waterway.