Yampa Living
12/01/2008 01:00AM ● By Dagny McKinley
Holiday 2008:
Yampa Living
by Dagny McKinley
Testosteroneville Man Rooms separate the boys from the girls    Belching, farting, screaming at the TV – not all women are turned on by these behaviors. So with football season in full swing, a Man Room might be just the ticket to keep the relationship intact. A Man Room can be a garage, basement or game room, but it's a place where men can be men and women don't have to deal.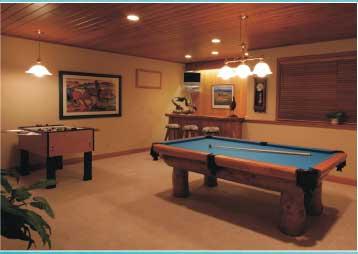 Man Room Mainstays: Pool Tables, foosball, wet bars and trophies... who needs to play outside? Photo By: Kim Keith  Interior decorator Lynne Bier of Home on the Range, Inc., has seen a steady development of such quarters over the past 10 years. "There's at least one in every house that has space for it," she says. "These rooms always have a more masculine feel – that's their nature." While the rooms serve the family as well as the man of the house, they have that certain estrogen-lacking touch. Many have custom bars, billiard tables, game tables, leather sofas and flat screen TVs. The most extravagant room Lynne decorated was in Catamount and featured an antique wood bar and billiard table made from reclaimed white oak. The owner claims it's the best balanced table he has ever played.    At the other end of the spectrum is Larry Meyer, who has turned his garage off Whistler Road into a lower-end Man Room with dartboard, kegerator, refrigerator, pool table, couch, stereo and karaoke machine. With nights like the one when he and his friends took turns wearing a WWII flack jacket with a target on the back as a human dartboard, to the morning when he woke up to find his ski pole shaped like his bike helmet (on his head when the pole hit it), it's no wonder his fiancée banishes Larry and his friends to the Man Room every Sunday (and sometimes Mondays, Thursdays and Saturdays, or any night after 1 a.m.).    Sometimes the perfect Man Room becomes, by necessity, the perfect family room. The downstairs of local mortgage broker Scott Bessette's house was once a concrete romper room for his kids. When his wife suggested they clean it up a little, Scott went to work. The room nohas custom stone detailing and a wooden bar. With a TV, fireplace, air hockey table, ping pong table, pinball machine, pool table and chess table, this ideal Man Room has become the perfect place for the kids to expend their energy as well.    Whether the quarters serve the men or the entire family, most men – and women – agree that it's important to have a place where men can get away to be men, or even revert back to being boys. Whatever the furnishings – a shredded pink couch left on a curb, or a black leather couch with reclining armchairs – there's no better place to sit back, flip on the tube and enjoy a little man time.Spreading Christmas Cheer- Decorating your home for the holidays    For some Steamboat Springs locals, the little ditty, "It's beginning to look a lot like Christmas," comes far earlier – and lasts far longer – than it does for the rest of us.    One such person is Chantal Kane, whose house could enter and win a Christmas decoration contest while the rest of us are still packing away the Thanksgiving leftovers.   "It's never too early to think about Christmas," Chantal says. "It's a special time."   The bulk of Chantal's passion manifests itself in her artificial tree, which she says takes two long weeks to set up. Because of this, she deems it a waste to put it away decorations before April.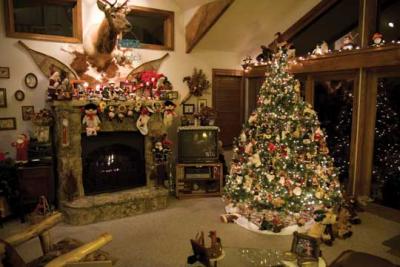 Global Charming: Chantal Kane's internationally inspired holiday decorations. Photo courtesy of Corey Kopischke.   When she lived in Switzerland tradition saher family put candles on the tree. Now, instead of candles, Chantal has brought a bit of Switzerland to her tree. Beginning in the early 1980s, she collected ornaments from the many places she visited, including Germany, France, Poland, Greece, Norway, Sweden and England. Friends help by adding to her collection, bringing ornaments from as far away as Russia, Japan, China and Mongolia. "It's like collecting different cultures," she says.    If two weeks sounds like too long to string lights from the inside of the tree out, and your powder clauses are absorbing the time needed to get ready for Santa Claus, hiring a decorator is a great alternative. Fresh garlands, custom silk arrangements, wreaths and a tree covered in hand-blown glass ornaments can be waiting as you pull in the driveway to begin the holidays.    For Lindsey Grannis, owner of One Fine Day Productions, the most important places to garnish are mantles and entranceways. "A fresh floral centerpiece can dress up a house without overstating it," she says, adding that while she greup with decorations in every room of the house, her 80- hour work weeks during the holidays prevent her from dressing up her own home.     While indoor accents keep the atmosphere flowing, outdoor lighting spreads the  Christmas spirit to anyone walking or driving by. Most people light up a special tree or the rim of a roof, but professionals can light up your entire property. "We used 50,000 lights on one job," says Matt Johnson, owner of Christmas Décor, adding that anything can be lit, from windows and roofs to trees and garlands. While typical lights cost $1,000, the sky's the limit with what you can do or homuch you can spend.    Whether your decorations have the panache of Matt's offerings, the duration of Chantal's, or are limited to a tree in the corner, a wreath on the door or a warm glowing candle, they all share one thing in common: they bring a feeling of peace, love and comfort to all of our homes in the Yampa Valley.Timm-Berr! Cutting your own Christmas tree is a Steamboat tradition     Maybe it's the fresh air, the cold toes, the sap stuck to your gloves, or even their imperfect, non-tree-farmed nature – whatever the reason, cutting down Christmas trees has become a time honored tradition for many here in the Yampa Valley. Even if you end up spending more in gas, permit fees and hot chocolate, it's a time for friends and familyto come together, get outside and share some holiday cheer.    According to the local Forest Service, more than 1,300 trees are cut down for the holidays each year. And they don't all have to look like Charlie Brown's. Rich stands of spruce, fir and pine can be found throughout the Park Range, ensuring that hand-cut trees can spice up any home for the holidays.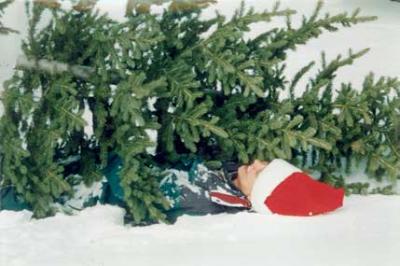 No Charlie Brown Christmas Here: Natalie Reynolds revels in finding the perfect Christmas tree. Photo courtesy of Natalie Reynolds.     Nate Erno cuts down his own tree every year. "It's a mighty joyous occasion," he maintains, adding that the day starts with friends and hot wine before hiking out on Rabbit Ears Pass or on a friend's property. "When picking a tree, you have to make sure it has at least one good side, depending on where you put it in the house. Sometimes a flat back works so it doesn't take up too much space. And more often than not you'll bring home one that's too big." (Nate's advice: measure the tree by where your head comes to on it.     While there are as many places to hunt for a tree as there are toys in Santa's sled, a festand out. Rabbit Ears Pass (on both sides) is one hot spot, with others including Buffalo Pass near the Soda Creek Trailhead, and North Routt near the Hinman Campground off Seedhouse Road. All are part of 1,126,346-acre Routt National Forest, and all are characterized with wide open meadows combined with stands of spruce, fir and pine. Places off limits include Fish Creek Falls and the Bear River Corridor.