Longing For Local Homespun Gifts for the Holiday
12/01/2008 01:00AM ● By Jennie Lay
A Bad-Ass Moot's Bike. Photo courtesy of Moots
by Jennie Lay
Dear Santa, I've been an extra good girl this year, so I hope you'll keep that in mind when you and your generous elves start pondering my extra-special wish list. You see, this year I've been on a mission to live more sustainably. Solar energy powers my home and work. I bought organic food from a Community Supported Agriculture farm. 
I let my recycling pile sky-high while we waited for Waste Management's recycling machine to get fixed. I slashed my carbon footprint with half as many car trips to town. I ate less meat, voted for change and gave money to needy causes instead of accumulating more "stuff." Not to be a Grinch upon the festive holiday spirit, but I've also been thinking about big problems on the planet these days – food shortages, gas prices, poverty, species extinction, climate change. 
My musings don't intend to squash the season's good tidings, but you get my drift? Anyway, I think it's time for you, Santa, to start doing your part to help the hippies and the hopeful get us out of this mess. It's a good time to raise your standards, Jolly Ol' Fellow. Face it, your North Pole is melting and you're feeding a cycle of over-consumption. 
Your fat little elves need a Mediterranean diet and some yoga. You're not guzzling gas, but it's probably taking a lot of genetically modified grain to keep that pack of reindeer going 'round the clock – not to mention compounding the food vs. fuel crisis. And I can't even imagine the energy it takes to keep Rudolph's nose aglow– 'cuz that's surely no compact fluorescent. 
Get with it, Saint Nick. It's time to put on your green suit. Slow down and savor the holidays, cut the transportation costs, and minimize your carbon footprint. Gifts don't have to be a burden on you or the planet: Just buy me something local! 
Yours for the planet … and the presents, 
Jenny Lou Who
P.S. Don't forget to look locally for the naughty folks too. The Yampa Valley's own Twentymile Mine has no shortage of lumps of low sulfur coal for sale!
My Made-in-the-Yampa-Valley Wish List
SOMETHING WARM TO SNUGGLE WITH
Nothing against snuggling with my husband, but he's generally hot and I'm cold – and I sure would appreciate the extra warmth of one of this year's cozy, limited-edition Routt County Woolens blankets. The wool comes from sheep that grazed on all that beautiful green Yampa Valley grass last summer – a warm fuzzy not just for the fabulous blankets, but also for helping preserve that gorgeous open landscape for sheep (and even your reindeer).www.routtcountywoolens.com
SOMETHING SMELLY AND DELICIOUS
The ladies at Little Moon Essentials do a fine job of keeping folks soaking in all-natural bath salts, seasonedwith essential oils that remedy everything from tension to a "Tired Old Ass." But I don't have a bathtub, so what I'd prefer to see under my tree is something a little sexy that makes my skin feel nice: one of their brand-new, raw, edible sugar scrubs. "Beach all you want" with coconut and tangerine would be lovely, but the "Love Magnet: SOS" aphrodisiac scrub might be more fun. www.littlemoonessentials.com
A BAD-ASS BIKE
Don't forget our gorgeous summers. While you're remembering our valley sans snow, set me up with a ride that will make mountain biking more fun. Splurge on one of those brand-netitanium 4-inch-suspension Zirkel mountain bike frames made by Moots, a company that has been welding bikes in the Yampa Valley for 27 years. www.moots.com
GOOD CHOW
When I want to enjoy meat, I'd like to feast on the tasty local varieties of beef, lamb and buffalo that graze right in our own back yard. It's a sweet "locavore" solution, since transportation for that fresh local burger or chop to my dinner table is negligible. They're raised all-natural, plus it's nice to knoI'm helping keep ranching alive and well in my neighborhood. Send this package straight to my freezer: burgers from Yampa Valley Beef, beef filets from Greener Pastures Ranch, lamb chops from the Villard Ranch and a low-fat buffalo tenderloin from Lay Valley Bison Ranch. (Don't worry, there's no reindeer sausage on the list.)
www.yampavalleybeef.com
www.greenerpasturesranchbeef.com
www.villardranch.com
www.layvalleybisonranch.com
MY SPACE, BUT BETTER   
I'm a hard-working, modern freelance journalist working from a 100-year-old desk designed for letter writing. Basically, my office scenario is lame – and local furniture makers Mike Roach and Craig Rench with Dovetail Designs make a stand-up desk I would die for. They use traditional joinery and old fashioned, non-toxic varnish recipes to turn rough-hewn rustic woods into handmade furniture with clean lines, classic touches and eclectic style. Best of all, they'll custom-tailor a desk to just what I need – which will make it easier for me to write this letter next year.www.dovetailfurnituredesign.com
WAVES, AND SOMETHING SPECIAL TO RIDE THEM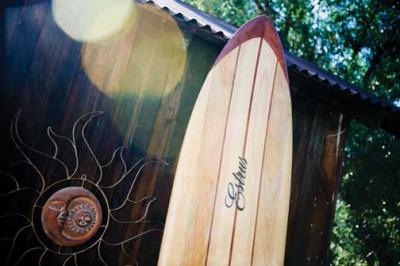 Estrus Surfboard. Photo by Ken Wright 
Local carpenter Paul Hobson is shaping balsa and redwood surfboards in his Old Town shed. After a powder day, he hangs up his skis and gets to work on his handcrafted Estrus longboards – guaranteed to make waves when they arrive on the beach. And after Paul puts about 60 hours into building each one, he promises they ride nice too. Santa, hoabout a midwinter plane ticket to Mexico and a sweet nesurfboard? Estrus Surfboards, 970-879-0424
COOL ART
The number of artists calling Steamboat Springs home multiplies all the time. And I love that every sale from The Depot art shows generates a tax-deductible, 40 percent donation to the Steamboat Springs Arts Council, which goes right back into supporting all the art I love in the Yampa Valley. There are a few selections of local art I covet.
Three painters make vivid works that reflect and refract our local landscapes in introspective and imaginative ways. I'd be honored to see a canvas by Susan Schiesser, Diane Cionni or R.C. Dieckhoff grace my living room wall.
www.susanschiesser.30art.com
www.dianecionni.30art.com
www.steamboatgallery.com 
While David Taylor says his quilted, internationally award-winning, fabric masterpieces are intended to be wall installations, I still dream of a custom made, queen-sized rendition of his intricate aspens sporting some mischievous tree sprites to cover my bed.
www.davidtaylorquilts.com
Ceramic artist Deb Babcock makes the sweetest teapots you ever sa– and I want to spend the next decade steeping tea in one with whimsical swirl and a beautifully breaking celadon glaze.
Blue Sky Pottery,
970-846-9349A practical (but decadent) idea: Woodworker David Winters uses local cottonwood, aspen and scrub oak burls for his finely turned, sculptural wooden bowls, while his stunning cutting boards contrast shimmering dark walnut with radiant maple. My kitchen could use one of each.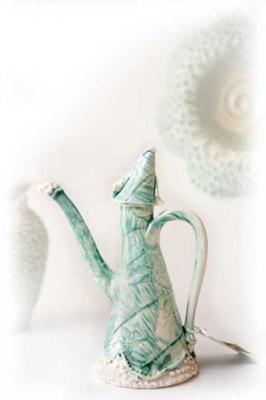 Photo courtesy of Ken Wright.
www.davidwinterswoodworker.com
TAILGATE ADVANTAGE
When I can't spare the dough for tickets and transport to Denver, professional sports are best left to the comfort of my couch. That doesn't eliminate my need for cold beer and tasty pub food. I'd like a stash of that spicy Wing Time sauce they're concocting here in Steamboat to keep the chicken wings happy all Broncoseason long (assuming they're still playing come Christmas time). I could also use a stockpile of local chef Dean Martin's zingy Asian Barbeque Sauce & Marinade because I love it on everything. Last but not least, to wash it all down, send over a refillable growler of locally brewed beer (topped off with Powderkeg Porter or Alpenglow, please) from Mahogany Ridge Brewery. Cheers!
www.wingtime.com
www.chefdeanmartin.com/store/BBQsauce
Mahogany Ridge, 970-879-2223
SPEED
Stuff my stocking with some Bitch Ass Fast Wax made by a local jibber right here in Dream Island. It's Matt Anderson's own all-weather recipe "board wax" that works just as great on my teles as it does on his snowboard. "If it slides on snow, you can put it on it," Matt says – and he swears the wax "killed it" with a test on his Cardboard Classic craft last year.
www.bafsnow.com
FINE SUGAR
 Bring on the bon-bons (or some scrumptious toffee) from Yepello Fine Chocolates & Confections, made just up-river from Steamboat. Among the highlights is a lavender vanilla truffle that's made with the fragrant lavender flowers from our own Yampa River Botanic Park.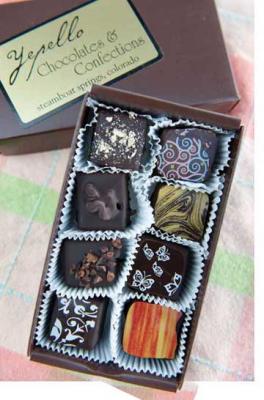 Photo courtesy of Ken Wright.
www.yepello.com
CLEAN LIVING
 Smelling good is nice. Inhaling the fresh aroma of Stagecoach Sage when I'm taking a mid-winter shower is divine. The Churchill family's Mountain Soap Factory near Steamboat Lake makes mild, all-natural, small-batch, olive oil soaps scented with local sage, plus lavender, bitter orange and other yummy smells. Toss in a feof their opaque mint-scented Steamboat Snowball soaps for good measure.
Mountain Soap Factory, 970-879-6478
A HOME-GROWN FLOTILLA
 It's bigger than the Christmas tree, but a drift boat made by an avid local fly-fisherman would definitely make a gift-unveiling trip out to the garage a welcome surprise. John St. John at Hog Island Boatworks is making tough, roto-molded drift boats, constructed from high density polyethylene resin and rigid linear high density foam. From this seat, summer fishing on the Yampa would look so much better. We could even take you out for a spin.
OTHER STEAMBOAT-BORN IDEAS
This gear grew up here, but then the rest of the world figured out how fabulous they are and production processes outgrew our neck of the woods. Still, Smartwool, Big Agnes and Bap! keep their headquarters, and a fond local following, here in Steamboat.
What woman wouldn't love a fine-fitted hoodie Luna Vest or a signature fleece cap from Bap? And I'll never turn down a pair of washable wool socks from Smartwool (note: ski socks are practical, but I really like stylish designs like Julie Maren's lotus flowers on the new Smartwool offerings). And for camping, set me and my honey up in a Big Agnes double wide for the backcountry – the King Solomon down sleeping bag.
Article Gallery [4 Images]
Click Any Image To Expand