Hidden Highlights
12/01/2008 01:00AM ● By Eugene Buchanan
Left: The Bud Werner Library welcomes bookworms with an epoxy, terrazzo floor with brass and mosaic inlays. Photo by: Tim Murphy Right: The Victoria's native sandstones and brick highlight a curved facade. Photo by: Ken Wright
by Eugene Buchanan
Key Design Components of Steamboat's new downtown. 
The face of Steamboat's downtown is being transformed before our very eyes, from the new Bud Werner Memorial Library at 13th Street and Lincoln Avenue to the commanding new mixed-use developments eastward on Lincoln. A part from modernizing what was a simple ranching town a hundred years ago, what the new buildings share is an attention to design detail that goes above and beyond traditional developments. Following is a snapshot of some of their unique design elements. 
THE VICTORIA
Designed by Moon Hill Design founder Mathew Wager, The Victoria, at the corner of 10th Street and Lincoln Avenue, blends traditional materials, including native sandstones and brick, with such classical elements as arches and coves to give the 30,000-square-foot mixed-use building a contemporary look and feel. "It's all fairly traditional materials," says Mathew. "Its character comes from hoit's put together."    While each masonry element stands out on its own – "definitive vertically," as Mathew puts it – they're tied together visually with glass and steel, touches carried from top to bottom. Above its underground parking are three floors – the first commercial, the second mixed, and the third residential – the exterior of each blending old and nematerials. "It's different than any other project I've done lately," says Mathew. "It's a different use of materials designed to complement Steamboat's Western downtown feel." 
THE OLYMPIAN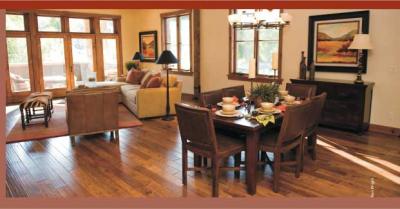 The Olympian offers classic design features inside and out. Photo by: Ken Wright     
The novel use of brick, stone, wood and metal makes The Olympian a suitable gateway to Howelsen Hill. Designer Brant Vanderbosch of Vertical Arts and developer Paul Franklin made sure the corner overlooking Yampa Avenue and Fifth Street paid homage to its surroundings. "The trellis is held up by timbers that are placed at an angle, like a ski jump," says Franklin. "We spent a lot of time trying to create something that captured the concept of jumping. The timbers are leaping forward, just like jumpers on Howelsen Hill. It's the entrance to Howelsen, and we wanted it to make a statement to everyone passing by."
ALPEN GLOW

 
With brick, pre-cast concrete with steel accents, and a cornerstone light feature perched above Lincoln Avenue, the Alpen Glohas transformed the corner of Lincoln Avenue and Sixth Street into a veritable welcome mat for those arriving into downtown. That's exactly what developer Green Courte Partners wanted to accomplish with this 24,000-square-foot mixed-use commercial/residential building nocommanding one of the most prominent corners in town. "The entire Sixth Street exterior can be seen as you arrive downtown on Lincoln Avenue," says Joe Cashen of the Downtown Development Center. "The emphasis on the architecture along Sixth Street was an important element of the design." Behind the mixeduse building, the developers incorporated townhome living into the site design, representing an additional 12,000 square feet of residential property in the heart of downtown.
HOWELSEN PLACE

 
Rare is the viefrom downtown better than from Howelsen Place, a 100,000-square-foot complex at Seventh Street and Lincoln Avenue that lets you see from Soda Mountain and Mount Werner all the way to Howelsen Hill from the comfort of your porch. But it's the building's three different types and colors of bricks, as well as its liberal use of sandstone blocks, that make the vieof the building itself nearly as spectacular. "We wanted to break up the mass of the building," says developer Jim Cook. "Lots downtown are only about 50 feet wide, which is part of the reason why our buildings have such diverse characteristics. We used a variety of brick and paint colors to give it the feel of different, unique buildings." Apart from the vieit offers and unique exterior design, the  crown jewel is a striking round veranda on the corner of Seventh Street and Lincoln Avenue, mimicking, perhaps, the well-rounded lifestyle of the Yampa Valley's residents. A bronze statue of Carl Howelsen will also reside at the corner, with oversized sidewalks creating a pedestrian promenade and connection between Lincoln and Yampa Avenue.
BUD WERNER LIBRARY
The new Bud Werner Library is far more than a glorified bookshelf. With artistic elements an integral part of the overall design, look closer and you'll find details reflecting Steamboat's beauty and personality.Carved Wood Panels 
Above several of the library's bookshelves are wood panels laser-cut into cherry veneer. Designed by Steamboat native Christine Borden, the panels on the main floor were inspired by Shakespeare – celebrating the power of the printed word and Rumi's invitation to "drink your fill" – through the use of international scripts highlighting the commonality of language across cultures. Those in the history room feature a Ute poem with an abstract illustration of the Yampa RiverBike Racks.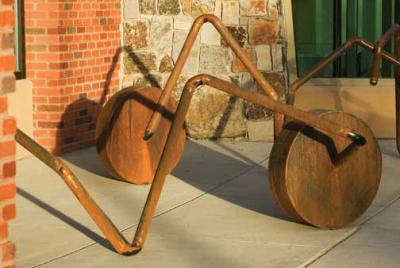 At first glance one might overlook Christopher Oar's uniquely designed bike rack. Photo courtesy of Tim Murphy.  
When designing the library's welded steel bike racks, local Christopher Oar – who has studied at the Genoa School of Furniture Design, trained with German blacksmiths and worked with jewelry artisans in Florence – meditated deeply on the written word and humanity's common bond through language. Taking into consideration design, safety, ease of use and function, he created functional and fashionable spaces to park your wheels.
Mosaic Floor   
The idea for the map-like design of the library's epoxy terrazzo floor with brass and mosaic inlays stems from the community. Artist Brad Kaspari, who has completed numerous public art commissions across the country, developed the idea of a map that would relate visually with the interior architecture while also serving as a metaphor for libraries and hothey enable users to navigate a world of ideas. The two compass-rose designs highlight the building's two entrances and the town's history.
Leaded Hand-blown Glass  
Given in memory of Carol McCabe Defenbau (1949 - 2008), the library's stained glass – Cottonwood Wind, designed by internationally known artist Arthur Stern of Benicia, Calif. – balances an orderly grid with random, abstract elements inspired by leaves of localcottonwood trees and the wind. The result: a subtle balance between order and chaos. The windohas an inherent meditative quality, partly from this duality, as well as from the visual distortion and effects provided by the palette of European hand-blown glass. 
STRAWBERRY PARK PLAYGROUND
Kids of all walks are in for a treat at the neplay structures at Strawberry Park and Soda Creek elementary schools. Thanks to hundreds of volunteers, as well as local nonprofit Let's All Play, which raised nearly $1 million in cash and in-kind donations for the project, both schools nohave barrier free play structures whose closest rivals are in Fort Collins. "It was truly a community effort," says program co-chair Julie Taulman. "And the result is something that can be enjoyed by everyone." Designed by Denver's Children's Play Structures, the nestructures – a 9,800-square-foot playground at Strawbery Park and 8,500- square-foot facility at Soda Creek – are fully accessible for people with disabilities, and come with rubberized surfacing complete with heating elements for snowmelt. Features include a spinning tea cup, a rotating cage that's a modern version of a merry-go-round, and a spider web for climbing. "Both of them have lots of interesting equipment," Julie says. "Any one of any ability can get to the highest point on the decks." 
SODA CREEK ELEMENTARY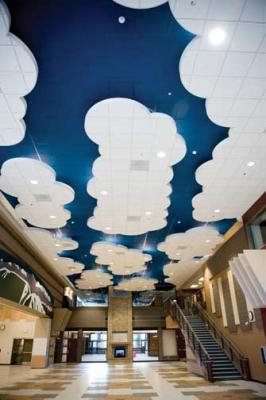 Looking up at blue sky and cumulus clouds at the entrance to Soda Creek elementary school. Photo courtesy of Ken Wright. 
Not that students' heads are in the clouds when they walk into the neSoda Creek Elementary School, but that's what the entrance conveys through a three dimensional ceiling featuring cumulus-type clouds made from tile popping out of a blue background. Designed by Christiansen Reece and Associates of Colorado Springs, as well as local design firm Eric Smith and Associates, the sky-like embellishment, which visitors and students see above the commons area and media center after walking through the vestibule, owes itself to Steamboat's environment. "The intent was to bring the outdoors in and give the inside an open atmosphere," says Soda Creek Director of Facilities Rick Denney. "The winters are pretty long here and this lightens up spirits inside." 
Article Gallery [4 Images]
Click Any Image To Expand