Boat People
12/01/2008 01:00AM ● By Jennie Lay
Holiday 2008:
Boat People
by Jennie Lay
Gold Medal Advice – Olympian Deb Armstrong moves to be Winter Sports Club mentor    Olympic gold medalist Deb Armstrong was a teenager the last time she raced Howelsen Hill. Nearly three decades later, Deb-and the coveted gold madal that she stows in an unassuming velvet box-has moved full-time to Howelsen as alpine director for the
Steamboat Springs Winter Sports Club.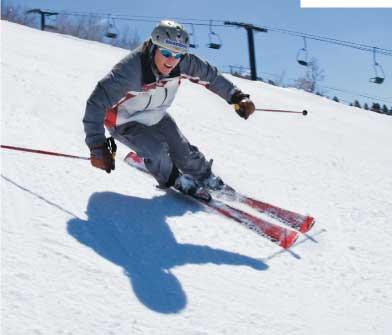 Olympian Deb Armstrong carves out time for women's seminars at the Steamboat Ski Area. Photo courtesy of Corey Kopischke.
     "I couldn't be more appreciative of just being here," says the self-assured skier and mother of 1-year-old daughter, Adelyn. Deb projects genuine familiarity and a competitive
edge. Both reflect her wholistic philosophy of incorporating strong skiing skills with life skills. She's the kind of superstar you want your kids to gawk about.     "I'm definitely a glass-half-full kind of person," she says. "Where there is a will, there is a way, and I have a will that exceeds that of most people." The daughter of a sports psychologist dad and a mom with a P.E. degree, she greinto a self-professed "jock" with a will to compete. "If I'd lived here in Steamboat, I would have ski jumped for sure," she says.
     Raised in Seattle, Wash., Deb's home turf was Alpental Ski Area – her only turf until landing on the U.S. Ski Team in 1981. "Then I skied the world," she says. The two-time Olympian spent eight years on the U.S. Ski Team and made three trips to the world championships. She landed on the cover of Sports Illustrated with her first-place giant slalom finish at the 1984 Olympics in Sarajevo.
     Last year, she came to Steamboat as alpine technical director for the Steamboat Ski & Resort Corp.'s ski school. While she'll continue to host her popular women's ski seminars for the ski area, at the Winter Sports Club she'll be on the hill with kids, interacting with parents,
and honing her coaching skills. "We wouldn't be getting the best of what I can offer if I wasn't on the hill," she says.
     After hours, don't count her out for the Town Challenge series either. She wants to race, and knows everyone else would like it too. But the trim 44-year-old says workouts come first. "I respect the strength that's required," she says. "I've been beaten, but I can also still win
grudge matches."From Ski country to Ski Town USA    No one can say Rob Perlman, the Steamboat Ski & Resort Corp.'s nevice-president of sales and marketing, didn't earn his local status the "real way." Granted, in July he moved directly from Denver to the fourth-floor corner office of the gondola building, and he probably won't eke out his first winter eating ramen; but he did weather his first months living among the young and rowdy in Ski Corp. housing.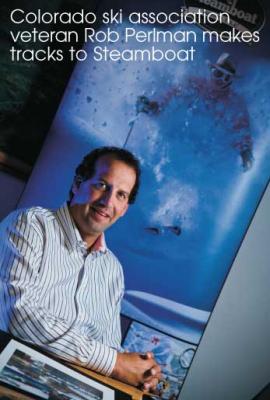 Ski Corp. VP Rob Perlman settles in to market legendary Steamboat skiing. Photo courtesy of Corey Kopischke.Never venturing far from the slopes, ski bum status has rarely veered out of this Colorado native's vision. Rob comes to Steamboat after six years as CEO of Colorado Ski Country USA, an industry trade group representing 21 ski areas around the state. Before that, he held
public relations and sales and marketing stints at Mammoth, Vail and Winter Park. During college at the University of Arizona in Tuscon, Rob says he created his own trimester, taking spring semesters off to ski and live in Winter Park, where he managed to get four years of 100-plus ski days packed into a 4.5-year graduation schedule.
    Tall, with dark ringlets and a disarmingly goofy grin, Rob got his first professional
foot in the door as a snoreporter in Mammoth. That was back when 4 a.m. morning snoreports were faxes and skiers relied on his radio reports. His industry-wide role greconsiderably from there.
    "At Ski Country we found common ground but it didn't benefit everyone all the time," Rob says. Working in Steamboat, he says, will provide more clarity, focus and tangible results. He and his wife, Erin, also look forward to raising their young family, including daughters Morgan, 6, and Amanda, 8, in a mountain community that they're confident lives up to its family friendly reputation. Right nothey're all skiing together, but Rob senses he's
"destined to have shred Betties" that leave him in the dust.
      After years of Steamboat visits, Rob is eager to mesh into regular local life. This
summer, he took in rock acts at the Strings Music Festival, investigated where to improve his fly fishing skills and piloted the Ski Corp. chuckwagon in the Fourth of July parade. This winter, he's game to boost his "official local" status beyond employee housing and out onto the streets: Looking forward to his first Winter Carnival he confesses, "I'd love to do the skijoring, but I don't knoif my wife will let me."Telemark Titan – 2008 U.S. Tele National Champion Shane Anderson spreads the word on his sport    At last year's Telemark Festival during Winter Carnival weekend, one skier careening down the face of Howelsen Hill was clearly better than all other comers. A coach for the Steamboat Springs Winter Sports Club, Shane Anderson, who, when not in Routt County, works for his family's mason business in Cody, Wyo., made mincemeat of both the moguls and fellocompetitors.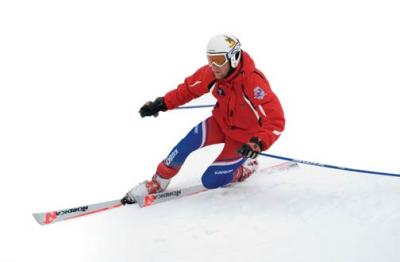 Shane Anderson rips a championship tele-turn. Photo courtesy of Corey Kopischke.
    Those pinning against him shouldn't feel bad. A week later, Shane won the U.S. Telemark National Championships in Tamarack, Idaho.    "He's one of the best telemark skiers out there, no question," says felloSSWSC telemark coach Ken Recker. "It's great to have him here as part of the program."    Getting to teleing's most prestigious podium wasn't easy. The contest awards points in four events – sprint classic, giant slalom, dual pro slalom and classic. It's the classic, which sends racers through gates, off a jump and on an uphill sprint, that suits Shane's style best. "It's an all-out, one-run challenge that tests your mental and physical preparation," he says. "You knoyou gave it your all if you can't stand at the finish line."     Shane got his start skiing at an area similar to Howelsen: the 600-foot-vertical Sleeping Giant Ski Area near Yellowstone National Park. Like many in Routt County's early days, he learned from everyone from local cowboys to his parents. Subsequent years at Red Lodge, Mont., led to ski racing at Rocky Mountain College, followed by a brief stint in Wolf Creek.    Now, he's happily hanging his ski hat in Steamboat. "Aside from Steamboat's great telemark community and terrain, it lets me promote the sport I love," he says. "It's a rollercoaster of emotion teaching the sport to 7- to 10-year-olds, but it's amazing to see them grasp it and take off."    As for his employer, he can't imagine coaching anyplace else. "The Winter Sports Club has an amazing amount of passion," he says. "Everyone really cares about winter sports and teaching kids to enjoy them – I can't think of a better place to train."Allergic to Fate – Rick and Suz Bear riding high on neclothing Line    Rick and Suz Bear, purveyors of a neSteamboat Springs-based clothing line concept called "Allergic to …," appear allergic to the fate that brought them together.   Destiny wove its path around them for years before the two finally became a couple. Rick and his previous wife moved to Steamboat in 1971 for a business venture that entailed Rick skiing in a red ski suit with a red cape that said, "Posters $15. Stop me." Suz first came to Steamboat to celebrate her 25th birthday, and then overheard Rick's band playing in a local bar. Meanwhile, Rick's business venture failed, so he opened The Positive Negative, selling cameras, film and portraits.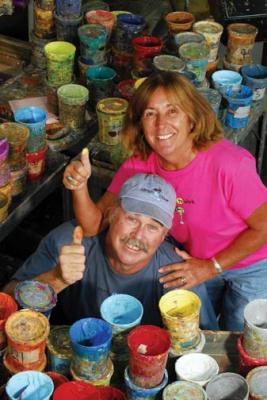 Rick and Suz Bear carry their philosophy on life to their product line. Photo courtesy of Kim Keith Across the street, Suz and her husband bought The Short Branch, a bar Rick frequented with his band. They both eventually left town, and returned single years later, Rick to launch a custom woodworking business and Suz to start The Maids of Steamboat, which she still runs. 
    The nighttime festivities at Winter Carnival finally brought the two together, both arriving late and literally stumbling into each other in waist-deep snow. They were married in 2003.     But fate's role wasn't through, surfacing next in their clothing line. It arose when Matt Scharf, a graphic designer working for Rick, returned from a camping trip. Driving past the Purina factory in Denver, the concept for Allergic to Cities hit him over the head. Rick later bought the idea from him and, with Suz's help, turned it into a successful clothing line concept nofeaturing more than 100 variations, from Allergic to Work (featuring a martini) to Allergic to School.    While selling their shirts at the Farmer's Market, someone suggested that Rick and Suz license their wares to an Arvada business called The Duck Company, which nomanufactures their products. More Allergic To products are on the way, including an organic line set to launch next year. "It's an easy way to express your passions," says The Duck Company co-owner Jim Bruno of the Bears' concept.    As the shirts have taken off, so too have Rick and Suz. They recently bought a 42-foot Manta Catamaran called Allergic to Cities and nospend as much time as possible appeasing their allergies to land. "The whole concept came about from our desire to live a life off the beaten path in a less congested world," says Rick. "We're all allergic to something. It may be a place, a thing or even a misguided belief … but sooner or later, it'll get to us."
Article Gallery [4 Images]
Click Any Image To Expand