Young Guns: Steamboat's winter athletes making their mark
12/01/2008 01:00AM ● By Eugene Buchanan
Winter 2008:
Young Guns: Steamboat's winter athletes making their mark
by Eugene Buchanan
   Drink from Steamboat's Lithium Spring and legend has it that youth and vitality will be yours forever. Don't tell that to today's crop of young winter athletes in town. They're spry enough as it is. Whether due to nature or nurture, Ski Town USA's cadre of adolescent athletes keeps getting better. You see them bashing gates, whisking by on Nordic trails and hucking carcass in the terrain park. While they might specialize in different disciplines and come from different backgrounds, they all share one thing that has helped them reach their sport's pinnacle: the training and romping grounds of Steamboat is part of their upbringing. It's the rest of us who could use the lithium to keep up.
In the Pipe with Blake Eddington
  Hone your snowboard slang before conversing with halfpipe specialist Blake Eddington. The 16-year-old ripper won the final event of last year's Chevrolet Revolution Tour at Oregon's Mount Bachelor by nailing a 720 into a cab-900 (starting switch, two and half spins, landing forward), which qualified him for the 2008 US Grand Prix Tour and gave him a third-place showing overall. In snowboardspeak, the dude's a phenom.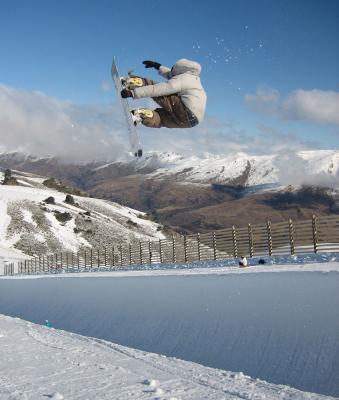 Blake Eddington catches air in the halfpipe
   "I hoped to do well on the tour last year," says Blake, who moved to Steamboat from Corpus Christi, Texas, when he was seven. "But it was pretty competitive."    His results earned him a spot on the U.S. Junior Gold Team, a weeklong development camp on Oregon's Mount Hood. He hopes to use that training at this year's Junior World Championships in Russia. "He's always been super-talented, but last year a light bulb went off and his confidence sky-rocketed," says coach Jon Casson. "Nothere's not an ounce of doubt in him."  He carries this confidence to both slopestyle and halfpipe events, but prefers the pipe more. "It lets you link five tricks together instead of two," he says. "It seems to flobetter." Also a talented mid-fielder for the high school soccer team, Blake took 14th last year at a Grand Prix snowboarding event – the top level pro contest in the country – and with another year under his baggy belt, he's poised to do even better. "He's one of the favorites going into this year's Chevy Tour, and should rip it up on the Grand Prix circuit as well," Jon says. "He's never been afraid to go huge."
Bridger Root: Making a Mountain Man
    Bridger Root, 18, will never forget his 14th birthday. That's when he finished climbing the last of Colorado's 54 14,000-foot peaks, capping a goal that began after bagging his first, Mount Huron, at 8. While the accomplishment earned him accolades as one of 2007's Outdoor Idols by Boulder's Outdoor Industry Foundation, he's far from hanging up his ropes. Since then, he has climbed all the other 14,000-foot peaks in the Lower 48 (for a total of 71) and last spring, he topped out on Europe's Mount Blanc and Alaska's 20,320-foot Denali.   "I like having goals I can actually focus on," says Bridger, noa freshman at Whitman College in Walla Walla, Wash. "Mountaineering's fun because not too many other people my age are doing it."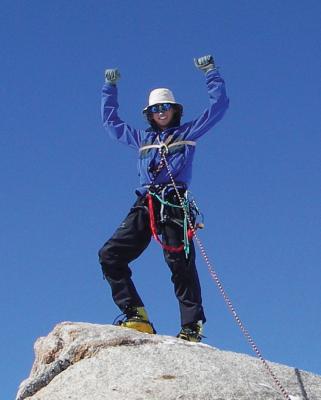 Bridger makes a summit.
   For Bridger, setting and achieving lofty goals comes as naturally as a Steamboat snowfall. He was a straight-A student at the Lowell Whiteman School, visiting Russia, Indonesia, Chile, Bhutan and Europe in the school's foreign travel program. Such journeys opened his eyes to philanthropy. "I've had the good fortune of a great education, travel opportunities and goals that have taught me to respect myself and the environment, and noI want to start giving back," he says. "I hope to start guiding so I can have a greater influence on other kids' outdoor experiences."     Up next for Routt County's Reinhold Messner? Africa's Kilimanjaro. "I just get an immense sense of accomplishment from summiting," he says. "It's something that I love to do."
Pinnin' with Lorin Paley
  Lorin Paley, 14, is used to looking up to people in the telemark world. "Last year at nationals, I felt really short," she says. "This year I tried to focus on my goal, and not who I was competing against."   The tactic worked. Paley skied to a secondplace finish overall in the women's elite division at the U.S. Telemark Nationals in Steamboat, competing against women 20 years older. She's an equally strong alpine skier, finishing 10th at last year's J-3 Junior Olympics. "She analyzes everything – you can describe something to her and she applies it in one run. I haven't dealt with anyone that strong for a long time," sums up coach Ken Recker.   Her accomplishments earned her last winter's Outdoor Idol award from the Outdoor Industry Foundation, after which she shared her experiences with more than 300 elementary school children for a program called Avid4 Adventure.    As for her bent on bended knee vs. alpining, she loves both, though telemarks whenever she can. A straight-A honor student, the Whiteman sophomore trains with the Winter Sports Club and when time allows, pursues such sports as swimming, tennis and hunting. But it's telemarking that keeps her grounded. Her finishes at last year's nationals moved her up to the B Team (A, if not for her age), and she's looking forward to this year's World Cup circuit and the 2008 Nationals. "She's just a super-talented kid, on alpines or teles," says Recker. "She can do anything she puts her mind to."
Bumpin' Bo Randolph
  Bo knows bumps. And he also knows bikes.   That's why it was hard for him to choose between the two. Unfortunately for other mogul skiers trying to make the U.S. Team, he chose skiing.    Born and raised in Steamboat, Bo, 19, has been wreaking freestyle scene since joining the Winter Sports Club at age 8. "Skiing's always been my main sport," says Bo, from coaches to pick one sport or the other." While a shoulder injury kept him out this year's mountain bike series, in 2006 he won every men's expert race he entered and finished in the top 5 overall.  That same shoulder injury, suffered while skiing at the Junior Nationals last year, kept him from attending the nationals in Killington, Vt.   While he's hoping his emphasis on speed and turns will earn him a spot on this year's U.S. team, his air is nothing to sneeze at. His repertoire includes heli-mutes, 720s, and this year he learned a back full (think off-axis mobius) and cork 720. "Most of my points come from turns and speed," Bo says, "but I like the air a lot as well."   Better at singles than duals, he's hoping to improve on his 2006 and '07 seasons, in which he won several divisional contests and a three-day event in Durango. "My goal is definitely the Olympics," he says. "Kids I've been competing with all these years are starting to make it, so I'm right there."
Life and Cross Country with Katherine Ingalls
  For 16-year-old Katherine Ingalls, it was a normal ride on Colorado 129 last June 29, until her wheel went off the shoulder and she got hit by a passing truck. A fractured femur and pelvis later, she's slowly getting back to her former position as one of the top Nordic racers in the country.   "Her results are the best this club has ever seen," says the Winter Sports Club's Sarah Floyd of Katherine's first in the 5K classic and combo relay at last year's U.S. Nationals in Park City. "No one's ever done that before."   She also took third in the 5K skate and fifth in the sprint skate for one of the best all-around performances ever, and finished by winning the Rocky Mountain Nordic Division. While those results seem distant given what she's been through, she's banking on competing at March's Junior Worlds. "I was kind of shocked that I did so well last year," says Ingalls. "I'd hoped to make the top five, but then kept shooting for a higher spot on the podium."   As with recuperating from her accident, her strength lies in her focus. "She's just a great athlete," says coach Brian Tate. "She knows what she wants and is super-attentive in everything she does. And that shows in her results."    She's also an accomplished mountain biker, taking third in this year's Mountain State Cup after missing July and August. But for now, her attention is all Nordic…and recovery. "I'm counting my blessings because it could have been a lot worse," she says. "Stuff like that just happens. It's another obstacle to get over and hopefully it will make me a better athlete because of it."
Chasing Gates with Jenny Allen
  For Jenny Allen, the number of candle on her birthday cake every year means more than it does for the rest of us. In the world of ski racing, it's the barometer comparing you to everyone else. And Jenny, 18, is the second-ranked slalom racer in the country. "Slalom's her best discipline, but she's great at all of them," says coach Ty Upson. "She's a finesse skier and has a tremendous feel for the hill. She's the silent warrior, quiet and focused."    A member of the Winter Sports Club since she was three, this focus has Jenny age-ranked 18th in the world in slalom and 34th in Super G. She also won last year's Rocky Mountain Trophy Series, dusting college-aged racers. "I like the speed," she says. "I just happen to be better at slalom."    Her theory: Last year she raced slalom on the high school team, which had a more relaxed atmosphere. That parlayed into her national results, which put her on the bubble for making the U.S. Team. As Steamboat's only second-year, female J-1 skier, she's nosetting her sights even higher, returning from Austria in September with plans to compete in the NorAm circuit. "I really want to make the U.S. team," she says. "It gets a little crazy at times missing school, but that's my goal." The Winter Sports Club couldn't be happier with her decision. "She's the poster child for our club," says Director Rick DeVos. "When she skis, this big smile comes across her face. She's the kind of girl you can't help but cheer for."
Article Gallery [4 Images]
Click Any Image To Expand