Mountain Stories: 30 years of triumph and tragedy in the mountains
12/01/2008 01:00AM ● By Anonymous
Winter 2008:
Mountain Stories: 30 years of triumph and tragedy in the mountains
   There is no greater equalizer than the mountains. Whether reaching the summit of a majestic peak or utilizing the resources of search and rescue, the alpine life humbles us. And that's why we live in Steamboat Springs: to enjoy the simplicity and get closer to wilderness, raging rivers and abundant wildlife. In this, our 30th Anniversary edition, we look back at 30 years of incredible tales, some triumphant, some tragic, all a part of Steamboat's beautiful tapestry of mountain culture.
Flat Tops Exploration *
  Because of their incredibly flat top, they are, perhaps, one of the most aesthetic mountain ranges in all of Colorado. Plus their remote terrain and lack of development make them a prize to local ski mountaineers who, in the last 20 years, have made the Flat Tops their personal smorgasbord. Aryeh Copa, Dan Gilchrest and John Fitzgerald are a feof the locals who have spent time exploring this majestic range. "The skiing in the Flat Tops is untapped," Aryeh says. "Nobody is up there." #
#image1-right- Dan Gilchrist lays down a line in the Flat Tops. Photo courtesy of Aryeh Copa. 
##    This exploration has uncovered world-class skiing ranging from open bowls to mandatory airs into 50 degree couloirs to epic ski touring circuits – and all of it is only accessible via snowmobile, making the Flat Tops one of the most remote and pristine mountain ranges on the Western Slope.
Lost in the Flat Tops
  Most of the time, skiing the remote Flat Top Mountains near Steamboat would be a magical experience. Other times, not so much.    In 2005, Charles Horton broke his leg cross country skiing near Chapman Reservoir on the edge of this inaccessible range. The injury was so severe, he couldn't get himself the two miles back to his truck. So he used a pair of kneepads and a daypack to stabilize his leg. Then he waited nine days to be rescued. When searchers finally found him he was extremely exhausted and dehydrated.    We're not the only ones calling Charles' mishap incredible. In October of 2006, Backpacker Magazine named his experience one of its top ten survival epics. Ahead of him was the Donner Tragedy, where a group of wagon-trainers ate each other near Lake Tahoe after being caught out for the winter in the late 19th century. Fortunately, Charles didn't have to eat his own feet.
Hell's Wall Jump *
  Every year, plenty of Steamboat locals go big. But perhaps none went as big during the winter of 2003/04 as Gabe Nicholas, who skied off the notorious Hells Wall in Fish Creek Canyon.   Gabe decided to take the 70-foot leap of faith after a huge snowfall left a soft landing in its wake. "It was definitely the biggest thing I've ever done," says the 14-year Steamboat resident who recently relocated to Kentucky. His jump started awkwardly when he nearly skied off the wrong spot into what observers recalled as "certain death." They guided him back across the cliff to the correct launch spot using a set of radios. "When he skied off in the right place, he looked sweet, he held good form and he skied away from it," says local lensman Aryeh Copa, who was there to photograph the event.  Most would consider a 70-foot huck of any kind crazy but Gabe scoped his line for eight years. "I jumped Hells Wall a thousand times in my mind before I actually did it," he says. "I scouted it in the summer. I kept telling myself, 'You can do this and it all turned out really well and opened some doors for me."
Summiting Life
  For mountaineer Eric Meyer, May 26, 2004, is a day that will live in infamy. That was the day the Steamboat Springs anesthesiologist sumitted Mount Everest. It was an epic for Eric (what Everest trek wouldn't be?) as seven climbers died on the mountain in the weeks preceding his attempt. "It was a gamble," he says. "We were the only group up high and decided to go for it. We kept telling ourselves, 'If the weather doesn't improve, we're turning back.'"    The weather held and he and his NeYork-based climbing partner finished on a blue bird day with the Himalayas spreading out across the horizon. But for Eric, summiting is only a fraction of the journey. "The coolest thing about those trips is the people you meet along the way and hothe whole experience changes you as a human being," he says. "I enjoy climbing high mountains for the challenge of practicing expedition medicine under difficult conditions."
Rockin' the Dream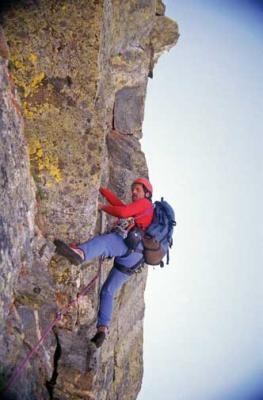 Crack in the sky: Doug Waggoner scales the Gray Wall just to the east of the YelloWall. Photo courtesy of Kevin Rusk.
Kevin Rusk slowly lets out rope while belaying Doug Waggoner, who smoothly navigates the rocky crack near the east face of Mount Zirkel. It's a warm June day in the early 1980s and these two hardcore climbers are stoked.   They've discovered a ne800-foot route they've dubbed the Gray Wall. Doug is leading and about to navigate around a railcar-sized boulder in the middle of the line when suddenly the enormous rock starts to move. "It was at a point where we were so committed we couldn't reverse," Kevin says. "It was a scary moment. There was gravel and sand coming down around us."     Eventually, they were able to get up and over the obstacle before it tumbled down on them and complete the climb, one Kevin doubts has been repeated. This pioneering stemmed from the discovery of the YelloWall a feyears earlier, a 5.9, 10-pitch climb just to the east. Kevin and Doug were part of a core group of climbers who opened many routes during that time. "There are no bolts or fixed anchors," Doug says. "It's good, hard climbing in a beautifully remote setting."    Doug and Kevin stomped on the notion that Steamboat lacked multi-pitch climbing routes. "There's a bunch of un-established climbing with no guide book," Kevin says. "And if you got into trouble, back then especially, there was no one to come and get you.'
Skiing the Giant
  On a clear winter morning in the early 1980s, five Steamboat Springs ski bums float in a hot air balloon above the Sleeping Giant west of town. The wind picks up and makes every stomach in the basket flutter.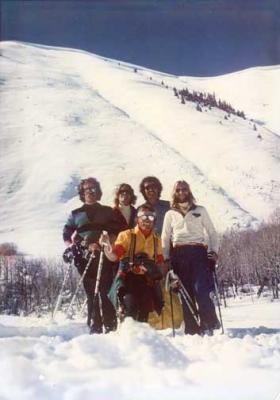 Doug Waggoner, Rick Erickson, Pete Wither, Brian Beatty, and Arv Erickson after their Sleeping Giant turns. Photo courtesy of  Courtney Doug Waggoner.
  The balloon lands near the northeast knees and the skiers jump out and unload their ski gear. In a matter of minutes, they're arcing effortless turns through ten inches of fresh snodown a 30 degree pitch. "It was perfect," says Doug Waggoner, who'd climbed and skied the 700-foot shot before. "The plan was hatched over beers at the Tugboat earlier in the winter. We talked a local balloon pilot into giving us a ride up there and the skiing was awesome."
Snowmobile Snafu
    To be honest, we couldn't figure out if this anecdote deserved celebration or pity. In January, 1998, Wellington resident Christian George survived a bitter four-night ordeal on Buffalo Pass after his snowmobile broke down, leaving him with only a Snickers bar and a couple of faulty butane lighters (more on those later). "I was giving myself really honest estimates of my chances and as the numbers got lower (temperatures), the more motivated I got," George told the Rocky Mountain News. "I was just in survival mode."     And survive he did. After a helicopter located his fire using infrared tracking, he was lifted safely off the mountain. The harrowing survival tale garnered national attention. Christian was even given a Snickers sponsorship and complimented for his cool head. Unfortunately, the celebration was short-lived. Later in the same month, Larimer County Sheriff's deputies responded to a disturbance at Christian's Wellington residence. They found him "acting in a bizarre manner." They took him into custody after finding a marijuana-growing operation on the premises. Ironically, his first case of Snickers was delivered while the officers were arresting him. We're assuming his sponsorship was short-lived too.
A River Runs Through It
  Steamboat is steeped in river culture. One of the most influential kayak companies in the history of hardshell boating – Wave Sport – was started just down the oad in Oak Creek by Chan Zwanzig.   So it's no surprise that kayakers have left an indelible mark on our mountain history.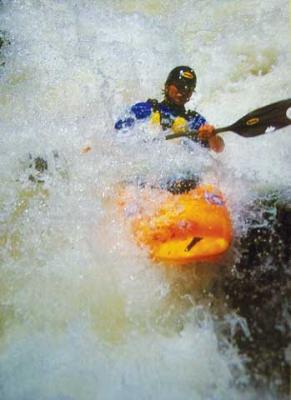 Charlie Beavers in his element. Photo courtesy of Paul Kerrison.
  One of the great pioneers of whitewater kayaking, Walt Blackadar left his mark on the whitewater world in the late 1970s when ABC's American Sportsman featured Walt navigating Cross Mountain Gorge at an eye-popping 15,000 CFS. Huge waves crash over the whitewater cowboy's fiberglass boat as he navigates Osterizer, the Snake Pit and Death Pizza rapids. The exposure lifted the visibility of the sport.    Also an innovator, local boy Charlie Beavers pushed kayaking's envelope, completing a first descent of the North Fork of Fish Creek, one of the Yampa Valley's most death-defying pieces of water. Charlie was an expedition boater to the core, pioneering runs all over the western United States. There's a rapid named after him on California's Upper Cherry Creek and following his tragic 2003 death in North Carolina from an off the- water accident, an expedition fund was tagged in his honor: The Charlie Beavers Memorial Expedition Fund – an annual monetary gift rewarded to whitewater expedition teams.
Tragic Irony
  For those of us who live in the mountains, tragedy comes with the territory.  In January of 2005, three Yampa Valley Air Ambulance cremembers were killed when their plane crashed near Rawlins, Wyo. Pilot Tim Benway and nurses Dave Linner and Jennifer Wells were just trying to do their jobs, flying to Rawlins to pick up a patient who had been injured in a car accident.    The rescue crehad a tough time locating the downed plane and were only able to do so after the lone survivor, emergency medical technician Tim Baldwin, reached them via cell phone.   The call let rescuers knothere was a survivor. They eventually found the downed plane using the craft's ELT signal. When they got to Tim, he was conscious but badly injured and dealing with serious hypothermia.    It was the second crash in two years for the Yampa Valley Air Ambulance as another plane went down near Kremmling in March of 2003. In the cruelest of ironies, Dave survived that crash. These brave medical workers will be remembered for their dedication and love of the job. And if you love playing in the mountains, there's always a chance that someday you'll require the services of valiant medical workers like these.