Cover Girls
12/01/2008 01:00AM ● By Anonymous
Winter 2008:
Cover Girls
  Bold and beautiful, as smart as they are athletic, these are Steamboat Magazine cover girls. To celebrate our 30th Anniversary, we are revisiting the array of talented females who have graced our cover over the last three decades. Some still live in town. Some live on the other side of the country. And some have passed on. They all share one thing in common: they've added class and character to out magazine. We hope you enjoy this look back as much as we have.
Maggie Rose Carrigan
  Maggie Rose Carrigan was the talk of the town when, at 6, she appeared on our Winter 2003 cover dressed in full snowboarding garb. "I remember lots of people telling me 'You look so cute,'" says the 11-year-old. She's still cute but nothe fifth grader at Soda Creek Elementary School doesn't just look adorable with a snowboard. She rips on one going downhill. As a boardercross racer, she qualified for nationals last year in Lake Tahoe and finished ninth. She also races slalom. Her goal is to win a national event this season. And she has plenty of mentoring. Her older sister Lex and brother Tori are also snowboarders – Lex rides rails while Tori concentrates on the halfpipe. "They just help me to get better at what I like to do," Maggie Rose says.
Caroline LaLive
  When skier Caroline LaLive appeared on our Winter 2002 cover, she was on top of the world. The 22-year-old was training for the Salt Lake Olympics after finishing seventh in the giant slalom at the Nagano Games in 1998. Unfortunately, fate wouldn't have it. She had a rough outing in Salt Lake, failing to place in any event. Just before the 2006 Olympics, she broke her patella and femur in a violent crash during a World Cup event in Cortina, Italy. After making a valiant comeback that fethought was possible, she bleher knee out at a Super G event this fall in Austria.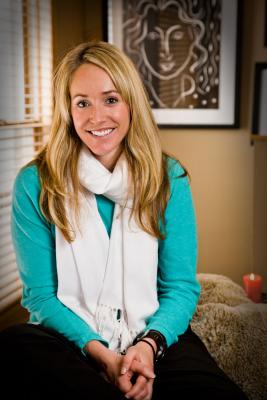 -Caroline LaLive today
Like many world-class athletes, there's much more to Caroline than her sport. While working on another comeback, the beautiful 28-year-old will concentrate on her other interests like culture (her father is Swiss) writing (she once penned a column for the Denver Post), and finishing her history degree. And she'll definitely remain a Steamboat local. "There's something soothing about Steamboat," she says. "The people are warm and embracing of their athletes."
June Florence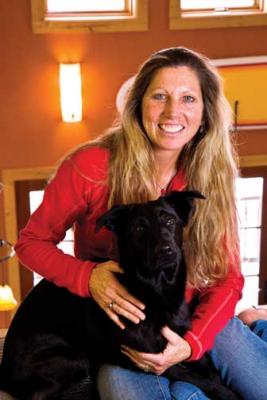 Caption goes here
Hot. That's the only way we can think to describe June Florence in her pink one-piece ski suit, ripping deep Buffalo Pass powder with Jupiter Jones and the rest of the original Steamboat Powder Cats team for the Winter 1987 cover. "(Photographer) Ron Dahlquist rounded up a bunch of girls and gave us neclothes to wear," June says. "We didn't have to do anything but have a good time." June was a member of the Steamboat Ski Patrol and still works on the mountain part- time. She also runs her own business, Fresh Start, which counsels people about nutrition. While June's wardrobe may have changed, her attitude about skiing hasn't. "I still feel the same way about blue sky and deep snow," she says. "That's what skiing is all about."
Carol Bailey
   Carol Bailey is all about tennis, or in the case of our Summer 1996 cover, all about tennis balls. Carol – a long-time tennis pro for the Tennis Center of Steamboat Springs – covered her face in green and white paint for Richard Allen's photograph. "I got the strangest reaction from that photo," Carol says. "People saying, 'Geez, you're really a good sport.' I thought it was very novel." Carol has been a tennis pro for 40 years and in Steamboat since 1974. And she earned that pro status. In 1978, she led Billy Jean King in two sets during a match on the pro tour before losing to one of the all-time greats. "I greup idolizing her so it was a big moment for me," she says. Tennis has taken a toll on her body. She's had surgeries on her shoulder and both knees. "I'm becoming the bionic woman," she says.
Ann Battelle
  When Ann Battelle posed for this Winter 2000 cover shot, she'd just won a World Championship and a World Cup overall in mogul skiing. "That seemed like a lifetime ago," she says. Today Ann is raising two kids in Louisville, five miles east of Boulder. "Your athletic career is all about you. It's a selfish time," says the four-time Olympian. "When you have kids, you realize homuch you really don't matter." Ann's husband is in business school and she still coaches and teaches ski-conditioning classes. She looks forward to returning to Steamboat. "I can't wait to get back to the outdoorsy lifestyle of Steamboat and the people who live it," Ann says.
Mandy Hofmeister
  Mandy Hofmeister didn't find out she had graced the Summer 1985 cover for more than a decade after the fact. Mandy's passion for windsurfing took her to Hawaii in the late 1990s. She was at Diamond Head, checking the wind when she randomly ran into Steamboat photographer Ron Dahlquist, who had made the move to the islands. "I think he felt bad he hadn't told me," the mother of two recalls. "He sent me a bunch of free copies and gave me a free pair of sunglasses." Mandy's life has taken her miles away from the cover shot – photographed during a backpacking trip in the Zirkels. After leaving Steamboat, Mandy – whose sister still lives here – spent time in Hawaii, where she met her husband. The two had a mutual love for the ocean and sailing. They moved to Nashville (his hometown), where they regularly compete in sailing competitions on the Gulf Coast, Caribbean and Atlantic. ""It's a great sport," says Mandy, noa special education teacher. "It's genderless, and I can compete regardless of my age."
Caterina Mader
  When 10-year-old Caterina Mader appeared on our Summer 2000 cover, she felt like a celebrity. "I still have people comment on that," says Caterina, no18. "It was weird being that visible that young." From the cover of our magazine to the ski slopes, Caterina has found success. In 2006 the bump skier took third at the Junior World Championships in Russia. Last season was a tough one as she suffered her first major injury, a blown ACL. Caterina will continue to rehab this winter with a couple of competition appearances near the end of the season, but she has her sights set on the 2010 Olympics. "I have nowhere else to go but up in the sport," she says. "I just want to keep pushing myself."
Margaret Crawford
  It would be hard to visit Steamboat and miss the Crawford name all over town. Margaret Crawford, our Winter 1997 cover girl, is affectionately remembered as Steamboat's founding mother – she and her husband, James, were the Yampa Valley's first white settlers. Margaret brought grace, hospitality and culture to Steamboat in the latter part of the 19th century. She was remembered for once sacrificing her water rations to keep her yelloroses alive. Margaret established the valley's first church and school. The Crawford family home was featured in the Summer/Fall 2007 issue of Steamboat Magazine.
Skeeter Werner Walker
  If Margaret Crawford is the founding mother of Steamboat Springs, then Skeeter Werner Walker (Winter 1990 cover) is the mother of Steamboat skiing. She fit the role well. She was on the Olympic team in the 1956 games in Italy and her good looks landed her modeling gigs in NeYork's high fashion scene after she retired from competition due to a broken leg in 1957. In 1962 she started the Steamboat Ski School, where a pupil and former NFL running back, Doak Walker, became her husband. Skeeter – along with her brothers Buddy and Loris – is a member of the Colorado Ski Hall of Fame. She died of cancer in 2001. *