Artscape: Influential Artists from the Last 30 Years
12/01/2008 01:00AM ● By Deb Olsen
Winter 2008:
Artscape: Influential Artists from the Last 30 Years
by Deb Olsen
Rich Galusha
From West Texas to Venice, Italy, Steamboat Springs artist Rich Galusha takes us places. His roots are in the traditional Western art of his Texas birthplace, juxtaposed with a concentrated study of contemporary art during his college years at the University of Colorado. Some of his earliest work is straightforward, equestrian composition, from which he branched out to become a classic Western artist, conveying his familiarity with animals, both domestic and wild. Rich moved to Steamboat in 1986, when he accepted a position as art teacher at Steamboat Springs High School.   During nearly 20 years there, he influenced generations of young adults, many of whom went on to pursue careers in art-related fields. Two of his students, Greg Effinger and John Brassell, have been featured in Southwest Art magazine. Even before he retired from teaching in 2005, Rich and his wife, Shirley Stocks, had begun a nephase in their professional lives as traveling artists. With a camper outfitted for painting, they have explored the States. More than 10 years ago, they took their first trip overseas to Greece.   Since then they've journeyed to Nepal, Africa, the British Virgin Isles and throughout Europe. "Recently, we've been traveling a lot more, especially to Greece. The islands are really nice, relaxing and have lots of color," Rich says. "My passion nois painting in exotic places." :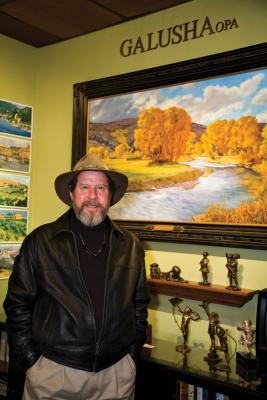 Rich Galusha in his gallery.
Rich's style combines his admiration for impressionism with the mastery of representational art that earned him signature membership in Oil Painters of America in 1995.   Three examples include bougainvillea cascading down the white-hot side of a Mediterranean villa; wildflowers complementing a cool green forest floor and horses standing by silently in the winter moonlight. Light reflects the mood of a given locale in Rich's art. "It's a never-ending learning curve, to see the light become even more alive in my work," he says. And viewing Rich's paintings is like being alive – a visual journal of an artist's exploration of his world.
Rich's works can be seen at Wild Horse Gallery in the Sheraton Steamboat Resort or on-line at wildhorsegallery.com.
Mary Beth Norris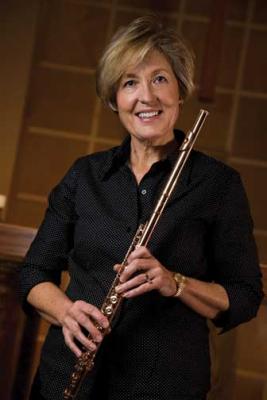 Take Note: Beth Norris has influenced a generation of Yampa Valley musicians. Photo courtesy of Corey Kopischke.It takes more than talent to make a musician. It takes an audience too. For classical flutist Mary Beth Norris, Steamboat Springs' enthusiasm and support have been key to her successful music career. "This town inspires people to go beyond what they ever thought possible," Mary Beth says. "Steamboat has always lifted me up and given me a reason to play." Having founded the Steamboat Springs Orchestra in 1991, Mary Beth has watched it grofrom a small group of willing, if amateur, musicians into a full-scale orchestra, featuring several professionals. "I'm so proud of the very fine ship that has sailed rough seas at times," Mary Beth says of the orchestra's success. One of the first milestones for the orchestra was the arrival of concert master Teresa Steffen Greenlee in 1996. "The answer to my prayers," Mary Beth remembers. "She was certainly instrumental in getting me involved," Teresa says of Mary Beth. "I was not inclined at the time to play with a community orchestra, but in very short order, there I was.   It's an amazing group with great people, and Mary Beth is the godmother of them all. She had a desire and a vision and she held on a very long time until it became reality." Raised in Hays, Kan., Mary Beth decided at age 27 to venture to the mountains. Curiosity brought her to the Yampa Valley in 1977. "Steamboat was a grand territory, a fertile field, filled with possibilities," she says.  Since then Mary Beth has taught hundreds of people to play the flute, including "some mighty fine ones who have gone on to pursue music," she says. "I have a wonderful place in so many local families' lives." A "closet composer," Mary Beth would like to write more original works. "When it comes to classical music, I'll ever run Take Note: Mary Beth Norris has influenced a generation of Yampa Valley musicians. out of dreams," she says. Curtis Zabel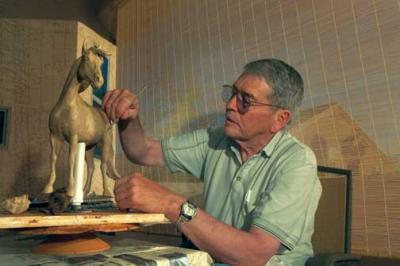 For Curtis Zabel, the art is in the details. Photo courtesy of Ivars Mikelsons.  Bronze sculptor Curtis Zabel studies art in a setting as inspirational as it is familiar. Horses, cowboys and Western wildlife are his subjects; his Yampa Valley ranch his classroom. "I didn't go to school to study art. I learned about horses from real life. I did a lot of settin' on the fence, looking at 'em," Curtis says. No surprise then that Curtis' Western sculptures are renowned for their authenticity, a reflection of Routt County ranching life.   Born in Kansas, Curtis' family moved to the Elk River Valley when he was a toddler. He was educated through eighth grade in an old-fashioned country schoolhouse. He kneby the time he reached high school that he "wanted to be an artist and a cowboy." In Curtis' artwork, cowboys are made to be legendary folk heroes, as in "High Plains Buckaroo," where a lean cowboy with fringed chaps and a coarse mustache sits tall atop his handsome steed.   In "Flying Tails," the cowboy is decked out in a full-length duster, coat tails flying as the horse makes time across the rocky ground. "The Big Drift" poses a challenge for the cowboy, who is coaxing his horse down a Routt County-sized snowdrift. Sculpture is ideally suited for Curtis' style, he says, because an animal's muscular structure can be accurately depicted. "I like it because it's almost like I can feel where it's right and where it's wrong." "Curtis' bronze replications leave one feeling easy that nothing is out of place, no matter hounbelievable the position or precarious the perch," writes Kris Faricy of the Hayden Hays Gallery at the famed Broadmoor in Colorado Springs.   When Steamboat officials launched a public art program in 1991, they turned to Curtis. "Autumn Majesty," a monumental statue of a bull elk, decorates the park adjacent to the pond at West Lincoln Park on U.S. 40 – the western gateway to Old Town. His work can also be seen at Yampa Valley Medical Center, where "The Escape," a life-size bronze of two galloping bulls, is erected outside the main entrance. The detailed sculpture is another representation of Curtis' careful study of his home. See Curtis Zabel's work online at www.marabougallery.com. *