Yampa Living
07/01/2008 01:00AM ● By Anonymous
Summer-Fall 2008:
Yampa Living
Wall Space - When your art outgrows its pace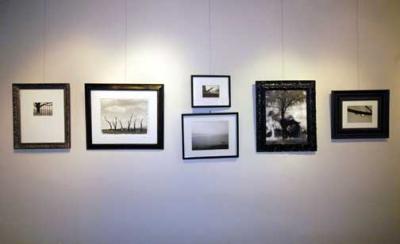 Frame Fall-out: Being creative with your space is important when you collect art. Photo Courtesy of Kim Keith.    Walking into a gallery, a painting or photograph calls out, "Take me home. Hang me in your house." The only problem is your lack of wall space.    Every nook and cranny is filled. Yet a month later, the nepainting hangs on the wall while another piece has been relegated to a closet, the basement or storage.     Is there such a thing as too much art? Local artist Susie Jackson says no. "You can never have too much art in the same way you can never have too much jewelry or own too much property." Like her T-shirt says, "Good Art Shouldn't Match Your Couch." Susie hangs what she loves. She also switches art out by seasons. The ones she's not currently hanging are wrapped in bubble-wrap and stored until their season arrives.     Bob Grierson, who has properties in NeYork City, Toronto and Steamboat Springs, has a collection of art sitting under his stairway. He keeps art fresh by moving pictures from place to place to see them in different lights and at different times. His Toronto apartment is themed with black-and-white photographs of places he has been, taken by people he knows. His Steamboat home is filled with a mix of nature and Native American art as well as brass rubbings. The NeYork property features an eclectic mix of works by his favorite local artists. Because he buys what he likes and not what necessarily has value, if he hasn't hung a piece in a while, and is not likely to any time soon, he'll give it away.     If walls are filled and closets won't close, find creative ways to enjoy art. Move art outdoors. Bronze statues of whimsical children, eagles and more can decorate lawns and gazebos. Weatherproof, UV protected frames and glass alloart to be brought outside without ruining it. Art brings joy. If you're challenged by space, use creative techniques to display the art you own.
Eat In-Home food services abound in Yampa Valley    Whether living in Steamboat or visiting for the holidays –Thanksgiving is right around the corner – some nights it's easier to stay home, especially with so many in-home services available.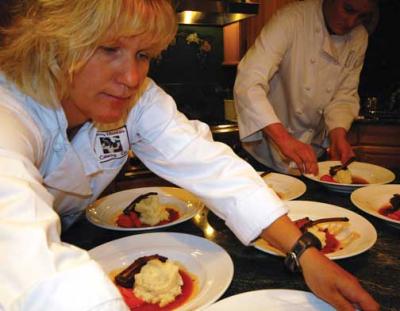 Chef Heather Craigen puts the finishing touches on a dish for Moving Mountains. Photo courtesy of Kim Keith    Feel like cooking, but don't want to deal with crowded grocery stores? Grocery Gals will shop for you. Simply submit your grocery list and they'll deliver everything on it. Their fee consists of a delivery charge and percentage of the grocery bill. Insider info: Locals may be eligible for a discount, depending on location and frequency of orders. The Grocery Company also delivers.     If cooking sounds like too much work, let someone cook for you. The Drunken Onion Get & Go Kitchen offers delicious meals to be served at home.     If catering is in order, numerous local vendors offer services. Moving Mountains Catering sends private chefs for parties of six or more. Lump crabmeat balls, Asian avocado and toasted sunflower salad and sugar-chili-rubbed rack of lamb are among the options. The company offers Take-n-Bake, for which they deliver prepackaged food to people who want to eat healthy but don't want to cook. A great option for the elderly or infirm, meals range from home-style to gourmet.     Fireside Catering offers "An Evening to Remember" in partnership with Heartfire Massage for a romantic night. For parties up to 12, everyone can wipe away their tension and enjoy a gourmet meal. Heartfire Massage offers group rates for parties of three or more, with choices of Swedish, neuromuscular or sports massage. Steamboat Meat & Seafood Company offers both take-out gourmet meals and catering for parties from 10 to 1,000. Choose from pre-sent menus or work with their staff to develop a custom menu to suit your individual needs. Whatever your tastes, you can have it brought to your home. Sometimes in Steamboat, it pays to play hard, party hard and let someone else do the work.
Losing Your Identity-Hoto make any place feel like your home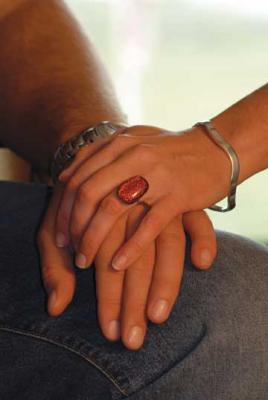 Hand-in-hand:moving in together means for better, or worse. Photo Courtesy of  Kim Keith. That's exactly hoI felt," said Sabrina James, "when I moved in with Chad. Like I lost my identity." Building a life together after marriage, or even just moving in with your partner or a roommate, is about compromise. Not a news flash, but it's easier said than done. Here are three ways you can make the compromise of moving in together a whole lot smoother.     Communicate: Sabrina James left her furniture in her condo, so when she moved in with Chad, everything was his: his living room, his bedroom set. It took Chad reminding Sabrina that she had helped him pick out that furniture for his apartment to make it really feel like her home. "It was the way Chad talked me through it," Sabrina says. Chad cooks dinner, Sabrina cleans. When they both wanted the sink in the bathroom closest to the door, they talked through a compromise.    Knoyour roomy: Don't just jump into the hot tub because it's bubbly and warm. Make sure it's been cleaned and not growing some infectious mold. The analogy applies to your roomy as well. Better not to shack up with someone you don't know. Cassandra Novotne and Lisa Kavadas moved in as roommates less than a year ago. They had worked together and been friends for years which built a mutual respect. When trying to decide hoto keep both of their identities in a relatively  small space, they kept the best. Cass had the better dishes while Lisa had a flat screen TV and stereo system. Cass had a computer. Lisa didn't. "It has to do with us being friends. We're both strong individuals with our own opinions," Lisa says.      Prioritize your possessions: Sally Ziegler and John McCormick don't feel a home revolves around material things. They've moved five times in the last two years and found their dog, Sampson, is the one factor that makes any place feel like home. That and their relationship, which is evident as they constantly look to each other when talking. Their bed is their favorite part of any home they've been in and one of their indulgences. They've worked to downsize and keep only the most important items. To these two, identity is a relative term. "Didn't we get together so we wouldn't have to have an identity?" Sally jokes. "So we could be just one person with one thought."