Mountainside
07/01/2008 01:00AM ● By Anonymous
Summer-Fall 2008:
Mountainside
Haymaker's Environmental Legacy -Ten years later, it's not just a golf course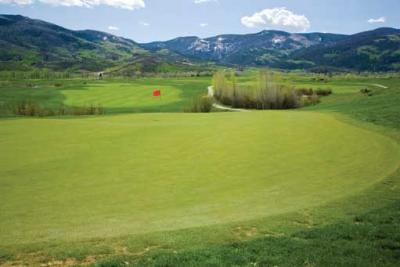 On the Green: Haymaker has become an example of an eco-friendly golf course, a place where sandhill cranes can make a home.
Photo by: Corey Kopischke
    Standing on the championship-distance tee box of Number Four at Haymaker Golf Course, the hole is a distant 457 yards away.     If you're a golfer of my caliber, though, your ball takes a longer and more circuitous route to the green. Slice your shot off the tee and you're headed toward a wetland between the fairways of holes three and four. It's there, in among the thick stands of cattails, that golfers come face to face with Haymaker's environmental legacy. Whether searching for an errant golf ball or not, look closely and you just might see a nesting pair of sandhill cranes.     In Colorado, sandhill cranes are strictly a migratory bird. Except for the northwest part of the state and the Yampa River Valley where they can be found breeding in summer. Haymaker, it turns out, happens to have its own nesting pair.     When Haymaker Golf Course opened for play on Aug. 8, 1997, it filled an important niche in the Steamboat golf community, providing a public, 18-hole golf course. But it wasn't simply about building a necourse. Haymaker's owners wanted to protect the environment of the Yampa Valley too. It was a philosophy embraced by golf course architect Keith Foster. "His concept was to make you feel like you were on your own private hole on each and every hole," explains Haymaker superintendent Bill Whelihan. Foster accomplished that by preservingbuffer zones of native grasses in between greens. In fact, some 50 acres of native grassland were left undisturbed during construction, and in total, 54 percent of the 233-acre property is maintained as unmanaged, natural open space.     To take Haymaker's environmental commitment further, it enlisted the help of Audubon International, a NeYork-based environmental nonprofit organization independent of the National Audubon Society. Haymaker officials enrolled in the group's Audubon Signature Program, a rigorous certification that aids golf courses in incorporating environmental guidelines into their design, construction and management. On Nov. 8, 2000, Haymaker became the first golf course in the state to earn the prestigious certification. It remains one of only two courses in Colorado to be certified, and one of just 72 worldwide. In other words, by Audubon international's standard, Haymaker is one of the greenest golf courses in the world.     "What they've done environmentally is really impressive," says Nancy Richardson, director of the Audubon Signature Program. There's plenty of Rocky Mountain wildlife to be found too, including elk, deer, beaver, fox and coyotes. "There's a bald eagle down the road," adds Whelihan, "and a great blue heron rookery across the street."     One species that especially caught Audubon International's eye is the Wilson's phalarope, a small shorebird whose populations have been declining over the last 20 years. On one of Nancy's first site visits to Haymaker, she spotted a male and female feeding at the golf course's lakes and wetlands, a sure sign that things were going right.     "We're proud to be environmentally sensitive," says Bill. "Early on, people didn't really knoabout what we were doing environmentally. Maybe they'd come in and ask. But now, they're really interested. They talk about what they see on the course. They're aware of the environment and their surroundings."    In the beginning, Haymaker's goal was to provide a high-quality golfing experience while preserving the environmental heritage. Ten years later, mission accomplished.
Triathlon Training-in Steamboat Springs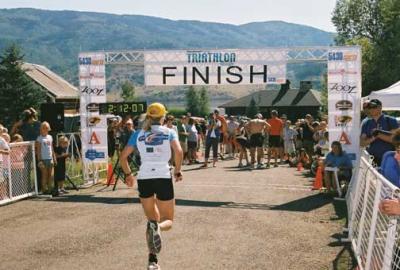 With the proper training, the triathlon finish line won't seem that far away. Photo by: Joy Rassmussen    Steamboat Springs has long been a training ground for winter Olympians. But if you're a hardcore triathlete – or even an aspiring one – you'd be hard pressed to find a better place to work on your game.     Thanks to 5430 Sports, the triathlon had a rebirth here in Steamboat in 2005 (the first, and only previous one was organized 20 years ago at Steamboat Lake). The Steamboat Springs Triathlon is held at Catamount Ranch & Club and the racecourse is great for beginners and competitive athletes alike, with rolling hills on the bike and run and temperatures hovering around 69 degrees in the lake. With more than 300 competitors in 2005 and a sold-out event in 2006 and 2007, the 2008 triathlon on Sunday, Aug. 24, will be the biggest one yet with around 600 participants.     Don't let the lung-ripping reputation of triathlons fool you. Anyone can get involved. Even if you're not into being a world champion, running, biking and swimming are great ways to stay in shape. Here are five hints to get the most out of your triathlon training.     Join the Tuesday Night Worlds with pro road and mountain bike racer Barkley Robinson. Barkley organizes this group road ride once a week starting in May. Not for the weak of heart, the ride is tough, and as one of the top cyclists in town, Barkley is the perfect person to lead it. He also teaches neriders race techniques. Meet at 5:30 p.m. at Orange Peel on Yampa Avenue.    Enter a feraces in the Steamboat Springs Running Series. The Spring Creek Memorial is a nine-miler on Spring Creek Trail with a 1,000-foot gain in elevation in the first three miles. Another challenging race is the 10K @ 10,000 feet held on Labor Day on Rabbit Ears Pass, run on single track and rustic mountain roads.