Local Knowledge
07/01/2008 01:00AM ● By Kelly Bastone
Summer-Fall 2008:
Local Knowledge
by Kelly Bastone
 Pedal Power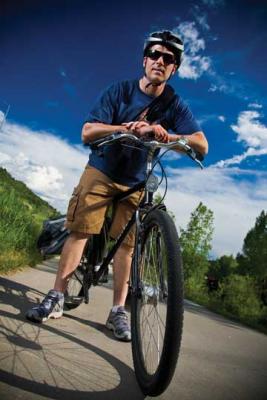 Bent on Biking: Marc Bennett getting ready for another commute. Photo Courtesy of Corey Kopischke
Let's face it. Gas prices suckPlus construction cranes dot the sky, dump trucks cluster at every corner and endless work

zone fencing
blocks parking.
    While this contrast is hard for many 
outside our economic utopia to grasp,
Steamboat is in a building boom and fuel 
isn't cheap.
God save the bike.     "I've actually found it to be faster than driving," says local bike aficionado Cathy Wiedemer.    Many of us don't really need our car to get to work. There are still people out there who have never owned one. Take 34-year-old Marc Bennett for example. This wine manager at Central Park Liquor bikes everywhere he goes, every day. Every day.SM: What's your bike story?MB: It's good for the environment, it's good for me, it's a great way to get outside every day, and it saves a lot of money. Steamboat's expensive, and the costs of owning a car probably would've driven me out of here a long time ago.SM: Hodo you avoid thievery?MB: A U-lock is most secure, but the best locks can be expensive. And there really aren't professional bike thieves operating here in Steamboat, so a cable and padlock works just fine.SM: And toting a six-pack?MB: I have a foldable grocery pannier on my bike that holds 25 pounds. I can put a 12-pack in there, a 12-pack in my messenger bag and strap a six-pack into my trunk bag, on the rack above my rear wheel. So I can actually carry a case and a half.SM: It's raining. What do you do?MB: I keep a lightweight Gore-Tex shell and a pair of rain pants folded up in my messenger bag.SM: So be honest, is biking faster than driving?MB: No, not usually. But it keeps me from forgetting hobeautiful this place is. Even in winter, riding along the river every day, I watch it go from frozen solid to bursting the banks. It's fun to observe those day-to-day changes.
Inkling About Elk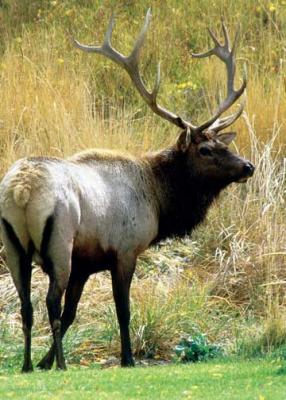 Photo Courtesy of Jupiter Images. Herds of elk are such a common sight around Steamboat that we're numb to them. It's easy to forget hoexotic these beasts seem to visitors. Not only are they a thrill to observe, they're thrilling to eat. Steamboat restaurants such as Antares, Steamboat Yacht Club, Café Diva and the Ore House all feature elk on the menu, not for the novelty, but for the rich, beefy flavor. Dare I say "elk, it's what's for dinner," in the 'boat? Even better than ordering elk off the menu, is preparing it at home. Even if you don't feel like harvesting one yourself, the friendly folks at Steamboat Meat and Seafood sell frozen cuts, including tenderloins, rib eyes, and strip steaks. Or you can befriend hunters willing to share their harvest with lucky you and your redmeat-craving pallete. John Aragon has been hunting for years, and along with his three sons, he chases elk every fall. So when Artemis smiles on the Aragon clan, the family finds their freezer jammed with meat – four animals' worth. That's when neighbors and friends line up to relieve the Aragons of their surplus stock. Plus John has the magic touch for curing wild elk to avoid any unpleasant gamey flavors. "The trick is removing the hide right away, so the meat cools down quickly," John says. Then he hangs the carcass in a cool place– usually his garage – he says four or five days improves the meat's tenderness. If that just made you nauseous, grab a cut at the aforementioned locale and remember, elk, whether wild or farmraised, tends to be lean, so it's best not to cook it past medium-rare – beyond that, the meat becomes tough. Fruit sauces are classic accompaniments: A berry glaze, perhaps, topped with plenty of black pepper. So good, it makes beef taste like – well, burger. Grill elk steaks as you would beef, or try this recipe, which will convert any elk skeptic: Herb-Crusted Grilled Elk Tenderloin
1 whole elk tenderloin (about 3 pounds)
3 tbsp. extra-virgin olive oil
salt and black pepper
4 cloves garlic, minced
2 cups chopped mixed fresh herbs, such as tarragon, basil, rosemary,
oregano, marjoram, and/or flat-leaf parsley
1. Tuck the tails of the tenderloin against the thicker, middle part of the
meat and tie them in place using butcher's string to create a uniform
cylinder shape.
2. Transfer the tenderloin to a baking dish and drizzle with oil. Sprinkle
the meat with salt and pepper, and thickly coat it with the garlic and
chopped herbs, patting these onto the meat with your fingertips. Cover
with plastic wrap and let marinate in the refrigerator for 1-2 hours.
3. Grill the tenderloin over medium-high heat, turning with tongs, until
crusty and darkly seared on the outside and cooked to medium-rare
(145 degrees) inside, about 30 minutes.
4. Transfer meat to a cutting board, cover it loosely with aluminum foil,
and let rest 5 minutes. Remove the string, and slice the tenderloin
crosswise. Serve with horseradish sauce.
Home Brewing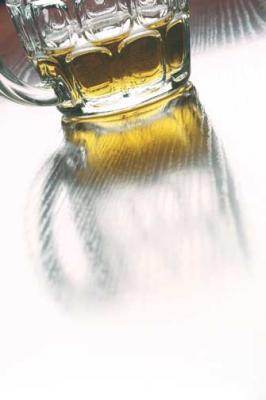 BreMe Another: Making beer at home is easier than you might think. Photo Courtesy of Jupiter Images.
 Speaking of cooking, there's nothing like cooking up your own alcohol. Mmmmm, beer.     Does brewing your own Budweiser sound intimidating? "All you need is one fermentation vessel, food-grade plastic bucket and a kit," says Hayden brewmaster Gordon Schuck, who took home a gold medal for one of his Belgian beers at last year's National HomebreCompetition in Boulder. "It's not particularly difficult and you can have beer in three weeks."    Kits make prohibition-style brewing easier than you might think. We're not making this up. All you need is a plastic bucket and a pot to boil the ingredients in. With most kits, brewmeisters start by boiling three gallons of water, adding the extract to the boil and more water after it's done to get five gallons. Then it's time to let the breferment. "Truthfully, somebody wins a medal every year with extracts," Gordon says.     So where does the creative process come in? There are 30 different grains for beer brewing out there to choose from, along with 20 to 30 forms of hops, not to mention fruits, spices and wood to add to the aging process. "The world of beer is huge," Gordon says. "Right now, the beer judge certification program includes 80 to 90 different styles."    Unfortunately, there aren't any brewing classes being held in the Yampa Valley this year. Fortunately, there's this thing called the Internet. Check out the following sites for forums, articles, podcasts and other insight on starting your own batch:Microbrewforum.com                                                                                           Thebrewingnetwork.com
                                                                                          Basicbrewing.com
                                                                                          Beertown.org