Boat People
07/01/2008 01:00AM ● By Gena Fischer
Summer-Fall 2008:
Boat People
by Gena Fischer
The Fair Way - Luke Brosterhous brings golf to the everyman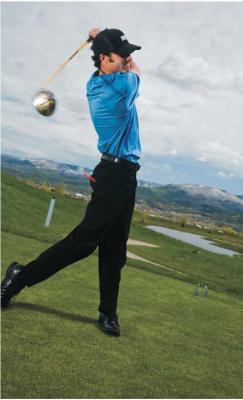 Golf guru Luke Brosterhous teaches the game to kids in Steamboat and Bhutan. Photo Courtesy of Corey Kopischke
  Luke Brosterhous is passionate about golf and he doesn't mind sharing. When Luke isn't helping local kids improve their swing here in Steamboat, you can find him in far away places like Bhutan, coaching kids whose means are so humble they can't even afford shoes.   "I believe every person should have access to golf, privileged or not," Luke says. Even though he greup playing the sport, it wasn't until after graduating from college that he really connected with it. Luke took a shot as a professional golfer before joining Haymaker in 2008 as the junior pro director. "At Haymaker, we have several hundred youngsters come through our doors each summer," he says. "It's one of the biggest junior programs in the state. It's a great opportunity for all of our local kids to be involved."   A chance meeting with a well-connected writer on the golf course led Luke to central Asia and Bhutan in 2006, where he spent four months coaching youth golf at the only course in the country, the Royal Thimpu Golf Club located in the capital city of Thimpu. In 2002, a grass roots program for young players was started there by NeYork Times writer Rick Lipsey after he visited the course. "He noticed there were a lot of young caddies who were eager to learn the game," Luke says. "For me, it's been fun introducing (golf) there."   Luke continues his support of the Bhutan youth golf program by returning there for two weeks each year to coach its young players. He's also involved in fundraising and recently raised more than $5,000 by leading a trip of 15 golfers from the United States to visit the course. "Part of their fee for the trip was a donation towards the program," he says. "And we also took over a lot of golf equipment as well." And if that's not enough to prove Luke's passion for sharing his sport, then maybe this is: His next mission is to travel to Bhutan's remote villages, where he plans to introduce golf to the village children. There are no golf courses in these villages, but, as Luke points out, "soccer fields work great as courses, and they have plenty of those." "  Golf teaches with every shot, and it's more than just about the game," Luke says. "It is an opportunity to learn about one's self, it teaches hoto get along with each other, hoto interact and hoto respect one another." For this young Steamboat linksman, golf is definitely a passion game.
Follothe Leader - Linda Cullen leads a fashion parade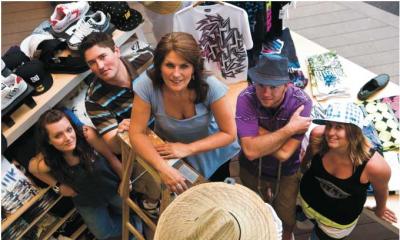 Linda Cullen has mentored dozens of young fashion phenoms. Photo Courtesy of Corey Kopischke   It takes a special person to be a mentor: one who is willing to share her enthusiasm, knowledge and the skills of her trade, all while exuding self-confidence. Long time local Linda Cullen, owner of two local clothing stores, Quiksilver and Chez Nous, enjoys the challenge. "I love working with young people. I work hands-on with my employees and try to get them involved in the whole aspect of the business. It builds loyalty, ownership and pride in their jobs, as well as trains them for the future," Linda says.   Linda employs students from Steamboat's Colorado Mountain College's Resort Management program, which prepares young people for careers related to resort businesses, including retail. "Two of my employees recently moved on to become managers of retail stores in other Colorado resorts," Linda says.   Fashion is Linda's life, and she loves it. "I started working at the SportsStalker in Steamboat in 1978 and was with them for 22 years. I learned every aspect of retail there. It was like my family, and a wonderful place to work." After a brief mid-life sabbatical from retail, Linda began working at Steamboat's Chez Nous, an upscale women's store, where she eventually became manager. She went on to manage Quiksilver, a popular teen store, in 2000. Three years ago the opportunity arose for her to buy both shops, which, she says, "was a good move."   CMC student Liz Watkins, who works at Quiksilver, is thankful Linda pounced on that opportunity. "I've learned so much from Linda," Liz says. "I've learned about merchandising, buying skills and retail in general. Linda has taken me on several buying trips and taught me what it takes to make smart business decisions." Liz says her dream is to someday be a business owner herself. "Linda is so professional and caring. A great teacher. She's awesome."  Linda's son Derek has also benefited from his mom's expertise. He has worked at Quiksilver since he was 15. No22, he's busy learning what it takes to manage a store. "My mom is amazing, she's incredibly smart, plus she's been a fun lady to hang out with," he says. "She has taught me well and noI'm trying to mentor our neemployees too – I want to give back to them what my mom has taught me."
Single Speed Mind FrameSteve Nowak rides in a different gearIf you've ever ridden a mountain bike up Emerald's infamous Lane of Pain and thought it a bit too easy, the Steve Nowak's got the bike for you – a single speed mountain bike designed especially for cyclists who thrive on extreme uphill challenges and, perhaps, extreme pain.   One Cycles, Steve's brainchild, is a single gear mountain bike company that manufactures bikes for people who, as Steve puts it, "like to ride raw." Steve came up with the idea to create his own company after testing other single speed bikes and finding them lacking essential elements he wanted. "I've been building thoughts, ideas and designs for the past three years," he says. "2008 is our first production year. Our goals are ambitious; 100 bikes this year and 200 in 2009."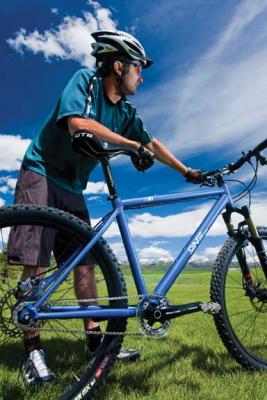 Steve Novak lives life in one gear. photo by Corey Kopischke   Steve greup road cycling with his dad in Illinois and moved to Colorado ten years ago to pursue biking. "The trails, the people, and the racing," he says. "I kept road biking, but after a while mountain biking became my focus, and single speed biking became my addiction." Steve spent several years working at Steamboat Ski and Bike Kare, gaining knowledge and experience in all aspects of mountain biking before making his move to producing single speed bicycles. The shop now carries his bikes, which run about $2,600 for a standard model. "One-speed biking focuses more on the body and fitness, rather than the gears," Steve says, "It's definitely a subculture in mountain biking that is growing in popularity." Steve says the rage has nospread to racing. "We have guys on one speeds joining everyone else in mountain bike races – some guys clean up, and well, some don't do so well," Steve says. "It depends on the rider."   These bikes are for people who like to push their physical envelope, something Steve likes to do himself, both in business and in racing. "I'm really picky. I really like the long races, like the 24 Hours of Steamboat. I love that push," he says. "I always aim for my personal best. In my mind, if a rider can end a race smiling, than he has won his race, no matter where he finishes." And he's putting his personal best into his nebusiness. "I'veput my vision into this, my thoughts, my life," he says. "It's something I've worked hard on. And it feels right."