Artscape
07/01/2008 01:00AM ● By Anonymous
Summer-Fall 2008:
Artscape
Perry-Mansfield's NeTeacher in Residence- Victor Maog
Action! Victor Maog will tutor actors at Perry-Mansfield this summer.
Photo Courtesy of Perry-Mansfield
    Powerhouse director and educator Victor Maog will offer his talents to the Perry-Mansfield Performing Arts School & Camp as the nehead of the theater program this summer. This 30-something has already built a solid resumé, including being the youngest-ever artistic director of the Theatre Arts Project of San Joaquin County in Stockton, Calif. That stint led to a Presidential Award for Outstanding Academic Enrichment. This summer he'll be directing high school and college students in Nickel and Dimed, Friday and Saturday, July 18-19, and Sweeney Todd, Friday and Saturday, Aug. 1-2. Steamboat Magazine caught up with Victor and asked him about his upcoming teaching stint here this summer.
SM:
Hodo you think you're going to like hanging out in Steamboat Springs?
VM:
The moment I heard about Perry- Mansfield and Steamboat – from current faculty to former students who first experienced the place in the 1950s – the word "magic" has been said time and again. People's language is actually lifted to the poetic when talking about the thunderstorms of their youth and hothe Rockies serve as a magnificent backdrop.
SM: 
Do you have any plans to take advantage of the outdoors (hiking, camping, etc.)
?
VM:
Having grown up in Strip Mall America and noliving in the jungles of NeYork City, I'm looking forward to (experiencing the Steamboat) that has fortified and mesmerized so many people through the years. Yes, I knoabout the mosquitoes and the bears and mud and all of those things that make for a non-Ritz-Carltonexperience. Though I'll be busier than is scientifically possible, I'm curious about its near-mythical enchantment and aim to do and see everything I can. Or do nothing at all and simply let the place do its thing.
SM: 
What turns you on about teaching theater (vs. making your living as an actor)?
VM:
At the end of the day, in the big business picture, theater is akin to a lemonade stand. Even when you work at the top of your game, it's nothing like the monies of Hollywood or corporate America. To stay in it, we must understand its inherent commodities. Theater is not only a great form for escapism, but also a chance for a democratic conversation. I've been around enough to knothat these students have something to teach me too. Beyond the technical skills that are taught, there is a conversation about what it means to be human and all the inherent contradictionsin our own noble journeys. The gifted and generous artist-educators I'm bringing to Perry-Mansfield this summer understand deeply hoto cultivate a learning community. We couldn't be in more capable hands.
Space Aged - Don Woodsmith's brave neworld     Don Woodsmith's "Reflective Light Sculptures" will make you want to morph into a 2-inch-tall fairy (complete with glittery wings) so you can live inside one of them.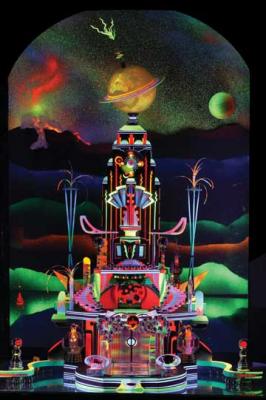 "Saturn Hotel" is one of the seven reflective light sculptures on display. Photo courtesy of Don Woodsmith.     Fanciful, whimsical and, frankly, just a little bit nutty, Don's sculptures are space agey, reminding one of Walt Disney's movie, Tron. In fact, they might make a perfect Disney World 3-D display. They're sort of art deco (Don calls it "alien deco"), vaguely architectural and made using found objects (lamp parts, lenses, toy dinosaurs, pieces of engines, etc.) that are illuminated with black light. Luckily, you won't have to secure an invite to Don's rabbit warren of a studio to see them – some of them will be on display at the Steamboat Art Museum all summer long and into the fall.                 Don, better known to Steamboat locals as "the guy who made all those wooden signs around town," including the "Welcome to Steamboat Springs" signs on both ends of town, has gotten into something completely different. He says he has spent around 14,000 hours building 11 of the sculptures, eight of which will be on display in SAM's back studio. "I haven't starved yet, so I guess it's OK," he says of the effort that, so far, has been purely for fun and not for economic gain.
Art Unleashed-Decorate dogs for a good cause    The Routt County Humane Society has long been the animal version of a rescue mission: a group of dedicated people who help abandoned pets find shelter and, hopefully, a nehome.    And like the rescue mission, the RCHS is always looking for innovative ways to find funding. That's why they're reinvigorating one particularly clever fundraising effort this summer in the Union Wireless Art Unleashed.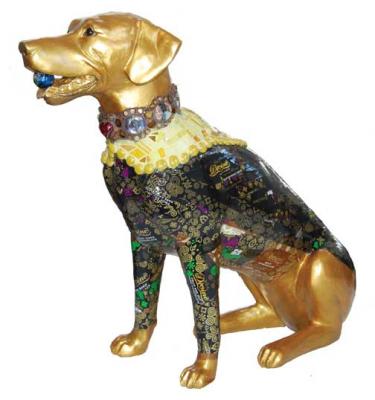 "Devoted Devine" by MB WarrenFormerly known as the Dog Days of Summer when it was introduced in 2004, the Humane Society and partner KFMU purchased 12 fiberglass dog statues and asked local artists to turn them into works of art. They are nobeing displayed in businesses around town. There's even a map for people to use to tour the different sites. "We had all sorts of styles utilized to decorate them," says KFMU's Eli Campbell. "There's painted dogs, decoupage – an elegant form of paper maché – even a dog with 50 pounds worth of polished gems and rock epoxied to it."Art Unleashed was unveiled at a kick- off party in early June and on Saturday, Sept. 13, the elaborately painted pooches will be sold in a live auction. KFMU and Union Wireless hope to raise $50,000 for the Humane Society. "It's hard to find a better cause than one that helps out man's best friend," Eli says.