A Heavy Sum The price of war in the Yampa Valley
07/01/2008 01:00AM ● By Ken Wright
Article Gallery [4 Images]
Click Any Image To Expand
Summer-Fall 2008:
A Heavy Sum The price of war in the Yampa Valley
by Ken Wright
    We have a lot of fun here in Steamboat Springs.     So it's easy to forget that far away from our peaceful valley, Americans are fighting on the frontlines of two bloody wars, risking everything.     Whether you're for or against the wars in Afghanistan and Iraq, the conflicts have found a way to exact a price from everyone. Some in Routt County have paid much more than others. Whether you're the reservist preparing for a third tour in the war zone, a parent anxiously watching the nightly news, praying the latest casualty isn't your own, or just feeling a void left by a neighbor who decided to join the fight, we're all paying in our own way.     Routt County residents have contributed mightily to our nation's conflicts. The local Veterans Administration estimates that more than 16 men and women from our community have, or are, serving in these current theaters.     You may never knoany of them or hotheir families have sacrificed during their tours of duty. You might have passed one on the way to work. Maybe the kid who changed the oil in your truck yesterday was a Private First Class patrolling the streets of Baghdad or Kabul last month. You wouldn't knotheir stories unless they told you, but they likely won't. So we will. Here are four veterans who have journeyed beyond Rabbit Ears Pass to serve their country in a foreign land.
Harms Court to Harm's Way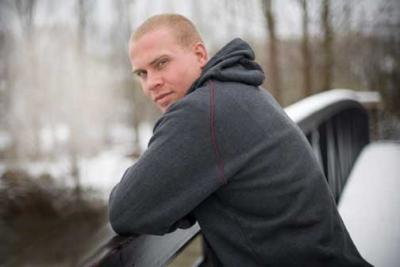 Shea Hurley joined the Army National Guard to help pay for college. His enlistment instead led to a one-year combat tour in Iraq. Photo courtesy of Ken Wright.     From the doorstep of Shea Hurley's home atop Harms Court you can see why he loves Steamboat Springs: the vista of Mount Werner and Howelsen Hill reflect the natural and manmade beauty of this playful, yet industrious community.     Not long ago, the fiery golden gloof Colorado aspens was replaced by the blinding flash of improvised bombs designed to kill the 22-year-old Steamboat local.     The Army National Guard seemed like a smart way to finance college when he got into the service, but like many things in life, it didn't all go to plan. On his 21st birthday, Shea's enlistment landed him in Kuwaiti sand. Dressed in his desert camouflaged battle dress uniform, he soon came to one of the most dangerous places on the planet: Iraq. It didn't take long for the reality of war to sink in.    "Several bombs went off after we took over from the other unit," he remembers. "And I thought, 'well, we're not at home anymore.'" The attacks were a daily occurrence, and eventually one came dangerously close to taking his young life.    "I got a little piece of shrapnel in my neck once, but I just pulled it out," he says humbly. Shea received the Purple Heart Medal for the surface wound, but doesn't feel like he deserves it when he remembers men who lost fingers, limbs or worse.     "I don't have problems with memories of Iraq," he says of his 12-month combat tour. "There are times I wish I was back there because it was such a rock-hard routine in my life, and the routine was all we had. And as much as I hate to say it, the adrenaline rush it gave me was like nothing else I can find here."   Despite missing the emotional high of war, Army life made Shea realize that Routt County is where he is meant to be. "After going over there and coming back, I can't leave my home. I took it for granted before, but I can't do that now."
A Special Burden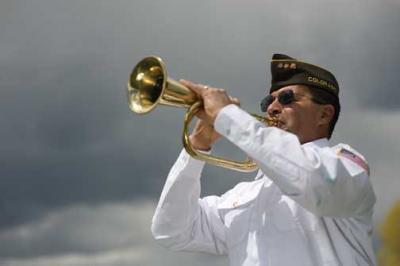 Retired Marine Mike Condie had a lot of tough jobs during his 26 years of service. Being a father of two deployed Marine sons is something he never expected. Photo courtesy of Ken Wright.     Retired Marine Sergeant Maj. Mike Condie knows the perils of war. He witnessed firsthand the carnage left by the first Gulf War. His wartime role is less dangerous now, but as the father of two deployed Marines, there couldn't be a tougher job. Like all parents, he tries not to worry.    "I don't worry about them because I can't," says the leatherneck. "My job is to love my sons, support my sons, but not interfere with my sons. They are both adults. They picked what they got – that's what they wanted."     The brothers, Matt, 24, and Marc, 22, have served in the same active duty infantry company in Iraq since February. The combat tour is the first for the lance corporals. With a little luck, Condie's "boys" send a weekly e-mail or call their dad from satellite cell phones. Not long ago the phone rang in Condie's Veterans Affairs office in Sundance Plaza.     "Hi Dad," Marc's voice crackled.     "I was just so surprised. I talked to them both. We had to hang up after only two minutes, but I was just so pleased to hear their voices," says their father. The 26-year, senior enlisted man never thought his sons would folloin his footsteps by joining the Marine Corps, let alone go to war.    "Yeah, I don't really care for the war, but there's nothing I can do about it. I'm proud of their service," he says with a resigned tone. "I can't allomyself to think about it too much." Marc and Matt Condie are due to return to their California base by the end of September. When they do, a proud Marine will greet them.
Determined to Serve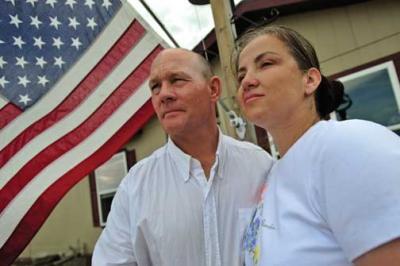 Master Sgt. Ray Birch and his wife, Marlene are honored to do their part for the war effort. Photo courtesy of Ken Wright."After my last tour in Baghdad I thought that would be it, but basically, that's
just not hoit panned out," says Master Sgt. Ray Birch.    The Hayden police chief is again packing his combat gear and preparing for an eight-month deployment. When word came that his unit would deploy to Iraq last year, the security forces operations superintendent had the chance to walk away from the service, but he couldn't do it. He couldn't bear to leave his men as they went to war.    "I trained them. I can't just say 'bye, I'm getting out now,'" he says. So he talked it over with his wife and decided the best thing for everyone was to do it again – one more time. "The way I look at it is that he is really good at what he does and I know he would never not come back to me," says Ray's wife, Marlene, confidently. "And that's what gets me through. I'll just hold down the fort."    Ray says he couldn't imagine not doing anything after the Sept. 11, 2001, terrorist attacks. At the time he was no longer in the military, having left the Marine Corps in
1987. "I felt very helpless and vulnerable when those attacks occurred. My first sense was that I needed to pack my stuff and go," he says.    Eager to get back in uniform, he enlisted in the Air Force Reserve. "To not be able to
respond in some direct way to help your country – to me that would be a very difficult
situation to have," Ray says. "I feel fortunate that I live in a country that will allow
me to serve and be part of it. I can't imagine not being involved and helping secure
our freedoms."
A River of Tears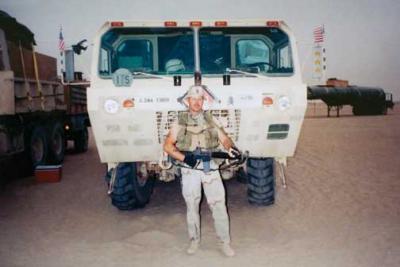 Staff Sgt.
Mark Evans-Lawton in Iraq during the summer of 2003.
Every military spouse faces the reality that the price of war 
may cost them the love of
their life, their hopes and dreams. Mark and Sherri Evans-Lawton paid it all. "We quicklybecame the best of friends," Sherri recalls about first dating Mark in Hayden in 1996.    Exactly one year from their first date, the former Marine asked Sherri to marry him. About a year later, they exchanged vows and began the life together they had dreamed of.
    After leaving the Marine Corps a year before he met his wife, Mark missed the camaraderie of military service and yearned for a way to serve his country again. The Army Reserve seemed like a good fit.    Like many reserve units, Mark's was placed on alert in February 2003 and told to stand by for orders. Three days later, the call came – he had 72 hours to report for duty.    Mark told Sherri he promised himself that he wouldn't have to tell one wife or parent that he couldn't bring their son home. "I have to take care of my mission and I'll be back," he said before leaving. He kept that promise, but tragically, couldn't protect himself. On Aug. 29, 2003, a sniper's bullets found their target and Staff Sgt. Mark Evans-Lawton died instantly. A husband, a father, a son and a friend to many was gone forever.
    A day later, while she placed American flags in a log fence around her parents' driveway, Sherri watched as an unfamiliar van approached. Her heart sank as she noticed its military emblems.
    "Any military wife knows there is only one reason the government visits you when their husband is gone," she says, her voice cracking. "I'll never forget the lieutenant colonel. I looked at him and said, 'you are here to tell me my husband is dead, aren't you.'" The colonel began to weep and turned away in grief. Sherri collapsed to the pavement and began to cry the first of a river of tears.
    Of the unit's 640 soldiers, Mark was the only one not to return home alive.
    As she reflects upon her husband's life and death, it gives her some solace that she knows he loved God first, her second, and his family third. "But he loved his country too," she adds. "He believed if you didn't fight and make sacrifices for your country, it might not be there for you later. You have to defend it."
    "He wanted to come home, but I don't think he would be anything but proud of his service for this county. There is nothing worth his life. I want him back. But I'm proud of him, the jobhe did and the integrity he always showed. He would have rather died a hero than died a coward."