Yampa Living
04/01/2008 01:00AM ● By Dagny McKinley
Spring-Summer 2008:
Yampa Living
by Dagny McKinley
Greenhouses give gardeners a jump on summer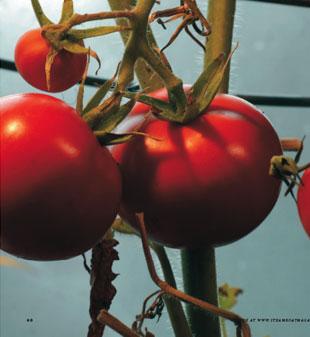 Green Love: The best way to grohealthy tomatoes at Steamboat's high elevation is with a greenhouse.Photo courtesy of Kim Keith.
   Imagine kicking back in a lawn chair, the sun shining down as you slice a fresh, juicy tomato grown in your own yard. You lay the tomato over a sizzling burger, or maybe whip up a tomato and basil sandwich with basil you picked moments ago. Sounds like a sea-leveldream in this mountain town. But not if you have a greenhouse.      Colorado was the largest producer of greenhouse-grown carnations and roses during the 1950s, and more recently it was tomatoes, peppers and herbs, but competition from South America and NeMexico have curbed that market. For people concerned with buying organic and locally grown products, choices are limited. One alternative is to groyour own.       Greenhouses are generally glass or plastic and designed to trap heat inside, allowing summer-like conditions yearround – important factors considering our short growing season. Most greenhouses range in size from eight feet by eight feet to 30-by-60 and can cost anywhere from $200 to $8,000. Try using solar panels on your greenhouse to make it more environmentally- friendly, or install a computer system to control lighting and temperature – some people choose to have a greenhouse heater, separate from the home. Plastic sheeting, fencing or posts is all it takes to make a low-budget eco system, but buying a greenhouse kit makes for a more hardy house. Steamboat doesn't require a permit for personal-use greenhouses unless you plan to sell produce commercially.       Once the plant shelter is purchased, the next step is filling it. Steven E. Newman, the greenhouse crops extension specialist and associate professor of floriculture for Colorado State University, recommends herbs and lettuce, which are the easiest to grow. "You can get a head of lettuce in 30 days," he says. Plus, they thrive in cooler temperatures.       Tomatoes are also easy to cultivate but I need more love. For one, they require pollination, which bees usually do. Try an old electric toothbrush as a substitute. Steamboat resident Jeff Nelson has grown tomatoes for 10 years even though he doesn't particularly like them. He grows them for his annual salsa party.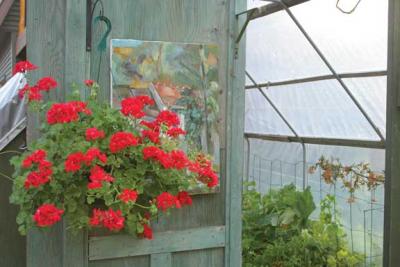 Greenhouses add to your outdoor ambiance, like this example in Old Town. Photo Courtesy of  Corey Kopischke
Jeff also grows hot peppers, which he dries and crushes to use throughout the year. His secret is eight month- old, rodeo-ground manure.          Steamboat's high altitude can fry your plants. Black shades are great for reducing exposure. On the other side, you can folloDean Miller's genius and have your furnace and hot water heater incorporated into your greenhouse, keeping the plants from freezing even during the coldest Steamboat winters. He also has a dryer vent to blooxygen from the plants into the house.       While plants give us clean air, they also provide a home for bugs. Three solutions if a plant is disease-ridden: throit away, use beneficial insects like lady bugs to kill aphids, or use pesticides. Be cautious with pesticides and apply sparingly as a greenhouse is an enclosed space and the effects of pesticides on human health are not fully understood.       Remember that losing your crop happens. Emilie Kresge and Dan Kissel rigged their greenhouse using reinforced plastic. They hoped the gases from the plants and heat trapped from the sun would keep their plants safe, but an early frost, combined with a heavy watering killed off a lot of the plants. "They become like a baby to attend to," Emilie says. "It's so disappointing to lose your crop. It ruins you."      If you leave town, heavy watering isn't a bad option as long as there's a reliable heat source. If a frost is forecasted, less water is a safer bet. If there's space, moving plants inside during a vacation can save on the cost of a separate greenhouse heater.      Plants will thrive with a lot of love, attention and luck. If the thought of a greenhouse seems overwhelming, Greg Morton, owner of Hydro-Gardens in Colorado Springs, has some advice: erect a community greenhouse where the whole neighborhood works together. An easy way to unite your gardening community under one, warm roof.
Bringing Home the Mountain     Steamboat Springs is all about powder. More people call in sick on an epic powder day than after a summer concert series performance. Blanketing the landscape for more than half the year, snogets in people's blood, their hearts, and drifts into their homes. Just ask Willy P., whose garage is decorated with a ski-trail sign from the mountain: Surprise. With 148 days on the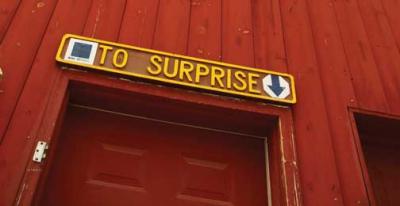 Decorations from the ski resort bring authenticity into your house-espicially if you're a skier. Photo courtesy of Joe Carberry.mountain, the only surprise is when he's off the slopes working instead of playing in powder.   
    Interior decorator Irene Nelson had a trail sign on a tree at her old house. While in the process of moving, the sign was stolen. Part of the fun of bringing the mountain home is finding creative ways of acquiring your memorabilia and finding a story to go with it.
    On Steamboat Boulevard, the Dougans brought a piece of Mount Werner to live with them when they purchased one of the chairs from the old Burgess Creek Chairlift. After seeing an ad in the paper, they bought seat number 70. 1970 was the year they were married and nothe chair, transformed as a swing, graces their back yard, letting them dream about the snowhile the summer sun beats down.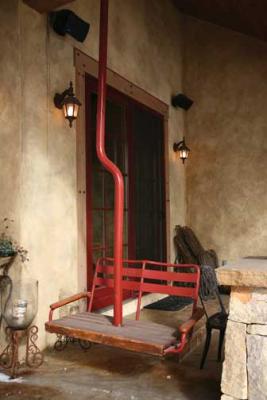 Lazy summer days in a ski resort chair. Photo courtesy of Corey Kopischke.
    Glenda Hachenberger, who moved to Steamboat four years ago and is a frequenter of the lift lines, purchased an antique lift chair with wooden seats. Her love of the town, the people and the mountain is evident inside her house with her collection of vintage Steamboat pictures, including photos of her grandkids that have been antiqued to look timeless. Want your own lift chair or trail sign?
    Keep an eye out. Many years, Steamboat Ski and Resort Corp. donates a chair to the Humble Ranch Education and Therapy Center for a silent benefit auction. Plus the Ski Corp. sometimes sells old signs. Otherwise, get creative like other locals by using old skis to build a fence, or as Jim Steinberg does, recycle your old ski boots as flowerpots. With snoon the Flat Tops sticking around until July and year-round flurries reminding us that ski season is just around the corner, there's an easy nostalgia when swinging in a lift chair, sipping lemonade and fantasizing about 30 feet of fresh powder.
Article Gallery [4 Images]
Click Any Image To Expand