The Green Place
04/01/2008 01:00AM ● By Gena Fischer
Spring-Summer 2008:
The Green Place
by Gena Fischer
Kent Eriksen and Katie Lindquist are off the grid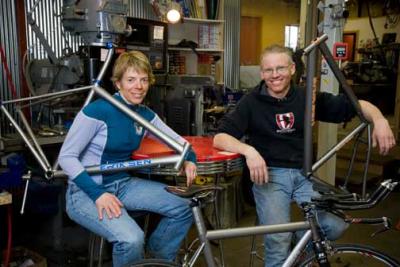 Of cycles and sunrooms: Katie and Kent wrk at Kent's necycling business and at keeping their home running efficiently. Photo courtesy of Enrico CaraccioloGreen living is the rave. But what's it really like to live green? The only way to find out is to ask someone who does. Kent Eriksen and Katie Lindquist – familiar names in the Steamboat community – live off the grid. Both are local cycling legends. Kent is the founder of Moots, one of the first companies to produce titanium bikes. He sold the company in 2000 and now builds custom bikes as Kent Eriksen Cycles. Katie, his wife of five years, is a top endurance racer who met Kent when she was seeking sponsorship for an across-the-country bike race. "We hit if off, and in two months I was living here," she says. "After he sponsored me, of course."      "Here" for Katie and Kent is a 1,900-square-foot aspen log cabin that Kent began building after he purchased the land north of Strawberry Park in 1985. Because the acreage had no
access to utilities, Kent finished the home using all the "green" ideas available at the time. The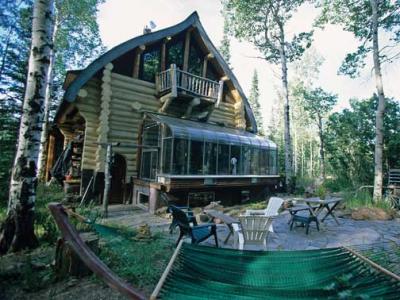 Photo courtesy of Enrico Caraccioloelectricity comes from photovoltaics, their water source is a stream running behind the
house, and the heat comes from a big wood stove in the center of the living room. Propane provides power for the refrigerator and stove, as well as hot water.       "We're environmentalists and Kent's a dreamer, so this is the perfect place for us to be," Katie says. In fact, evidence of Kent's "dreaming" decorates the front yard – one of the more
interesting lawn ornaments you'll find. It's a bicycle connected to a very long cable running down the couple's property, parallel to their driveway. It's often mistaken for an old ski rope-tow. Actually, it's a "cable glider," a bicycle-powered cable pull similar
to one of Kent's inventions nobeing used in major ski areas across the country for gondola car rescues. "Mining companies have shown a lot of interest in it for use in mining rescues,"
Kent adds. His inventing is on hold though, while he establishes his necycling business.
      The hobbit-like cabin stands next to the cable glider, and bears a striking resemblance to a tree house; Kent actually lived in one when he first moved to Steamboat. Aspen and pine trees brush against its roof. Inside the comforts of home await the couple after a long ride. A cozy living room is filled with flowering plants and a large, inviting brown couch. The small kitchen is outfitted with modern appliances, and two comfortable bedrooms plus a master bath anchor the sleeping area upstairs. The bathroom's prize feature is an antique clafoot tub for soaking away soar muscles.    But this home comes with rules.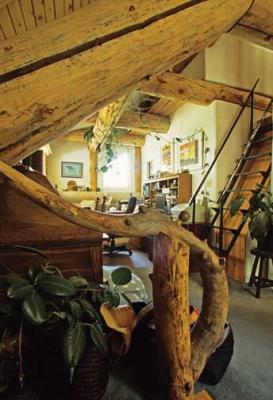 Space Invaders: Kent and Katie are masters of using abailable space. Photo courtesy of Enrico Caracciolo."We have to be conservative with our power," says Katie, who admits to occasionally firing up the generator. "Our lights are high-ly efficient, and they're hooked up to DC batteries," she says. "These batteries are charged during the sunlight hours from the solar energy panels on the roof. We turn off the lights when we're not in the room, unplug things when they're not being used, rarely watch TV and use a Coleman camping toaster." Which, Katie adds, "makes the best toast." And as for TV, "We only like the show Survivor anyway," she says. In fact Katie's only void is not being able to use a blodryer but – as she points to her short haircut – it's not really an issue.       Katie compares their living environment to that of living in a hut. "When people ask us to join them on hut skiing trips, I tell them we live in one," she says. And sometimes, she admits, "a nice hotel sounds pretty good. But this is an incredible place to live. We're very private people so we love it. We can Nordic ski and mountain bike and not see anybody. So aside from the occasional inconvenience of our lifestyle, we wouldn't have it any other way."
    And as both Katie and Kent have shown with their successful business careers and extensive cycling resumes, labor isn't something they lose sleep over. "I don't mind the extra work," Kent says. "It'll keep me busy when I'm retired. And we have the best back yard in the world."