Steambits - Spring/Summer 2008
04/01/2008 01:00AM ● By Deb Olsen
Spring-Summer 2008:
Steambits - Spring/Summer 2008
by Deb Olsen
Ski Time Square
According to an old saying, Steamboat Springs is a place where a millionaire can sit on a bar stool next to a bellhop, and no one can tell which one is which.Ski Time Square is emblematic of that era: a time when bartenders built their own saloons, when cowboys rode their horses into the bar (literally) and a cold beer, a thick steak and a green salad were all a skier needed at the end of the day.
  Those of us who were there like to say, "Most of what happened, I can't remember; the rest of it, you can't print!" That era comes to an end in summer 2008, when much of Ski Time Square is slated to be demolished. "The reality of it brings on the pain," says Larry Lamb, co-owner of the Tugboat Grill & Pub, a legendary saloon that shared its youth with the ski area 37 years ago. "It's been a long journey." "In the early days, we had two types of beer and a couple shots," recalls general manager Jack Doyle, who has worked at the "Tugger" since 1979. "Nowe have 10 kinds of vodka – at least." Four partners built the Tugboat atop an old baseball diamond in 1972. One of them, Bill Gardner, moved up the block to become the owner of the Butcher Shop, Steamboat's oldest family-owned restaurant.
  It closed its doors at the end of ski season.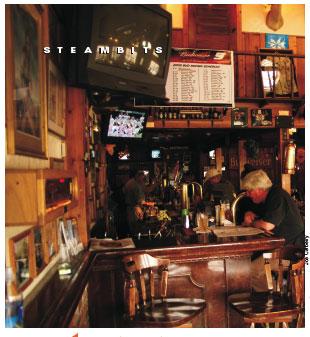 The tugboat in it's final day's "For 37 years, all I've thought about is this business," Bill says. "But the truth is, no matter homuch we love it, no matter hobittersweet it is, some things have to come to a close." The infamous Ski Time Square "triangle," consisted of the Tugboat, Mattie Silks (nothe Jade Summit) and Dos Amigos, which closed its doors in spring 2007. Chic MacMaster, who bartended at Dos for many years, says his best memory is of the camaraderie, the "Steamboat atmosphere." "It was getting together with friends and having fun at the bar," Chic says. Celebrities, sports stars, military heroes and generations of skiers have flocked to the Tugboat.
  "It was the employees and the people who came here who created the atmosphere," Larry says. "Movie stars and other notable people would come in because they felt comfortable.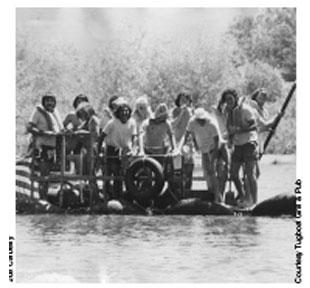 End of an Era: When Ski Time Square is torn down, history goes with it, like this antique bar in the Tugboat – once frequented by Butch Cassidy and the Sundance kid when it was in Baggs, Wyo. – and countless photographs, like the one above of former Tugboat employees at the annual Tugboat Race for charity on the Yampa River. They could enjoy it without having people make a big deal out of it." "I met my wife in Ski Time Square," says Fred Minter, who was general manager of Thunderhead Lodge property until 1980. "We had lots of good times, but the best part is the lasting friendships we made.
  It's amazing homany people worked through that era." Bill says the same thing of the Butcher Shop's employees, some of whom fleback to Steamboat for the restaurant's final night in March. "Some of them have gone on to do some really great things. They have become lawyers, judges, gone into science and medicine." "The bottom line is, things never remain the same," Fred says. "We just have to hope that the people who redevelop Ski Time Square understand that history."