ArtScape
04/01/2008 01:00AM ● By Deb Olsen
Spring-Summer 2008:
ArtScape
by Deb Olsen
Tim Stone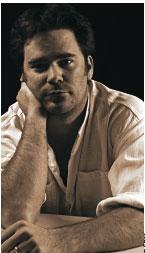 Self Portrait: Tim Stone in his element. Photo courtesy of Tim Stone.    
Cean lines, contemporary themes and appreciation for light are common in Tim Stone's work, both as an architect and fine-art photographer. As the "S" in KSa, Tim's career is focused on custom residential design. His camera, however, is often focused on his surroundings.
    Detailed petroglyphs, panoramic vistas, colorful coral beds and smiling brides decorate Tim's photography. His images have a modern feel but are directly rooted in Ansel Adam's work, which may explain why Tim's black-and-white images are so compelling.
    "My uncle was a pupil of Ansel and John Sexton," Tim says. "He has had a significant influence on my work. I really love the impeccable resolution you get from large-format negatives. The best lighting (in shooting architecture) is no lighting at all – that's the truest light."
    Studying traditional methods with his uncle and John Sexton taught Tim to choose his images selectively and to learn darkroom techniques. "There's artistic aptitude and technical aptitude, and you have to have both," he says. "It's one thing to see an image; to execute it in an expressive print is another."
     Tim's family also plays an important role in his art. His underwater photography stems from his father's interest in diving, and it was his wife Alethea's work as a labor and delivery nurse that led to Tim's images of pregnant women, newborns and nemothers. "I've always been interested in portraiture," he says. For example, his photo of a roof newborns was taken at a reunion of moms who delivered babies in 2006, all employees of Yampa Valley Regional Medical Center.
     Tim and Alethea are avid backpackers who make annual pilgrimages to Utah's southern desert, where Tim has photographed ruins, petroglyphs and rock art.      "I like line and shadow," Tim says. "My 4x5 (large format) career started out very scenic, but it's moving toward more abstract. That speaks to me somehoin a way that traditional landscapes don't." See Tim's work at www.TimStonePhoto.com.
The Colorado Art Ranch      The words "nomad" and "artist" seem to complement one another… Colorado Art Ranch is the state's only nomadic art symposium and this summer, it's coming to the Yampa Valley Friday – Sunday, May 16-18, at the Carpenter Ranch. But its impact could live longer.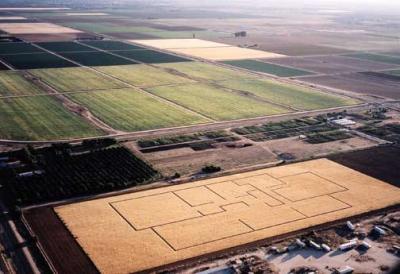 Gigantic installations like this one from MattheMoore may be featured at the Colorado Art Ranch. Photo courtesy of Courtney MattheMoore.
    "At each event, we do a theme relating generally to life and the land," explains art ranch founder Grant Pound. Steamboat's theme is "Plains, Frames and Land Use Ideals."      Grant and his wife founded the Colorado Art Ranch in 2005. "We were inspired by the beauty of Colorado," he says. "We were trying to think of something that could be used to help solve the world's problems, where artists and writers can be the catalyst."
    Seven artists and writers will be in residence for a month surrounding the Artposium. Each artist dedicates a day of service to the community, whether that's working with schools, hosting an open studio session or finding another way to interact with local residents. Artists will be assigned an "art buddy," a local who will act as an ambassador.
    Among the artists in residence is MattheMoore, whose large projects often cover acres of land. A fourth-generation farmer from Arizona, Matthesays, "The river issues and land issues (facing Steamboat) – water, zoning, growth and habitat – are really familiar to me," he says. "We'll be working at the Carpenter Ranch with the river on one side of the road and a coal-fired power plant on the other (highlighting the) dualities of two energy sources, each very different. Without passing judgment, we'll be trying to get people to approach issues through artwork, rather than through charts and graphs."
    Participants are expected from throughout the country. "We attract a lot of artists and writers, people who think about the issues," Grant says. "We help to connect communities, and to connect artists, writers and other community members; to develop a web of people throughout the state. We try to leave a legacy in the places we visit."Info: coloradoartranch.org
Home Sweet Home - NeStrings' pavilion a big step up      Magnificent arched wood beams support the ceiling of the neStrings Music Pavilion. Along with exposed high tension steel cables, the trusses subtly resemble the stringed boof a musical instrument.
    The effect of the imposing architecture and thoughtfully designed acoustics make the nepavilion, set to open for the summer festival in mid-June, a stunning addition to Steamboat Springs. "It offers big city sounds, but it still feels like Steamboat. There's a lot of synergy with the environment," says Strings' marketing director Julie Taulman.
   While the nefacility is a different world compared to the old tent it replaces, there are more similarities than one might think. Floor-to-ceiling windows on two sides of the facility showcase a vieof Mount Werner and the Yampa Valley. They can be opened to provide additionaloutdoor seating.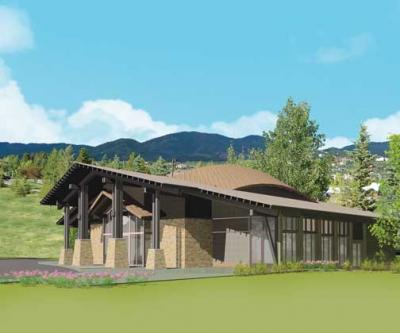 Back to the Future: The pavilion brings Strings Music Festival into the modern performance era. Photo courtesy of Strings Music Festival.
     The pavilion itself will seat 550 people, about the same as the old Strings tent. "The really big difference is on the stage and with the acoustics," Julie says. "The stage is twice the size of the old one; we can host a full orchestra."    Backstage amenities, however, are much improved over the tent. A private, soundproof green room allows performers to rehearse prior to going on stage, with a second green room where orchestra members can relax between numbers.
    Handicapped access was given careful consideration, Julie says. Ramps allowheelchair access to more of the seating area, whereas in the past, handicapped patrons had to be seated in the back.
    The estimated cost of the nebuilding is $4.35 million, which includes a $500,000 maintenance fund. The fundraising campaign is nearing its goal. "It's been an overwhelming response from this community," says Strings Executive Director Kay Clagett. "We are extremely appreciative that the pledges exceeded our expectations."Are you a music lover? To donate, visit stringsmusicfestival.com or call 970-879-5056.