Yampa Living: Historical Homes
07/01/2007 01:00AM ● By Elizabeth Findell
Summer-Fall 2007:
Yampa Living: Historical Homes
by Elizabeth Findell
Homeowners Enjoy Historically Registered Status...
    A town's story is told through its homes. Some of Steamboat Springs' domestic gems are historically registered locally, nationally or within the state by owners who care deeply about preserving town character despite rampant development.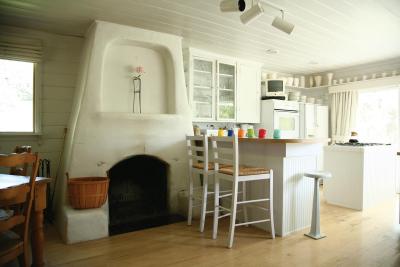 A kive fireplace in the restored kitchen of the Bennett home. By Corey Kopischke
"Old buildings are the fabric of the community," says Winnie Delliquadri, who helped her mother, Esther, register her 1923 downtown home.     In addition to the feel-good aspects of registering a building as historic, owners are also eligible for tax benefits. Income tax credits are given for restoration work, a sales tax rebate is given for building materials and buildings with public benefit can receive grants from the State Historical Fund.     But for local owners, the best motivation to register still comes from keeping the old- town feel. "It's more about pride than it is any kind of incentives," Jan says.    Many are wary of registering a building historic because of remodeling restrictions. But in Routt County there are none. Owners aren't prevented from making any changes to the buildings, and buildings can be removed from the registry at any time.    "I couldn't see any downsides," says Joan Peters, who registered her 1928 house historic in 2004. "You ask before you do anything, and if they don't approve it, you can take it off the registry."       Having a historic building on the state or national level is a different story. Diane Parnell, who lives in the house that F.M. Light built in 1909, says registering her home on the state historical registry was a long, complicated process.     But being part of Steamboat's historical fabric trumps most of the disadvantages. Jane Bennett talks about the joy of seeing the Memorial Day bike tour of historic buildings come to her house. "My favorite part is that it's there for others to see," says Jane of the home that once belonged to Charlotte Perry, co-founder of Perry-Mansfield dance camp. "People get a better feeling for Steamboat's history."
Home is where the office is...
     Working at home is a common theme among Yampa Valley residents. Whether digitally commuting or running a full-fledged business, the home office is central to domestic entrepreneurialism.    From extra bedrooms to specifically designed spaces, options for home offices are as plentiful as computer brands. "Getting distracted can happen easily when you're working from home," says Brian Hanlen, who has designed several local home offices. "It's nice to cut the line of sight off from the rest of the house."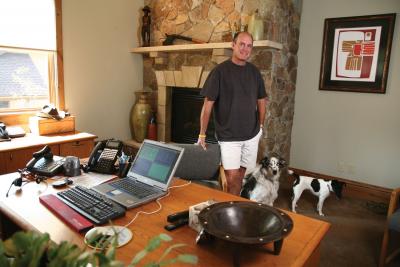 A Fireplace and natural light create a welcoming atmosphere. Photo courtesy of Corey Kopischke.
Punch and Penny Martyn worked with builder Joe Gillaspie to design their home office and when things get chaotic, Punch can escape there. "It's a hideaway," says his wife, Penny. "It can be shut off from the rest of the house and be nice and private."     But when pounding away at the keyboard, it's never bad to have a good viefor a quick break. "The office looks out onto the golf course and we can see the Flat Tops," says Penny, whose husband runs several businesses in Steamboat and Florida.    Privacy isn't the only plus when separating the office from the rest of the home. Many business people need to host associates during the day and walking them through the entire house can be cumbersome, if not embarrassing. "You don't want someone tripping on your child's skateboard," Brian says.    Décor can help with sanity. A relaxing atmosphere is essential. Michael DeJong's office in his Sanctuary home incorporates an open fireplace, making his workspace cozy on chilly winter mornings.    Perhaps the biggest advantage to working from home in Steamboat is the close proximity to play. "The best part about my office is that in 20 steps, I can be on my skate skis," Michael says. "There's nothing like taking lunch on skis."
Deck Life... 
   Paul and Linda Williams sit on their deck, finishing a meal as the sun disappears over the western horizon. They sip wine and catch up on each other's day. Whether enjoying food, friends or the view, decks are a quintessential accessory to any Yampa Valley home.   If they aren't planned right, though, decks can easily become eyesores. "Aesthetically, it's great to have a big wrap-around deck," says designer Brian Hanlen. "But some obstruct your vieand shadoplaces you don't want shadowed. They need to be thought out."    "There's a huge viein our great room and we wanted to keep it open," Paul says. "The deck also shades the dining room so it's not too hot in the summer." Paul and Linda's house attaches to their deck via an intricately constructed bridge. "It extends the (vistas) even further," Linda says.    Decks can be covered, uncovered or somewhere in between. Scott and Linne Marr covered the entire length of their deck, save a six-foot wide strip. "We left that open so if you want to sit in the sun, you can," Linne says.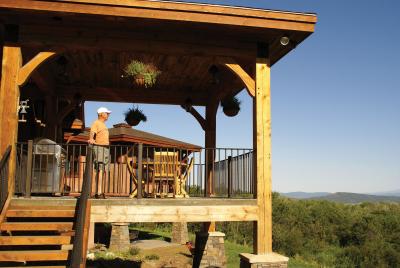 Paul Williams surveys the viefrom his home. Photo courtesy of Joe Carberry.
Decks reflect the interests of their owners. The Williams used wrought iron railings that create an old-English feel while the Marrs utilized wood and designed the railings thick enough to hold plates. Bar stools can be pulled up to create extra dining space.     Regardless of the design, decks are an important part of the home and a place for social interaction. Or soul-searching. "Sometimes, I just sit out there and zone," says Linne. "There's a hummingbird feeder and we have some regular visitors. There's always something to watch."