Mountainside: A Yampa Valley Twofer
07/01/2007 01:00AM ● By Eugene Buchanan
Summer-Fall 2007:
Mountainside: A Yampa Valley Twofer
by Eugene Buchanan
    Recreational overlaps come with the territory in Routt County. At one point last spring, my schizophrenic ski rack held fast a snowboard, hockey stick, kayak paddle and fly rod all at the same time, with my bike in the next rack over. I was ripe for a shrink –not so much proud of the display, just too lazy to shuffle everything off.    But summer is ending, and two of the items, my bike and fly rod, haven't seen enough use. There's an easy solution – combine them into one outing, just like summer merges into fall. With both mountain biking and mayflies soon to be stepped on by winter, it's time to double dip. Though scorned at parties, it works whenever Mother Nature's staring you down.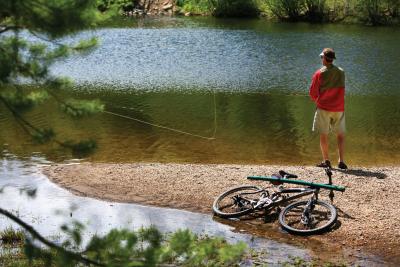 The author lays down a line. Photo courtesy of Corey Kopischke. 
Doing so takes logistics – you have to remember the Hare's Ear and helmet – as well as coordination. In the old days I'd stuff my two-piece rod inside a PVC pipe duct-taped to my cross bar. It'd hang over my front wheel like a battering ram, threatening trees on every corner and chafing my inside leg with every pedal (try explaining those bruises to your spouse).     The good news from my daughter dislodging my rod from our raft on Duffy Canyon: It led to my brother-in-labuilding me a four-piece, complete with inlaid Grateful Dead dancing bears. Nothe pedal-with-pole spaz-factor has ebbed; I simply stash it in a pack. More importantly, this nestreamlined technique doesn't broadcast to everyone that I'm biking into a secret fishing spot. While mountain bikers aren't overly territorial ("Dude, that's my dirt"), exposing a fishing stash is worse than doing so with powder. You risk wrath and are often doomed to getting skunked.    That said, I'll disguise my dual-sport locale. Suffice it to say that it involves a pass named after bison that offers a trail down to a creek named after a carbonated beverage. I'll mention Mountain Deto throyou off track.   Hit it in the fall and golden aspen leaves stick to your tires, held fast by glistening condensation. The kaleidoscope of colors mesmerizes with every rotation. You have to remember to look up from the trail to dodge errant obstacles. While the ride itself is reward enough, at its end comes the clincher. That's when you break out your fly rod.   I'm a creature of habit here, tying on the smallest Royal Coachman in my arsenal. I like the Coachman not because the fish can see it, but because I can. It makes me feel better.  Not in the "I'm OK and people like me" sense, but because I can see if it's leaving contrails like a jetliner or is floating drag-free. If it's the former, I pick it up and sling it again until it becomes one with the flow, just like fall absorbing summer. The creek bed is tight, lined with bushes, trees and cuss-causing branches. With a nine-foot rod, back casts have no room for error. More than once I grovel to the bank to release my precious Coachman from a wayward limb.     Then it's back to casting, my fly falling between wisps of mist rising from the trickle-fed pools. Tantalizing whatever mouths wait below, it hovers, occasionally spinning like the wheels of the bike that brought me here. Then Bam! (or maybe a small bam) a strike, a hook set and a brookie is fooled into a brief visit to the atmosphere. I let it go, and then catch several more from the same pool before they wise up. When they do, I head upstream and start all over again. A cast, a snag and eventually another strike. The fish are all small, tiny in fact, but I don't care. I'm not here for the fight. I have fun with three to six inches skiing, and I do here as well.    When the shadows grolonger than my casts, and the cold numbs my fingers into clubs, I wade back downstream to my dual-suspension steed. Then I break down my rod, stuff it in my pack and begin the pedal home. On the way I think of another spot to possibly hit before the garage reclaims two more pieces of gear. It's off a road named after wapiti, with a trail offering vistas of snow-capped peaks by a series of beaver ponds pockmarked by rises. Perhaps I just might be able to squeeze in another twofer…
Road Biking Gore Pass
    From either side of Gore Pass, Kremmling or Toponas, Colorado 134 appears to go nowhere. The road meanders out of sight and disappears into rolling ranchland with a turn or two. For motorists, a nice back road tour awaits. For road bike riders, tough switchbacks and false summits will challenge even the most hardy, teasing them all the way to the top of northern Colorado's Gore Pass.    Even with the mind-numbing climb, Gore Pass is a wonderful road bike ride. Repaved last summer, Gore rides like butter. And, just as skiers seek ideal conditions in deep powder snow, road bike riders search for their ultimate surface on smooth and fast pavé. The aforementioned long climbs and false summits lead to well deserved descents. Fast, smooth, and curvy, the downhill is worth every mashed gear and labored pedal stroke it takes. Despite its name, Gore is a road biker's paradise.    A great way to learn to cycle Gore Pass is by signing up for Kent Eriksen's annual Tour de Steamboat, a fully supported road cycling celebration. Gore is the second of three passes on a 100-mile ride beginning and ending in Steamboat Springs.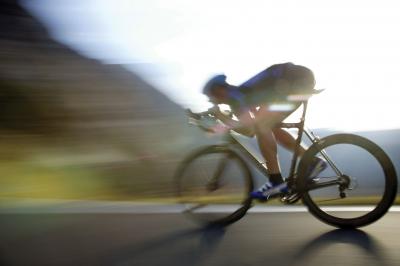 A cyclist makes time on a rural highway. Photo courtesy of Tim Murphy
 Motivation is easy to maintain when you're cycling with friends and aid stations are available to boost your morale. The Tour de Steamboat is a noncompetitive event held every September. If you want to go with your own group, Gore Pass is close but also far enough away that you'll need to make plans. Nail down a date, form a group and pedal the entire 50+ miles from Kremmling (park at the Wolford Reservoir) over to Toponas and back.    For the past four years this highway had been the site of the Gore Pass Road Race. Unfortunately, the event wasn't held this year due to lack of sponsorship.     The race was ideal for newbies to get a taste of riding in a peloton or test their conditioning against elite riders. The only thing rookie racers with little experience had to deal with was interfering with another cyclist. The peloton in the Gore Pass Race typically bleup pretty fast once the climbing began. Slower riders, stung by the pace, would get shelled off the back as the gradient increased. If you got dropped, there was no stress about getting in the way of other riders. You only had to worry about finishing. I speak from experience.   Little traffic, rare, buttery-smooth pavement, great Colorado scenery, challenging climbs and hang-on descents make Gore Pass a must-do this summer and fall. n Murray Selleck is manager at Ski Haus and an avid outdoorsman.