Home Green Home
07/01/2007 01:00AM ● By Stacey Kramer
Summer-Fall 2007:
Home Green Home
by Stacey Kramer
A guide to environmentally-friendly building
  Jeff Curé hates waste. When he and his wife, Grace, built their downtown Steamboat Springs home, he didn't waste space, with the efficient design on the tiny lot. He didn't waste time, enlisting gawking neighbors to hold 150-year-old timber posts in place while a crane lowered the reclaimed lumber floor supports and roof in place. And he didn't waste materials, so a dumpster wasn't needed until the end of the project.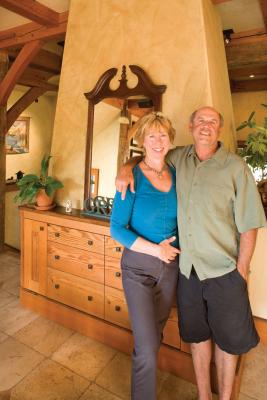 Jeff Cure and wife Grace stand in the dining area of their nehome. Photo courtesy of Don Tudor.
   Construction waste is overflowing – the equivalent of 250,000 homes is thrown away each year in the United States – and it's one of the factors driving awareness in the booming green building movement.  Combined with massive amounts of energy consumption and carbon emissions generated by buildings, the quandary for building "green" is not why, it's how.    In Steamboat, where the climate causes a shorter building windoand impacts construction costs, the community is becoming aware of the importance of sustainable building as a means to improve the environment and ultimately save money.    "There's a big buzz associated with green building right now," says LEED-certified artchitect Tim Stone of Kelly and Stone Architects. "It's definitely becoming a trend and something most people in the building world are trying to subscribe to."   "Some of this rapid change is due to growing awareness … that green buildings can provide immediate and measurable results in addressing climate change," says Sandy Wiggins, chairman of the U.S. Green Building Council.     Local architects, builders and homeowners are collaborating in innovative ways to construct homes and commercial buildings that are more sustainable than conventional building techniques.     "The way we see green building nois high performance building, smart building, combining aesthetics and performance," says Steamboat architect Rob Hawkins. "Using green construction is not necessarily an upgrade or cost increase and some of the most basic components don't cost anything." In fact, the average cost increase is only 2 percent over conventional construction.        "Building green is not just throwing money at it," adds Gavin Malia, chairman of Steamboat's Green Team. The all-volunteer committee initiated by the city helps to research, promote and implement community-wide sustainable strategies. "There has to be a return on investment," he says. "A 10-year return on a building that will be used for at least 75 years doesn't seem like a bad investment. There are ways to build sustainable and affordable, (but) the leading edge of technology is always going to be more expensive."    Partnerships and an integrative approach are keys to any green building project, according to Lisa Hough, a partner in the live/work Steamboat Downtown Green Community Development. From the start, she and business partner John Buchanan included the city planning department, their local realtors, two potential local builders, engineers, a USGBC Leadership in Energy and Environmental Design consultant and an investor who built one of the nation's first LEED-rated homes.    "It's very important for all those who will impact the design and fulfillment of a green building project to have input right at the beginning of the project," Lisa says. "Developing a green property in Steamboat Springs became a clear opportunity for (us) to make a difference in the community, with its plans for revitalization downtown, popularity as a destination, strength as a mountain community and its obvious commitment to sustainability."
The Home
  Collaboration leads to ideas that fit the needs of homeowners. You certainly don't need to build an eccentric-looking Earthship out in the woods. From a custom design to strabale or even manufactured homes, many options are available for attractive and functional green home styles.       Paul and Cate Potyen's strabale home was one of the first to be built in Routt County. He advertised for volunteers who wanted to learn the technique. "We wanted to make a positive contribution to an environmental cause and thought it's better to try to live that way," Paul says.    Rob Hawkins designed three strabale homes in Oak Creek using prefabricated strabale panels to minimize labor and provide greater insulation. "The walls have a higher R-value (resistance to heat transfer) with the same cost as conventional construction, plus it's a great aesthetic," he says.    He's working on a zero-net (energy) house that minimizes the footprint and is sensitive to the site. "It will produce as much energy as it uses and that's a good step in the right direction," Rob says, noting that the design incorporates reclaimed timber for its framing, a vegetative roof, solar thermal hot water and a photovoltaic system for electricity.
Site Selection
    Exponential growth in the awareness of sustainability is creating equally fast-paced growth in innovation and options. So where does a homebuilder begin? Site selection is critical to all construction decisions.     "When we're doing a building, we look at orientation on the property," Rob says. "It all starts with orientation – orient toward the sun. Then organize the entry points to the building. If the garage is on the south side, (a sun pocket) minimizes the need for heated driveways and snoremoval."     As he watched the sunrise on the hillside of his lot, Johnny Sawyer, a longtime local builder and ski patroller, kneexactly where to put the eastern windoin the passive solar house he and his wife, Jan Seiler, are building. "Our home was designed to get full sun even on the shortest day of the year," Johnny says. "By watching where on the hillside the sun comes up and sets, we knewhere to put the windows so we can use natural light, which means using less electricity." The sunlight will also help heat the concrete floor and mass wall separating the greenhouse from the living area.
Materials
   Johnny and Jan studied different methods, went on home tours and talked with their building designers and contractors to find the features they wanted in their home. Built into a hill on the north side and incorporating a strabale wall on the east and overhangs on the south and west-facing windows, the home has many environmentally sensitive and sustainable qualities, including timbers reclaimed from a railroad trestle that once ran over Utah's Great Salt Lake.    While some material choices are upgrades that cost more, Steamboat building contractor Michael Roberts of Habitat Construction says many green systems and products have entered the mainstream market and prices are falling. "Alternatives become more cost effective. (We have) incentives to select those items because they're more durable and reduce the costs of operating our homes," he says.    When it comes to the home environment, comfort is key. Long winters in Northwest Colorado shouldn't mean having to dress like Nanuk of the North just to avoid turning up the thermostat. And good ventilation and natural cool airflows are preferable to artificial air conditioning. Green-built homes are not only more energy efficient, they provide a healthier indoor environment meaning less illness, greater productivity and better aesthetic appreciation.    From a builder's perspective, Michael says insulation and sealing air leaks are inexpensive and a great place to start.    Spray foam insulation and strabale provide a higher R-value than typical fiberglass insulation. John Skovgaard of Steamboat-based ThermaLogic Inc., a certified dealer for Biobased Insulation, says foam costs more initially, but savings occur with less energy use and reduced heating bills.     "We are using spray foam insulation and as energy prices go up, we knowe're going to minimize our bills," Johnny says, noting that the polyurethane foam derived from soybean oil will not emit hazardous chemicals to pollute indoor air quality.
Heating and Cooling
   A highly efficient heating system helps cut utility costs. Local contractor Jeffrey Campbell of Simply Radiant Heating believes in-floor hydronic heat provides the ultimate in comfort and efficiency. "Think of warm and cozy feet and no breeze," he says. "The comfort comes from constantly circulating warm fluid throughout the home's floor system. When designing a radiant heating system, the entire system including heating source, controls and the radiant floor system must all work together to create an efficient system."    "Photovoltaic systems are the Cadillac, the icing on the cake," says Susan Holland, owner of Emerald Mountain Energy, a local installer of solar systems who is pushing hard for local and state incentives for solar.  "We're trying to get homeowners to do a starter system to generate at least 10% of their electricity from solar," Susan says, noting that solar thermal for domestic hot water is more cost-effective than installing a PV electric system. "One of the best ways to conserve energy is by using an insulated tank with copper coils circulating through it," Tim says. "The coils are heated with solar panels and then preheat the water so your hot water heater just has to finish the job."    Snocan come early and stay late, especially in North Routt County, where Ron and Sue Davies built their strabale home. The post-and-beam structure cut from trees on their property will stay warm all winter with an insulated concrete foundation, solar hot water and in-floor hydronic heat.    The Curés' home, which had input from local designers Steve Eggleston and Brian Hanlen, incorporates a geothermal system for domestic hot water and radiant heating, and they also used highly-efficient prefabricated structural insulated panels for the walls. "Our highest gas bill is $14 and $125 for electric," Jeff says, noting that the garage is also heated.     A closed loop ground source geothermal heat pump system at Park Place townhomes in Old Town Steamboat has leads to every building in the project. Hudson Maynard, a Park Place homeowner who helped build the project for developer Harold Stout, says the system is efficient. "It has cut my utility bill at least in half during winter months," Hudson says. The system can be run in reverse for air conditioning.
Cost
    The momentum for going to greener standards is transforming the marketplace. "Prices are going to come down as green building techniques become mainstream and there's more competition," says Rob.    Plus, government policy is changing to help people go green. Tax incentives were made possible through the 2005 Energy Policy Act for homeowners and businesses that purchase and install energy efficient equipment or make energy efficiency improvements to existing or nehomes and buildings. And Energy Efficient Mortgages are more commonly available today.    Federal credits are available for installing solar panels, and Colorado voters approved Amendment 37 in 2004, requiring large utilities to offer 10 percent of energy generation from renewables. Nestate legislation ups the requirement to 20 percent for large utilities and 10 percent for rural co-ops. Yampa Valley Electric Association purchses extra renewable energy at a wholesale rate from consumers who are connected to the grid and produce more electricity than they need from their PV systems.    "It's huge and it's sweeping the country right now," says Michael, who advocates being educated rather than being resistant to costs. "In terms of investment and resale, as well as comfort and cost-efficiency of operation, there is more value. Maybe we can afford to go out for dinner more often."       Building green has never been easier or more cost-effective, or better for the environment. And that's a much better legacy to leave our children than overflowing dumpsters.