Artscape
07/01/2007 01:00AM ● By Elizabeth Findell
Summer-Fall 2007:
Artscape
by Elizabeth Findell
School of Rock-Finding a place for young Steamboat bands
   While often invisible, Steamboat's youth rockers are breaking out of basements and garages into the town scene. The bands may break up and re-form, the musicians may come and go, but young groups are definining themselves within this small music hub.    Ian Noble is a fixture in Steamboat's only event for young rock music: the annual Battle of the Bands. The winner receives a gig at Mahogany Ridge and a radio showcase. Ian's group "Noise Pollution" played in the battle twice, won once, and last year Ian was an event judge. Battle of the Bands, a springtime event in which young groups play to be named winner, elicits mixed reviews of success. Some of the young audience love the battle, while others complain that it highlights mostly talentless screaming.     "It's a great thing to get to hear what others are doing and match up. I always enjoy it," says Ian. "There were lots of timing problems, not many original songs, and I couldn't understand most of the lyrics, but it's a popular event, especially the mosh pit."     Jack Massey, a member of the middle school "Anti-Authorized," the youngest group to play in the battle, gushes about the support that young performers receive there. "The people who played in it and ran it were the best component," he says. Jack has gigged at middle school dances and assemblies and his group plans to record a demo CD.    Another battle competitor, "Chill'en Trail," which plays only original songs influenced by reggae and rock, dreams of a showcase where teens can highlight diverse music styles more frequently but with less comparison. "It's incredible the way you can connect with people and cultures through music," says guitarist Sean Kuusinen. "But it's hard to put different styles of music together to compare. What they're about isn't what we're about."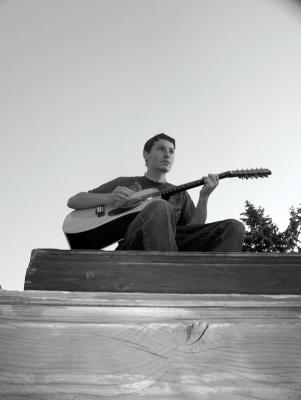 "
Chill'en Trail's" Kyle Horner. By Meghan Hanraha
n
"My philosophy is: as soon as you make music competitive, it becomes like all the other BS," comments Jace Wirth, also of Chill'en Trail.       Young performers agree that they want a place to play together without having to compare to one another, that whatever can be said about Battle of the Bands, more showcases are needed. Jace dreams of young groups being able to play in parks, believing that more events would generate bigger crowds as musicians jammed together. Noah Pfaff, musician in "Project Hombre," agrees wholeheartedly with Chill'en Trail's message, and says advancing with his guitar and jamming with his friends are top priorities. It's about the music. Recalling the crowd swaying with lighters to his rendition of Stairway to Heaven during Battle of the Bands he says, "I started laughing up on stage- that was my favorite part. It's not about the competition. Music shouldn't be about competition."   Still, it's agreed that Steamboat needs more stages and showcases. "I think nevenues will open soon," says The Local's Scott Glackman. "But (Steamboat's) demographic is changing. House prices are going up, which changes clientele to an older one that enjoys a meal and fine wine. We're in such a transition now.   " Whatever the future of music in Steamboat, it is certain that young bands will continue to thrive. Says Ian, "It's good for people to come here and see not just the development of land, but the development of artists – it helps keep the Steamboat scene chill."
 Local Potter's Spin Wheels for Charity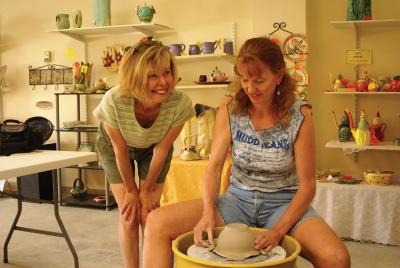 Deb Babcock with Steamboat Clay Artisans' Jay Elston, spinning for charity. Photo courtesy of Joe Carberry.
Clay artisans and their wheels speckle the lawn outside Blue Sky Pottery as the potters throbowl after bowl.    Their creations multiply until they number nearly 350, all in preparation for the annual Soup Bowl Supper, one of Steamboat Springs' most creative philanthropic efforts.    It all began by accident. Six years ago, ceramicist/writer Jonathan Kaplan was writing a pottery wheel revieand needed a large group of artists to test different wheels. Artist Gail Holthausen suggested the bowls created during the test should be sold at a charity dinner to benefit the Lift-Up food bank. The result was the first Soup Bowl Supper.     Deb Babcock of Blue Sky Pottery nospearheads the project, uniting the charity-driven potters. "Out of all that, we decided to form the Steamboat Clay Artisans," Deb says. "The charity keeps us together and in touch, and we all feel like we're part of something bigger."     The two dozen artists throw, glaze and fire the bowls during the summer. In the fall, the public buys tickets to a dinner where they dine on soup, rolls, drinks and dessert donated by local restaurants, while larger ceramic items are auctioned. Each attendee keeps the handmade bowl he or she has chosen, and the money raised is donated to a local nonprofit.  At less than $20 a ticket, it's one of Steamboat's more affordable charities. "We want to keep this an event you can take the family to and not break the bank," Deb says. In past years, the dinner has sold out.     The Soup Bowl Supper has donated more than $32,000 to organizations including Lift-Up, Yampa Valley Recycles, Historic Routt County! and the Northwest Animal Assistance League. This year, proceeds go to Steamboat Mental Health to be used for a cheerier waiting room. Steamboat Mental Health was chosen, based on the quality of its proposal, from 16 nonprofits that applied for the money. "We're just grateful that they're taking the time to do this – it's a lot of work," says therapist Sara Ross.    The Steamboat Clay Artisans have a hard time considering their bowl-making efforts work. "We all thought it was a great idea," says potter Suzanne Graham. "We have a lot of fun, and it all goes to a good cause." Info: www.steamboatclayartisans.com
Carl Howelsen Statue
Barbara Bouquet Robison enjoys 
creating things – from designing 
custom wedding dresses to fashioning 
pocket parks.
   "I've always loved making things," 
Barbara says.
   Her current project is a life-size bronze statue of ski pioneer Carl Howelsen, who  introduced the Yampa Valley to recreational skiing and jumping in the early 1900s. A
Norwegian champion, Carl came to Colorado with the Barnum & Bailey Circus, visited Steamboat Springs and inspired what is today Howelsen Hill Ski Area.   Developer Jim Cook commissioned Barbara to create the sculpture, which will stand at the entrance of Howelsen Place, a retail/residential complex now under construction in Old Town.   "I'm striving to find a balance between showing Carl in a dignified, heroic way
and capturing his spirit, generosity, compassion and enthusiasm. After all, I came to Steamboat because of the great skiing heritage," she says. An early mogul skier, Barbara
herself jumped at Howelsen Hill, on the first freestyle
jumps.   Although Carl died in 1955, his son, Leif, is advising Barbara with family photos of Carl. "It's great to have him as a part of this," she says.   Other people have helped, too. Joe Kboudi, owner of All That Jazz, modeled for her, wearing period ski clothes. Ski Haus owner Rod Schrage is loaning an antique pair of jumping skis to be cast and placed in Carl's hands. Nationally renowned sculptor
Curtis Zabel, who created "Autumn Majesty," the larger-than-life elk statue at the western edge of town, advised her on foundries and other sculpture sources.
   Barbara is opening her studio at prearranged times this summer, so people
can see the work in progress. Currently, she is working on a clay maquette, a small,  preliminary version of the final piece. Once it is complete, it will be digitally scanned and enlarged in foam, from which she will create the final sculpture.   Upon completion, Carl will be placed in the front entryway of the nebuilding,  accompanied by a plaque explaining his significance to Steamboat. "It'll be a group effort," Barbara says.