Yampa Living
04/01/2007 01:00AM ● By Kelly Silva
Spring-Summer 2007:
Yampa Living
by Kelly Silva
A Cool, Dark Place -  Steamboat wine cellars preserve the vino    For avid wine connoisseurs, storing a collection is crucial to preserving taste and longevity.  Whether that collection consists of age-old Bordeaux or up-and-coming California Chardonnays, Mike Kirlan of Vino says keeping a consistent storage temperature is key to a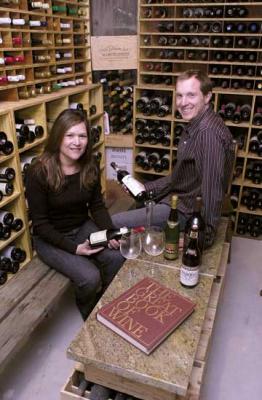 Cellar Dwellers: Cheryl and Dan Foote shooff their cellar-in-progress. Photo courtesy of Tyler Arroyo.healthy aging process. "The worst thing is big changes," he says. "Here in Steamboat Springs, finding a cool space on the north end of a house is ideal."    Cellar temperature should be 55 to 60 degrees. Any more than 70 degrees and wine loses its vibrancy, and the estimated aging process accelerates. "It will never quite hit its peak," says Steamboat local Dan Foote. "If wine gets above 80 degrees, it kind of cooks."    Three years ago, Dan and his wife, Cheryl, owned a downtown Steamboat house that featured an ideal cellar set-up. They converted an old coal basement built in the 1800s into a primo wine space. It was made of dirt walls and stone with only 5'6" ceilings.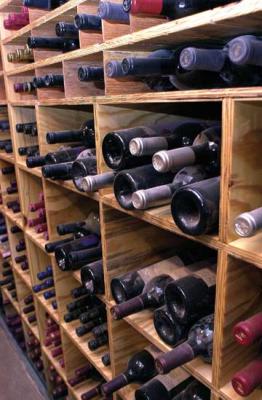 Photo courtesy of Tyler Arroyo.   They've transferred their love of wine (and cellars) to their nehome, where they store more than 1,600 bottles. "We're not quite finished," Dan says of his cellar-in-progress. "Right now, it's just a room with a door and shelves but we're working on a cork floor."    Local wine connoisseur Susan Peterson installed an HVAC system in her cellar to  moderate temperature (and help ventilate for the occasional cigar).    A similar system was mounted in one of Steamboat's most famous residences,the Covered Bridge House in Catamount. A hickory-planked covered bridge leads to a temperature-controlled wine cellar with a renaissance-style wet bar and beautifully inlaid brick.  "It worked because (the cellar) was between the downstairs bar area and the upstairs kitchen," says Cheryl Oliver, manager and interior designer of the house. "It's set naturally in the earth."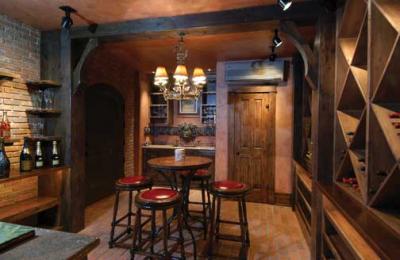 Creme de la creme: The wine cellar in the Covered Bridge House is a model for wine storage. Photo courtesy of Rod Hanna.   Debbie and John Galbraith designed their cellar to fit within the elevation of their home. The earthy climate and concrete keeps their wine at the desired temperature.   Each cellar is unique to its owner. French antique wood and wrought-iron doors swing into the Galbraiths' 6-foot by 10-foot space that holds about 400 bottles. After researching cellars while building their home on Hillside Drive, they wanted theirs to stand out. "The walls are Ralph Lauren-black and the bottles fit sideways so the label shows," Debbie says.    Antiques seem to be a running theme. Susan's cellar mimics that of an Old World library, featuring antique brick and a Corinthian leather ceiling. Antique lighting sconces dating back 120 years and a German hutch she's kept in the family for three generations create a historic, antiquated look.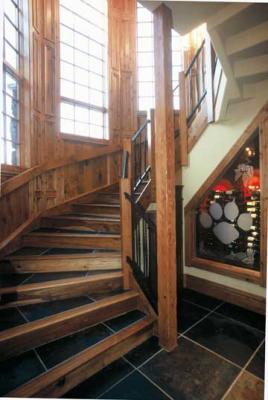 The wine cellar in this exquisite Catamount Ranch home adds an elegant touch.    Her collection of 1,200 bottles is separated from the tasting room by a seamless glass wall where you can viethe well organized vino. She's traveled throughout the world for business, collecting various labels along the way.   "The thing about wine is that it becomes a lifelong hobby, and there's always more to learn," she says. "You need a good cellar to preserve that hobby."
Article Gallery [4 Images]
Click Any Image To Expand