The Arts Anniversary Feature
04/01/2007 01:00AM ● By Anonymous
Spring-Summer 2007:
The Arts Anniversary Feature
Celebrating creative expression in Steamboat SpringsMaturing Melodies    All success stories come from humble beginnings, and when Steamboat Strings in the Mountains Music Festival debuted in 1987, the fledgling classical music event was as mannerly as Rocky Balboa. "That first year, we didn't even knowe needed a piano tuner on staff," recalls Betse Grassby, who founded the festival along with Kay Clagett and John Sant'Ambrogio.    The three founders started off by staging eight chamber music concerts in the nodefunct Storm Meadows Athletic Club – which, though it was hardly an ideal concert hall, did offer one unique perk: "When we had to move the piano, we just went down to the weight room and grabbed a feguys off the weights to help us," Kay recalls.   Eventually Betse and Kay learned that musicians needed particular chairs, and that million-dollar instruments couldn't be left out in the sun. But initially, Strings' naiveté was precisely what made it endearing to a town that favored all sports, all the time. Says Betse, "One of our great advantages was that no one told us hoto do it. We had no road map that first year. It was a great gift." Delightfully irreverent, refreshingly unstuffy, Strings simply presented fabulous music – and had fun doing it.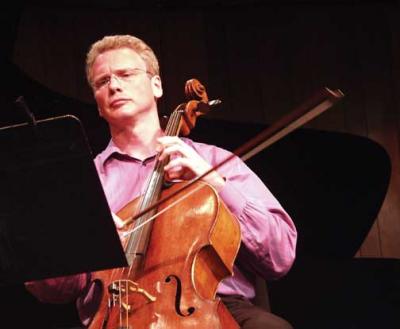 Pulling Strings: David Hardy during a Strings in the Mountain Concert. Photo courtesy of Tim Murphy. "There were times we laughed 'til we cried," recalls Anne DeGroff, Strings' director of finance, who joined the festival in 1991. Those good times – and the hard work required to operate what is noone of the longest-running music festivals in the country – formed a bond among the three friends. "We knowhat each is going to say before we say it," muses Kay.     Tight teamwork also sped Strings from calloto classy in four short years. By 1992, Strings moved into an upgraded facility at Torian Plum, the esteemed Leonard Slatkin came to conduct a chamber concert, and the festival was featured on CBS Sunday Morning. Concerts have expanded beyond classical to include bluegrass, folk, jazz, and world music, and family concerts noprovide music for youngsters.     The festival has also developed a knack for targeting emerging artists, so that Steamboat audiences often discover up-and-comers before NeYork announces their arrival. And with the 2003 completion of its very own tent venue in Music Festival Park, Strings itself has arrived, and grown wise with 20 years of experiance. "We've learned to listen," Kay says. " To the music, to our audiences, to the community. We've learned to listen all the way around to hear what people like and what makes people happy." Book It -Literary Sojourn 15   Despite its literary obscurity, Steamboat Springs has hosted more than 80 highprofileauthors during the past 15 years thanks to Literary Sojourn, an event started in 1993 to attract high profile writers to the Yampa Valley.    From Pam Houston to Tony Hillerman, Michael Connelly, Annie Proulx, Rick Bragg and Geraldine Brooks, the list includes three Pulitzer winners and six National Book Award winners and finalists.     "Our event has flourished and the caliber of authors we dracontinues to be astonishing," says Chris Painter, director of the Bud Werner Memorial Library and a founder of Literary Sojourn. And wordof-mouth accolades from both authors and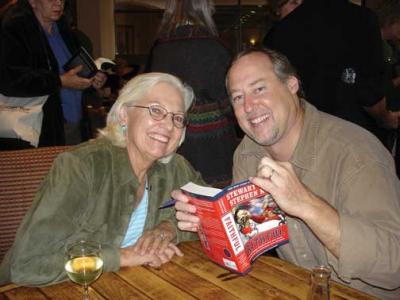 Marsha Campbell of Seamboat Springs asks author Stewart O'Nan to sign a copy of book, Faithful. Stacey Kramer. Photo courtesy of Stacey Kramer.attendees attract a full house.
    Far from your typical bookstore event or writers' conference, Literary Sojourn is for readers. "The audience reads the books before the event and wants to knothe authors' layers. It's a wonderfully choreographed expression of communicating their craft to a well-read, enthusiastic audience," Chris says.    Inspired by library patrons who had attended a successful women's author festival in California, Chris approached Off the Beaten Path Bookstore owners Leslie and Dick Ryan about producing a book event in Steamboat Springs. Armed with seed money from the Steamboat Springs Chamber Resort Association and the Steamboat Springs Arts Council,  Literary Sojourn was off and reading.    "We hoped to dra75 people the first year," Chris recalls. Instead, 150 attended and it's noat capacity with 500 avid book lovers crooning for tickets six weeks in advance. Even  early fall snoone year couldn't subdue the audience. "I can still visualize attendees pouring out of the (Strings) tent with snoon their hair grinning from ear to ear," she says.    Noheld at the Sheraton Steamboat Resort, the day-long event includes a sumptuous meal, book sales, book signing and cocktail party. But the main drais the opportunity to hear from the authors who reveal the essence of their books and themselves. "The authors become part of the event, bonding with and feeding off each other," Chris says. "It's a totally intimate experience." Thirty-five years - of Fancy Footwork    Late on any winter night, Steamboat Springs' dance studios buzz with local men and women learning nechoreography to unveil on the high school stage come spring.    Dancers spend a small fortune on tights and leotards, then invest weeks shredding and sewing them into extravagant costumes. They forsake husbands, hot meals, kids and dry powder during an infamous "hell week" preceding their annual performance. All for a simple
reward once a year: Rowdy applause from devout fans.    Ballet. Belly. Burlesque. Ballroom. In 35 years, Steamboat Dance Theatre has boogied to all these beats, and more. The legendary cast parties have even been known to include table dancing.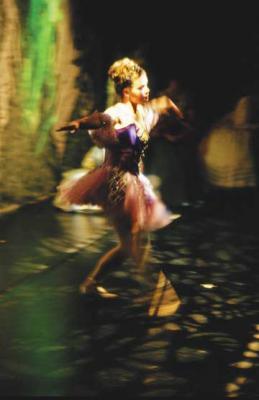 Brooke Leary  performs in the classic ballet, "The Firebird." Photo courtesy of Ivars Mikelsons.  Steamboat Dance Theatre got its start in 1973 as a repertory company called The NeDance Group. For a $2 ticket, audiences at The Depot saan eclectic range of choreography that ranged from lyrical jazz to a dance adaptation of Japanese haiku. The
Steamboat Pilot hailed it "a polished and professional beginning for a very promising group."    What was once an infant dance group has become a Steamboat institution: March 2007 marked Steamboat Dance Theatre's 35th annual concert. Sixty-five dancers performed 14
pieces of original choreography.    "Everyone has the opportunity to strut their stuff and have fun," says Gina Golden, who joined the group in 1986. "It's an opportunity to perform with top-notch dancers and choreographers, although you don't have to be a pro to participate."    During 3 1/2 decades, some unlikely characters have turned up as dancers, including Joe Kboudi of All That Jazz, famous foot-bagger Randy Nelson and high school coach Lonn  Clementson. But local dance legends like Noel Hefty, Kay Henderson, Polly Cogswell, Jean Labaree, Barbi Bryant- Bonfiglio, Robin Getter, Julie Tucek and the late Amy Tumminello shaped the heart of this group. "Each of these women has provided many novice dancers, including myself, with the encouragement and self-confidence necessary to develop their talents and perform on stage," says Beth Bagley, who joined the nonprofit, community
dance group in 1978.    Steamboat Dance Theatre's choreography has ranged from slapstick to serious over the
years, encompassing tap to toe shoes and African to Irish step. A history of their  advertisements lines the stairwell at The Depot, depicting an evolution from oldschool "jazz hands" to neschool hip-hop.   "Steamboat Dance Theatre brings the world of dance to Steamboat," says Sue Hansen, an 18-year veteran. "And watching a little girl mimicking your dance moves in the aisle makes it all worthwhile."
Info: dancesteamboat.orgFrom the Met, LaScala, Cairo - Opera Celebrates its Fifth Season in Steamboat
It was both what and who Keri Rusthoi knethat enabledher to achieve something skeptics thought highly unlikely: bringing internationally famous opera singers to a remotecorner of Northwest Colorado.   An experienced soprano with impressive, Continental credentials, Keri's journey to Steamboat Springs was like that of so many locals – she came to visit and was enticed to stay. But for her, that meant leaving behind a thriving, big-city scene where opera was hardly an oddity.    Or so she thought.    She hadn't been in Steamboat long when former Steamboat Springs Chamber Orchestra conductor Bill Burkhart suggested the two collaborate to present excerpts from the famous opera, The Magic Flute.    That was the catalyst from which Emerald City Opera Company was born. The Magic Flute was its first full-length production in summer 2003. Through her NeYork connections,
Keri persuaded renowned bass LeRoy Lehr of the Metropolitan Opera to perform the role of Sarastro; Dominique Moralez, an internationally sought-after tenor, sang the role of Tamino; and David Malis, dubbed one of the leading baritones of his generation, sang the role of Papageno. "Poof, all of a sudden, we had an opera company," Keri recalls. "We are so lucky. The first time we ever did something, we had so much incredible talent and experience on our stage, we set a bar that put Emerald City Opera on an artistic level far above almost any opera company its size in the country."     In the following years, Emerald Opera staged Merry Widow, LaBoheme and Letters for Mozart, a tribute to Mozart's 250th anniversary that was commissioned by Emerald City
Opera.     For its fifth season, the company presents Madame Butterfly, Friday and Sunday, Aug. 17 and 19, at the Steamboat Springs High School auditorium. Adam Flatt, previously associate conductor of the Colorado Symphony Orchestra, was recently named principal conductor of Emerald City Opera and will be responsible for artistic direction of the performances. "He'll make our fifth season the best yet," Keri says.Steamboat Arts Council - Outgoing President Nancy Kramer Rewinds    In 1974, the Depot was a place to find community in Steamboat Springs and the Steamboat Springs Arts Council was  the place to volunteer. Whether you were setting up a photo exhibit or sewing buttons on costumes for the upcoming Steamboat Springs Repertory Theater production (that was my first volunteer gig with SSAC), you found "community."    In that respect, not much has changed. Back then, I was a registered nurse by
profession and community arts volunteer who had no inkling that in 2006, I would be finishing a long tenure as the SSAC's executive director. The SSAC was founded in May of
1972 by Eleanor Bliss, Carol Finnoff and friends. Eleanor originally came to Steamboat in 1924 to study dance at Perry-Mansfield Performing Arts School and Camp, but she fell in love with horses and the Yampa Valley and decided to establish an organization to lead the way for arts here.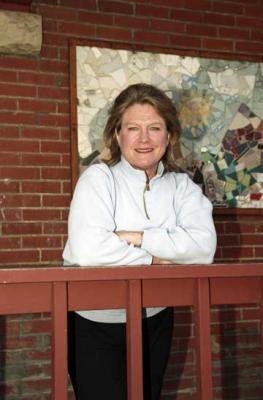 Nancy Kramer. Photo courtesy of Ken Proper.    People would scarcely expect the political outrage that emitted from this group of mature, refined ladies when the city condemned the art council's home at the old train station in 1980. They organized a protest to "Save the Depot" and stormed city council in t-shirts  emblazoned with their cause. By 1983, the group had raised $400,000 to save the
building, and it was listed on the National Register of Historic Places.    That kind of commitment and passion for the arts has surfaced many times during my years at the Arts Council. In fact, my first day on the job almost became my last when ranchers and longtime locals literally surrounded the county offices to protest the installation of artwork that was not classically Western on the courthouse lawn. I remember standing
before the group, asking them to be kind because, after all, it was only my first day. As a chuckle spread through he crowd, the situation diffused.     Another dramatic moment came at the Bridging Cultures celebration of ethnic art. As a group of black dancers from Denver concluded their performance, I noticed audience members' eyes, filled with tears.    That event, plus so many others, were made possible by a $150,000 grant in 1990 from the National Endowment of the Arts, which the city matched 2-to-1. As the custodian of the resulting master plan to integrate the arts into the fabric of the community, the arts council's leadership role has grown steadily. Today, the arts council boasts more than 30 affiliated art and culture organizations.    On the eve of the 35th anniversary of the arts council, the Depot remains a vibrant community gathering place, where dancers dance, actors act and opera singers sing as part of an open artistic community. And visual artists have a plethora of opportunities to exhibit their work or be inspired by more than a dozen unique and diverse exhibits in the Depot galleries each year. Upstairs, the cooperative marketing team and technical assistants continue to build the capacity for the local arts community to thrive as a vibrant resource. Or act as "an underground utility for the arts in the valley," as Nora Parker, current President
of the SSAC, so aptly describes that faction's mission.    With the arts council in the lead, the next 35 years should see Steamboat become an even more vibrant arts community and destination for cultural tourists. Eleanor and Carol would be proud. I certainly am.
Article Gallery [4 Images]
Click Any Image To Expand