Mountainside
04/01/2007 01:00AM ● By Anonymous
Spring-Summer 2007:
Mountainside
Hut Life -B
y Murray Selleck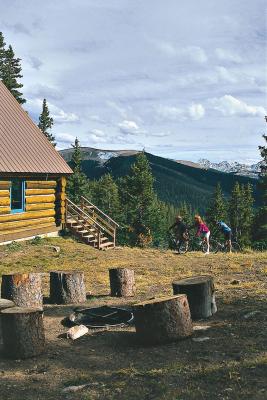 Life at 10th Mountain Hut System in summer is all about views. Photo courtesy of 10th Mountain Hut Systems.
The scene is mythically romantic. Weary backcountry skiers, faced with tough winter weather, come across a secluded alpine hut. Cold and tired, the welcoming gloof lantern light and scent of woodsmoke mean they've found sanctuary.    This is what the 10th Mountain Division Hut System has meant to backcountry skiers for more than 60 years, providing access to some of the most beautiful, remote and challenging winter terrain in Colorado.     Many Steamboat Springs residents consider a winter hut trip the highlight of their ski season. But what about biking or hiking to these same huts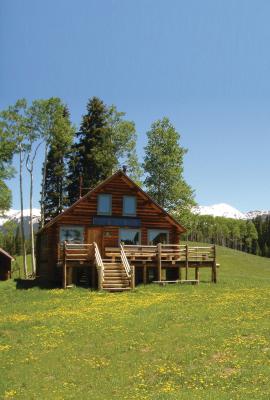 And someone's been sleeping in my bed. Photo courtesy of 10th Mountain  Hut System.
during the summer?     A hut's attributes remain the same no matter what time of year it is. Ben Dodge, executive director of the 10th Mountain Division Hut Association, says while summer popularity of the huts is growing, there's a huge divide between winter and summer users.     "The huts in winter are very remote," Ben says. "People skiing to these huts work very hard for that experience. In the summer, they're accessible by road."     So the obvious plus to summer hut use is that it allows those who couldn't reach the huts in winter to enjoy similar experiences. Too young or too old is no longer an excuse not to take advantage. Huts offer a base camp for longer day trips that include wildflower viewing, fall colors and lots of wildlife.       If you're trying to capture a hut's remoteness in the summer, start by leaving your car behind. Just because you can drive somewhere doesn't mean you have to. Think of your vehicle as support only, maybe parking one somewhere full of supplies. Then link several huts together to create an extended backcountry experience.    The 10th Mountain Division Hut Association is trying to promote alternative access to the huts such as singletrack trails for hikers and mountain bikers. Look for nesummer trail maps and a nesummer guidebook, available this summer. If you do, the mythical feeling of Colorado's high country won't be something you just read about. Check out www.huts.org for details and reservations. 
Are You "Kidding Me" -
By Eugene Buchanan
    I made it seven years in town before my recreation life – pressing glass on powder days, mountain biking Valley Vieat will, and eddying out for beers – 

changed forever. That's 

when my daughter, 

Brooke, was born and I became a father in Steamboat Springs.    Not that it prompted a visit to Parents Anonymous ("Uh, my name is Eugene and I'm…"), but it did affect my happy go-lucky approach to Steamboat recreation. Gone were the days when I could agree to phone queries at the drop of a helmet. Here for good was a neworld of negotiating freedom points from the spouse, shorter recreational windows, and more importantly, involving my kids, who noinclude daughter Casey, 3, in my favorite outdoor pastimes.    Like Steamboat climber Matt Tredway's recent attempt on Everest, the adjustment requires acclimation.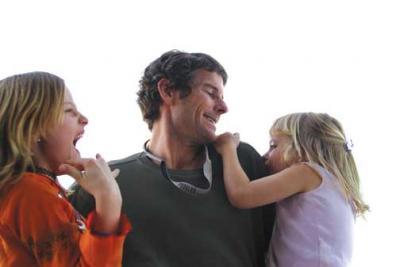 Brooke, Eugene and Casey sharing time. Photo courtesy of Joe Carberry.And this shows itself every season, whether armloading skis and poles to the Meadows bus or piling into a canoe for a low-water assault on the Yampa. Thankfully, I've survived another winter of carrot lifts, human poma missiles and Wally World secret passages and can nomove on to other offspring-friendly activities.           While melting snoexposes canine landmines, it also exposes things far more aromatic to neparents. Bike paths, playgrounds and parks long submerged beneath a baby blanket of white reappear, beckoning kids and parents like a Steamboat siren. As skis and sleds go into storage, out come the Trail-a-bikes, Burleys, climbing ropes and other gear.    It's the garage-crowders with wheels that see immediate use. Come April, I link the Burley behind the Trail-a-bike to create a three-pronged Dr.-Seuss-mobile terrorizing the bike path. It means wide turns at the skate park tunnel and a grind up the Fairviehill to get home ("Are you sure you're pedaling back there, Brooke?"), but every turn of the spoke takes us that much farther away from Father Winter.    I'll take the toddler train on park and hot spring tours, and even huff it up to the Spring Creek ponds to spend an afternoon landing three-inch lunkers and untangling lines. By June, I'll have etched in Caveman Stone which parks have the longest slides, highest swings and most inconvenient bathrooms.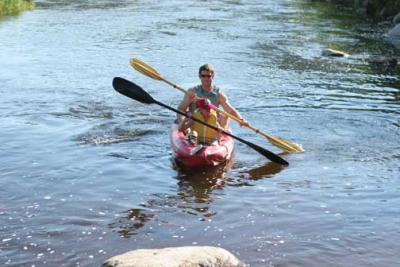 Eugene paddles with Brooke down the Yampa River. Photo courtesy of Corey Kopischke.Boats come out shortly after the bikes. I'll sneak in quick kayak sessions, but spend just as much time cramming kids into an inflatable kayak and stopping for mid-calf soaks at the Dr. Rich Weiss Park hot springs. While other kids are reading at the library, we'll be across the way cannonballing into the C-hole pool. Social services violations aside, once I even did so with Brooke while caging Casey in her pack-n'-play crib on shore.   Then come the other sports. We'll hike to Gold Lake – or as far as Casey will let us – with the lure of ice cream cones at the Clark Store. We'll climb near Blob Rock, Casey penduluming like a piñata while getting lowered down. And we'll barbecue at West Lincoln Park, letting the swings babysit the kids while parents take turns paddling the D-hole.    I'll also pursue the more conventional pastimes of urban fathers: Coaching soccer ("Stop blowing those dandelions and get over here!"), fetching balls on the Howelsen tennis courts ("Nice home run, Brooke!") and driving gas-guzzling shuttleathons to gymnastics, dance and swim lessons. I've ended in-town float-fishing trips mid-cast to meet a coaching commitment, showing up with whistle in mouth and flies on vest.    Throughout all this I've learned that, like the Grinch trying to stop Christmas, having kids in Steamboat doesn't end your recreational pleasures at all. It just changes. To borroa climbing term, you can still feed your own rat; you just have to include the rugrats as well.  
Article Gallery [4 Images]
Click Any Image To Expand